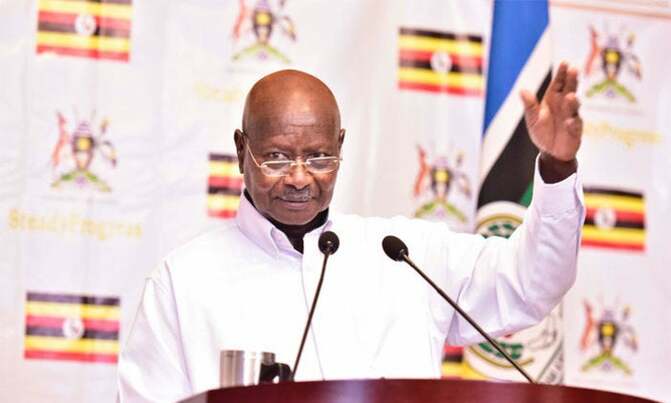 As a safety measure against the new coronavirus, all schools will close on Friday for a month while political and cultural gatherings are also put on hold.
PRESIDENT MUSEVENI ADDRESS ON COVID-19


By Joseph Kizza
Twitter: @joekizza

(Scroll down the page for earlier updates)

___________________________________


6:42pm | And that's it for today!

So the President and a couple of officials have spoken. Let's keep safe, good people!


___________________________________


6:39pm | No cure for coronavirus yet

We are told that there is no cure for coronavirus - yet. But that handwashing with soap remains the most effective way of keeping the virus at bay.


@MinofHealthUG minister @JaneRuth_Aceng emphasises that people should eat lots of fruits and vegetables as well as drinking at least three litres of water per day. Do not miss your meals, the minister says. #COVID19UG #VisionUpdates pic.twitter.com/yZuDsM0sup

— The New Vision (@newvisionwire) March 18, 2020


___________________________________


6:35pm | Hotels and restaurants

Health ministry permanent secretary Dr. Diana Atwine talks about hotels and restaurants.

She reminds every hotel and restaurant owners to screen patrons and also see that crowds in these places are minimised.

They must force everyone who enters their hotels and restaurants to wash their hands and dispose of used tissue properly.


___________________________________


6:31pm | Institutional quarantine

Minister Aceng touches on the issue of quarantine.

"This is for your own safety. We want to ensure that your families are protected" and once you are found to have developed symptoms, it is easier to manage you while at the same time keeping your family safe.

"In many of the countries, the cases are imported, followed by local transmission and then community transmission - which is very difficult to manage," says Aceng.

The government is doing mandatory quarantine - and doing away with self-quarantine.


___________________________________


6:25pm | Coughing or sneezing into elbow

The World Health Organisation now recommends that we cough or sneeze into our elbow to prevent pollution.

On hand management, the public is urged to avoid touching the major openings of their skin, including the mouth, nose, eyes and ears.

Why is washing hands with soap important? The virus has a fatty layer surrounding it. Soap punctures this layer, which helps destroy the virus.


___________________________________


6:19pm | Minister Aceng on nutrition

After the President's speech, he invites health minister Dr. Jane Ruth Aceng to address the nation further on nutrition.

It is very important that everybody drinks a lot of fluids because the infection of coronavirus dehydrates a victim, she says.

Aceng is encouraging people to drink at least three litres of water every day for ideal hydration.

"We want to encourage people to be frequent with their meals (so that just in case the virus strikes, it finds a victim healthy)," she adds, also urging people to "ensure hygiene with whatever we are eating".



___________________________________


6:15pm | Nutrition

Apart from ensuring a balanced diet, in the particular case of coronavirus, there is need to take more foods rich in Vitamin C such as oranges and folic acid in bananas, says the President.

He talks about how he has reserved his left hand for himself while the right hand for other things.

"I never allow my left hand to touch the right hand (which I donated to the public long ago). That is why you do not see me clapping," says Museveni.

In his closing remarks, the President says Uganda is prepared.

"We have isolation centres, etc. (...) However, most importantly, prevention is better than cure."

On the side of the economy, some sectors such a tourism will be hit by the coronavirus phenomenon but others like manufacturing will get a boost, he adds.

On Saturday, he and a select group of clergy will gather and pray for the nation.




___________________________________


6:07pm | Personal hygiene - 'Avoid open coughing and sneezing'

"Anybody with a cough or cold should not go into public space," says the President.

"You should self-isolate yourself. Even at home, cough into a handkerchief, which should be washed regularly and well-ironed - or use disposal tissue, which should be flushed."

The next danger is touching surfaces.

"Once you avoid open coughing and sneezing and you wash your hands regularly, then you will not contaminate surfaces," says Museveni. That way, the public will be protected.


___________________________________


6:05pm | Concerts, sports, merrymaking suspended

Sporting activities, entertainment concerts and any form of outdoor merrymaking are suspended for a month.


___________________________________


6:03pm | Public transport

The danger with public transport is that many people are seated next to each other, which creates a risk for the spread of the virus.

The advice here is: Do not travel if it is not absolutely necessary. Additionally, the companies that operate these vehicles should have standard operational procedures in place.

For now, public transport should go on as usual with the SOPs adhered to.

In case an outbreak of coronavirus is established in a particular area, public transport in that area will be banned.


___________________________________


5:58pm | Agriculture

In Uganda, farmers account for about 10 million families with a population of about 33 million people.

Farmers, especially fishermen, should observe hygiene conditions.

For cultivators and cattle keepers, monthly markets should be suspended for one month, says President Museveni.





___________________________________


5:58pm | Funerals too

"We recommend that the burial is done by the relatives who are nearby," says President Museveni. Then the other rituals can be conducted later.

If the deceased is suspected to have died of coronavirus, the State will handle the burial in a scientific way without the involvement of their family, adds the President.


___________________________________


5:55pm | 'Ugandan-style' weddings prohibited

Ugandan-style weddings bring a pentagon of groups - clan members of bride groom, clan members of bride, maternal clans of the two sides, school alumni and neighbours and friends, says Museveni.

"These tend to be big gatherings of people coming from the six points of the compass. This multidirectional source of the feast attendants can be a source of great danger."

It has, therefore, been decided that weddings of this nature are postponed for 32 days.

If the couple cannot wait, they should go for the "scientific marriage" of less than 10 people involved.

"Mama Janet and myself did the scientific wedding back in 1973 and we have never regretted," says President Museveni.


___________________________________


5:49pm | Public meetings banned

Other non-agriculture areas should continue operating, but with standard operational procedures (SOPs) conducted, including compulsory handwashing and any individual with symptoms not being granted access.


___________________________________


5:49pm | Moving out of the country

We are banning any outbound Ugandan nationals to the affected nations (Category One), adds the President.

"We cannot stop Ugandans from coming from abroad. However, such Ugandans will be put into mandatory quarantine at their own cost - to cater for accommodation and food," says Museveni.




___________________________________


5:46pm | Public meetings banned

Museveni says that public gatherings for politics and culture have also been prohibited for 32 days with immediate effect.


___________________________________


5:44pm | Religious gatherings banned - 'It is better to be a coward'

The President also announces that religious gatherings in any form have been immediately banned.

"When it comes to health, it is better to be a coward and be on the side of caution," he says. "Logically, the faster we run, the better."

"The prayers will continue - but in homes. Since God is Omnipresent, we can pray from home."

He urges religious leaders to use radios and TVs to continue with their preaching.


___________________________________


5:37pm | Government closes schools

President Museveni says the government has decided to temporarily close all schools in the country "so that we deny this virus" the 51,000 points in the form of schools and colleges.

He says there are as many as 15 million pupils and students around the country.

The president says he has decided to close schools even before a first case here in the country after "I have observed the situation in other countries".

The closure of the schools takes effect this Friday (March 20).


___________________________________


5:32pm | 'Dry grass'

The president says that Uganda should not allow the coronavirus to come in and get to the combustible "dry grass".

By dry grass, he means groups of people, including pupils and students, in which the virus can spread easily.





___________________________________


5:28pm | 'Healthy young people may not know of their infection'

The cabinet, under President Museveni's chairmanship, sat and decided:

Although the kill ratio of the virus is not high, this is only if the victims are in perfect health, the virus will kill only 3%.

With healthy young people, some information says that he or she may not even know that he or she was infected.

The real danger to society, however, is to the older people and people with other diseases that they have been surviving with e.g. tuberculosis, HIV, diabetes, hypertension and even cancer, says the President.


___________________________________


5:24pm | PRESIDENT BEGINS HIS SPEECH

President Yoweri Museveni has kicked off his speech on coronavirus. By the way, he says he wrote the speech on Tuesday.

"It seems to have two characteristics that will help us survive it and defeat it," he says.

The percentage of Ebola deaths was at 67%. So far, that of coronavirus is at 3%, he adds. So its kill ratio is low compared to other outbreaks like Ebola.

"It enters the body through the soft parts of the body - the nose, the eyes and the mouth. It cannot go through an intact skin," says Museveni.

"If an infected person sneezes out or coughs and you are near and that watery breath gets into your nostrils or eyes, you will get infected."


___________________________________


5:18pm | More than 850 million students worldwide not at school

By AFP

More than 850 million young people, or about half the world's student population, are barred from their school and university grounds because of the novel coronavirus pandemic, UNESCO said Wednesday.

Calling it an "unprecedented challenge," UNESCO said schools had been closed in 102 countries, with partial closures in 11 more -- with more closures to come.

"Over 850 million children and youth -- roughly half of the world's student population -- had to stay away from schools and universities," the UN educational organisation said in a statement.

"This represents more than a doubling in four days in the number of learners prohibited from going to educational institutions," it added, citing figures from late Tuesday.

"The scale and speed of the school and university closures represents an unprecedented challenge for the education sector," it said.

UNESCO said countries worldwide were rushing to fill the void by offering real-time video classes and other high-tech solutions.

Some countries were offering classes over television or radio.

The organisation said it was holding regular virtual meetings with education ministers around the world to find the best solutions and determine priorities.

"The current situation imposes immense challenges for countries to be able to provide uninterrupted learning for all children and youth in an equitable manner," it said.


___________________________________


5:13pm | Steer clear of railings

Other ways to keep coronavirus at bay.


•Avoid staircase railings.
•Avoid touching lift buttons and rails with your fingers.#Visionupdates #Coronavirus pic.twitter.com/ba9iUuxfVc

— The New Vision (@newvisionwire) March 18, 2020


___________________________________


5:10pm | How to reduce risk of infection

The President's address was scheduled to start at 5pm, but it has delayed a bit. So how about I share with you some of the ways you can reduce risk of coronavirus infection, courtesy of the World Health Organisation.

Here you go:

• Frequently clean hands by using alcohol-based hand run or soap and water.

• When coughing and sneezing, cover your mouth and nose with flexed elbow or tissue. Throw tissue away immediately and wash hands.

• Avoid close contact with anyone that has a fever and cough.


___________________________________


4:57pm | Coronavirus: Uganda still clear

No coronavirus case has been reported in Uganda. But there was a Ugandan national who was reported to have tested positive for the virus in neighbouring Rwanda. That particular person was said to have flown into Rwanda from London.




___________________________________


4:50pm | Good evening!

Hello everyone, welcome to this live text commentary of President Yoweri Museveni's address to the nation on the new coronavirus global crisis.

We understand that the virus has infected more than 200,000 globally since the beginning of the outbreak in December.

According to an AFP tally Wednesday, nearly 200,680 people around the world have been infected, with more than 8,000 deaths, as of 4pm (East African Time) today.

The tallies are calculated using data collected by AFP offices from national authorities and information from the World Health Organization (WHO).


I will address the nation tomorrow Wednesday March 18th, 2020.
5.00PM pic.twitter.com/nRAl6PAERo

— Yoweri K Museveni (@KagutaMuseveni) March 17, 2020