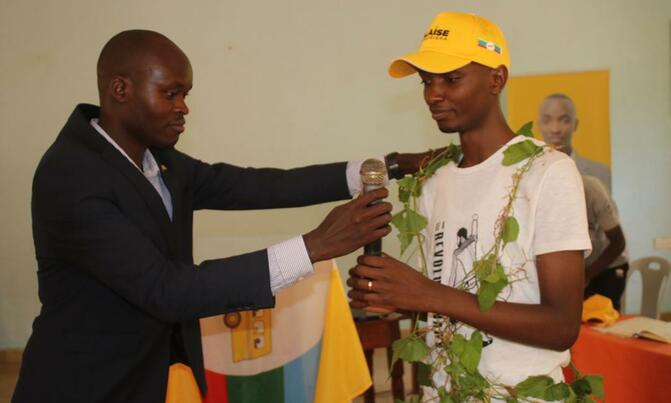 If I stand as NRM chairman, I should be able to access these opportunities because I do not get a salary.
KAMUGISHA CRIME PREVENTERS

At 24 years, Blaise Kamugisha mobilised 11 million crime preventers under than Police chief Kale Kayihura. In 2014, when the National Crime Preventers Forum (NCPF) was rolled out, he became the national co-ordinator.
Saturday Vision has learnt that Kamugisha is planning to campaign for the chair of the National Resistance Movement (NRM) Youth League. Nicholas Wassajja talked to him about it

Are you related to Gen. Kale Kayihura?
No, I am not. I met him when I was a student at Makerere University and the chairperson of the NRM chapter. We were mobilising students to train themselves in defence skills and that is when we contacted the Police.

That was my first interaction with the Inspector General of Police and being at the forefront of the initiative. We kept communicating from than on. But I have no blood relations with him whatsoever. He is a hardworking man and a good person who has mentored so many young people.
Kamugisha interacting with the youth in eastern Uganda. Courtesy photos

So, then who is Blaise Kamugisha?
I was born in Kitooma, Isingiro district. I was raised by a single mother. My father died before I was born. I studied in Kitooma Primary School, joined Mbarara High School, than went to Makerere University.

You have been quiet since crime preventers were transferred to Uganda People's Defence Forces (UPDF). Where have you been?
The people who used to report about us have not been looking for us, but we are working. We were put under the reserve force of the UPDF and there are so many assignments, including retraining the structure while others are being co-opted into the LDU (Local Defence Unit).

How did you transition to crime preventing?
While at Makerere, the university had challenges of hostile protests insecurity and, one time, a girl was raped and killed. We wanted to go to Kyankwanzi to be trained in self-defence, but in vain. So, we engaged the Police to train us from the university.

After the first training, Kayihura would host us in Naguru in his boardroom and ask us about how we had used our self-defence skills. He than proposed that we go to Kabalye and do range training.

The first group of LDUs was actually NRM structures in universities. Strikes reduced and the IGP became like an invisible hand of the university administration.

What was the difference between crime preventers and the soldiers?
Constitutionally, the Police can work with civilian authority. So, we thought we would take the initiative to mobilise the wananchi. Even with the UPDF, the arrangement is the same, it is the people's army so working with us has no issues, but it does not make us soldiers.

People say the crime preventers project flopped
The biggest challenge of crime prevention was the absence of a guiding document. It was an idea that grew out of boardroom strategies. We did not have guidelines on anything, not even recruitment. However, it became a platform for everyone interested in peace, irrespective of there background.

Many young people later joined the Police using the crime prevention platform. It solved the challenge of having to first know someone before joining the Police. Crime preventers were not working for money, it was voluntary.

For example, during the elections, all constables who manned the polling stations were crime preventers. It saved the country money. Police do not have enough manpower, so in terms of security, we helped gather intelligence and in operations.
But because people were too expectant, yet it was an election season, we became a punching bag, especially for the opposition.

They called us a militia because we could not mobilise for them. But, by and large, I think we scored 60% in performance. That, by the way, is the reason we are still existing.

Instead of working harder on your project, you are abandoning it to go into politics!
All this is voluntary work because crime prevention was not officially a Government programme. But if we could do all this without power, how much more can we achieve with people's mandate? That is why we want to come into the official structures.

That is why I want to be the chairperson of the NRM youth league. The youth league is the most important and strategic position for young people if utilised well.

When you look at the ANC Youth League, ZANU-PF youth wing, CCM in Tanzania and in Ethiopia, they are all young people, shaping the politics of there country. The youth play an important role in the growth of a party and a good representation of the future.

The narrative that NRM will die with President Yoweri Museveni is shaped by the absence of active youth structures. The NRM young people are not vocal and engaging aggressively on matters concerning the people like it is in the Opposition parties.

The youth league represents the continuity of the party as a fighting tool for the relevance of the struggle.

What are you bringing on the youth league table?
Power. The youth league is very weak. It is just an academic structure. They use it to vote within the constitution and that is all.
We are weak because we have leaders who are not mentally strong. We need to reform the youth league structure. We need an independent secretariat from the main party at Kyadondo because, numerically, on the voters' register, 60% are young people.


This means of the six million people who voted for Museveni, 70% were young people. So, if you are interested in mobilising them, you need to give them their own command centre. We also need to make the structure mobile by buying motorcycles for sub-county and district youth chairpersons.
We need to form a students' wing in the NRM youth league. This structure will also help identify leaders for mentorship, even in Parliament. We have been losing elections as a party in universities largely because we have no power centre. The structure of the youth league should be visible and able to hold it's own and independent delegate's conference.
That is how we will be able to give our views in top organs. The young people need mass and radical economic participation. We need to become activists for the national economy by engaging in the budget processes. Anybody promising anything outside the budget is telling lies because it is the plan.

If I stand as NRM chairman, I should be able to access these opportunities because I do not get a salary. That is how I also benefit from supporting the system. When we worked for the Police, we persuaded them to make us part of the supply chain for food, which is sh50b annually.

We need to involve the youth in policymaking. People in boardrooms should stop imposing policy decisions on young people without consulting them. We also need a youth league which is grounded in ideology.

We have leaders in communities who cannot help their people identify crops worth investing in.

How will you help NRM reverse the gains of People Power's popularity among the youth? People Power movement is not a threat. It is just a representation of the symptoms of so many challenges we have as youth. Otherwise, young people have no challenges with the party. NRM should confront these issues.

People say you are too radical. You once said you can kill for the President?
It was a figure of speech. I only meant that we can do anything humanly possible for the survival of the party and its achievements. We are willing to sacrifice for the struggle, not leading from behind. That is the energy we are still bringing in.

Why did you flee the country following Kayihura's arrest?
There was too much going on at that time and so much fabrication of intelligence. For someone to arrest you then, they did not need evidence. In any struggle, every soldier is important, so when you are arrested, you become irrelevant. I needed to protect myself. Whatever I was doing, I was doing it for the party.

So, I ran across the border and called President Museveni who gave me assurance that I had done nothing wrong and that he would protect me. The President instituted an inquiry led by Gen. Sabiiti Muzeyi into the allegations of torture and perpetration of corruption by crime preventers. We have never tortured anyone.
Whatever we did was with the Police. It is true some of us could have misused their positions, but 99% were upright people.

I don't know what came out of that investigation. But the President still trusts us to date. There were so many negative reports that could have reached his desk, but he is a genius who was able to sieve.

What is your relationship with Lt. Gen. Charles Otema?
Gen. Otema is the commander of reserve forces and, therefore, our immediate commander. We are working well.

But there are reports that he disagrees with your style of management of hire and fire, as and when you wish
I do not hire people and I do not fire people. It is misguided because we were a secretariat of about 50 people, while under Police. The President guided that we reduce members of the secretariat to only six people.
I do not need to announce that the President has ordered me to do this or that it is my job, so I just execute. Some people might not have been satisfied, but I was doing what my superior had guided me to do.

How about the misunderstanding between you and the UPDF leadership over the mismanagement of the Mwangazi SACCOS.
The SACCOS was started when we began crime preventers. The idea was that since we had numbers, we could have our own bank so, we do not have to beg anybody. The SACCOS membership grew to about 20,000.
So, management became difficult. We called a general assembly and agreed to decentralise the management of the SACCOS so people could manage it themselves.

Many people were just getting membership thinking the Government would put for them free money so, we had to sensitise them on saving. We now have about 95 SACCOS registered with certificates and we have all the documentation in place.

Your critics say you have amassed a lot of wealth at a young age and without a known job experience or businesses!
Those are signs of poverty. When people are going through hardship, they begin fighting each other. I really do not have much. I am as poor as many young people in the country. You cannot measure success by the fact that someone drives a car.