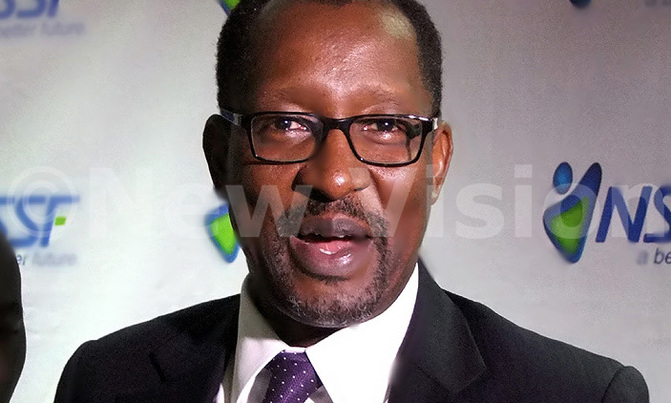 Byarugaba revealed that NSSF had come up with a financial literacy innovation to ensure that its members spend money with a purpose.
NSSF WEDDINGS BUDGETS
When Jane and Harry Mwase started preparations ahead of their wedding, they had anticipated hosting 100 guests.
However, as time went on, the number of guests doubled prompting them to print more invitation cards which implied more expenditure on food, refreshments, church fee, decorations and seats among others.
The Dean Emeritus of Christ Cathedral Bugembe the Rev Daniel Kizza who presided over Jane and Harry Mwase's wedding ceremony. Photos by Jackie Nambogga
The couple which resides at Mafubira 1 village in Mafubira sub-county, Jinja district walked down the aisle on December 7, 2019 at Christ's Cathedral Bugembe in Jinja district.
Jane, a community development officer in Butagaya sub-county, Jinja district said the wedding consumed Sh17m including all their attires.
Whereas the food and refreshments cost Sh4m the decoration cost sh5m including the chairs and public address system.
However, the Managing Director of the National Social Security Fund (NSSF) Richard Byarugaba argues that hosting huge crowds is irrelevant when part of the money could be converted into capital for productive investments.
"What are you trying to prove with a big crowd, these people won't remember that you spent, they will recall the bridegroom being fat and not fit for the groom," he said.
Jane explained that 70% of their budget was contributed by their friends.
Speaking at the Busoga regional employers' meeting who contribute to NSSF at the Source of the Nile Hotel in Jinja town on Tuesday, Byarugaba said it was meaningless to organize lavish parties on graduations and birthdays when they would start-up projects that earn them monies.
Instead, he urged them to ensure that they fit up in their expenditures other than trying to show off.
Whereas Jane agreed with Byarugaba on holding graduation and birthday parties, she disassociated with him when it came to weddings.
She said graduates throw parties yet they don't have jobs. She suggests they can use it to initiate their own projects.
With weddings, Jane said they must invest since it takes men time to convince their spouses to walk them down the aisle.
Byarugaba revealed that NSSF had come up with a financial literacy innovation to ensure that its members spend money with a purpose.
"Our biggest problem in Uganda is not the small salaries earned, it is about the poor saving culture and failure to control their expenditure," he said.
Under this scheme, Byarugaba said they were also targeting schools where they would be sensitizing children on financial management.
"If schools had been targeted earlier, majority Ugandans would be living a better life as their slogan suggests.
During the meeting, participants tasked Byarugaba to explain how the 2019 NSSF Bill aims at benefiting them.
Isaac Maganda, a teacher wondered if their savings were safe ahead of the 2021 polls.
"We hear of a provision in the Bill where the government would directly be borrowing from NSSF, will our money be safe knowing that there is the monetization of politics especially as we head to the general polls," he asked.
In response, Byaruhanga assured the members that their money had been invested well in real estate, equities and fixed income in East African Community member states.