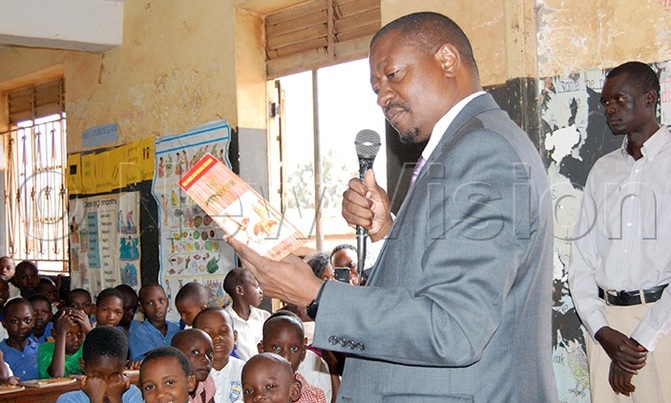 Kitaka noted that there is nothing as fundamental as the ability to read, adding that without this, children don't reach their potential.
READING CULTURE EDUCATION

Kampala Capital City Authority (KCCA) executive director Eng. Andrew Kitaka has emphasized the need to further inculcate the culture of reading among children in Uganda.

Kitaka noted that there is nothing as fundamental as the ability to read, adding that without this, children don't reach their potential.

"Numerous studies have shown that strong oral language skills are the basis for literacy development. When children learn to read at an early age, they have greater general knowledge, expand their vocabulary and become more fluent readers. They also have improved attention spans and better concentration," he explained.

The KCCA boss made the remarks at the official launch of the Drop Everything And Read (DEAR) day activities at Lubiri Primary School in Mutundwe, a Kampala suburb on Thursday.

DEAR is a week-long event characterised by a series of activities which run from March 11th to 15th. This year's activities run under the theme 'read lead succeed'.

During the launch, Kitaka took 15 minutes to read a book titled 'The Fake Doctor' to over 400 pupils who had gathered in the school main hall.

The book that explained the tricks used by quack doctors in swindling money from their clients was written by Frank Anywa and published by MK publishers.

Kitaka explained that reading helps to develop a young child's brain, adding that in the first six years, children learn at a much faster pace than at any other time in their lives.

"Reading opens the door to your child's early academic success, imparts a love of learning and leads to higher grades in every subject," he stressed.

He revealed that a child who learns to read joyfully at home, at an early age, with a loving parent or caregiver, grows in self-confidence and independence.

"Reading promotes greater maturity, increases discipline and lays the basis for moral literacy. It sparks curiosity about people, places and things and also satisfies the child's curiosity by providing an explanation of how things work," he emphasised.

In stressing the need to foster a culture of reading, the KCCA director of education services Juliet Namuddu Nambi quoted Nelson Mandela saying, "Education is the most powerful tool with which you can change the world".

Nambi revealed that as a result of previous DEAR campaigns, libraries have been established and stocked in all the 79-KCCA aided schools in Kampala as well as training of headteachers and library attendants.

"Gone are the days of cramming the alphabet, learners are now taught while telling letter sounds to improve their composition, comprehension, reading text with speed and accuracy and vocabulary," she highlighted.

Nambi underscored that, "With early grade reading, you can easily tell the difference between successful and struggling readers, given their ability to use letter-sound correspondences to decipher new words they encounter in text and spell them right."

The authority in partnership with OASIS book project, donated reading materials worth sh2m to Kitante Primary School and Lubiri Primary school.