In honour of this year's Women's Day, Hilary Bainemigisha brought out those female names that send men into flight, rather than fight mode
WOMEN POLITICS EDUCATION JUDICIARY

Most people are socialised to fear fellow human beings, especially those who are deemed to be controllers of their destiny. In Africa, these have traditionally been men; kings, warriors, and executioners. Even at a personal level, a husband, creditor and a local bully was usually male. However, today, females have stormed the list of fearsome individuals. And, in honour of this year's Women's Day, Hilary Bainemigisha brings out those female names that send men into flight, rather than fight mode

As an adult male in my own right, I have a psyche, which demands that I never get scared of a woman. It used to be easy when fights were just physical. It was abominable for any man to fear a woman in traditional Africa.

But, today, the song is different. There are women in such positions that control our destiny as the judiciary, army, Police, schools, and employment. And it goes beyond the office authority. There are women, whose profiles, character, aggressiveness and personality will send chills of trepidation down the spines of men. My short peer survey revealed the following.

Janet Museveni
She is the First Lady of Uganda and Minister of Education and Sports. She previously served as Minister for Karamoja Affairs and MP for Ruhaama County in Ntungamo District. Her proximity to the President, her husband, affords her powers to influence the flow of Uganda's waters, which can appoint and disappoint.

That notwithstanding, the First Lady exudes her own aura of power to men who deal with her, both from near and afar. It would have been easier her being just tough and confident, but it gets harder when she knows how to follow up traces of insubordination and disrespect.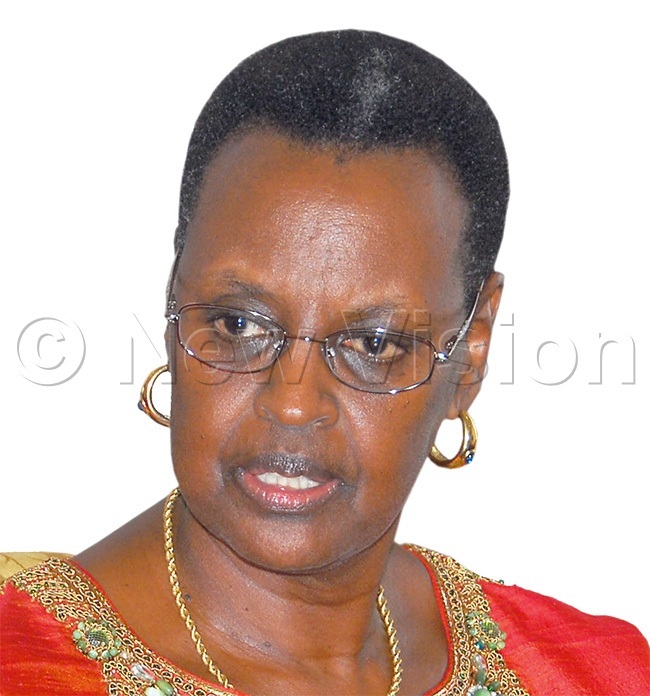 Janet Museveni

Her stern no-nonsense disposition has debris littered along the paths of those who dared to stand up to her, like Nyanzi, Matembe and the late Teddy Ssezi Cheeye.

That could be why it is even rare to find her ridiculed in a cartoon character in the media. So, if you want more, ask somebody else, not me.

Rebecca Kadaga

Kadaga has been the first-ever woman Speaker of the Parliament of Uganda since May 19, 2011. She has also been the Woman MP for the Kamuli District for 31 years. She also served as Deputy Speaker, Minister for Parliamentary Affairs and Minister of State for Communication and for Regional Cooperation.

Yet these are not as intimidating as her temperament. Apart from commanding testosterone-filled politicians and being third in government hierarchy, Kadaga is a woman who knows her power and uses it. She summons scaring ministers without fear.

When she is angry, few can dare to cross her path, ask the journalists she expelled from Parliament or Minister Persis Namuganza who fired tribal arrows at her once upon a time.

Her sharpest claws came out when Deputy Speaker Jacob Oulanyah sniffed at her Speaker's plate. She cast off her boxing gloves and broadcast her bare knuckles, which bounced off the big and bigger, including the feared Amama Mbabazi. Never say I did not warn you!

Stella Nyanzi

Dr Nyanzi is a 45-year-old medical anthropologist, feminist, activist, and academician. She has recently added to her profile, former convict, though her conviction was later overturned. She burst into public domain, wagging a tongue of no roses, pricking and tearing at anyone who came close to her words.

When the self-named Nnalongo Ow'enene shoots without taking her finger off the trigger, strong men scamper for safety. Her opponents stretch to the highest, from President to her faculty boss. And her venom includes nude protests, obscene words, puncturing abuses, and radical rudeness. Nyanzi is the only living Ugandan who has touched the leopard's anus, got jailed for it and touched it again on return.

Those who read her recent book, No Roses from My Mouth, which she wrote while in prison, say she still takes no prisoners. Ironically, the international press branded her one of Africa's most prominent gender rights activists and a leading scholar in the emerging field of African queer studies.
That is why any stop to her aggression attracts condemnation from human rights groups, some of which gave her awards for freedom of expression. Cross her path at your own peril.

Ingrid Turinawe
Ingrid is the chairperson of the Women's League in Forum for Democratic Change (FDC) party. The 47-year-old is also the national political mobiliser for the party.
The Nkumba University graduate of public administration and management first stormed politics as a Rukungiri district councillor and later became the speaker of Rukungiri district. But her name emits scaring impulses to Police, which ironically handed her the paint brushes that coloured her intimidation. It began with her forceful arrest in which her breast was squeezed and she sued Police. The Government was forced to settle it out of court. Since then, it has been scuffle after scuffle, but Turinawe's vitality has many heads.

In 2017, Turinawe was listed among the 10 most powerful women in Ugandan politics. But her forceful demeanour cost her a seat on the East African Legislative Assembly, when MPs, who formed the electoral college, were still reeling in anger over her perennial demeaning abuses. She received a paltry 25 votes out of a possible 398.

Catherine Bamugemereire

Bamugemereire is a difficult name to spell, but few men dare fail it. This judge of the Court of Appeal has chaired three national tribunals on corruption, and always comes off as an unrepentant, intimidating and fi re-spitting chairperson. Men before her panel sweat and panic, mafia and victim alike. When the President wanted a tough gunner to oust Lukwago from KCCA, he sent Bamugemereire to chair a commission of inquiry.

When corruption songs about UNRA rang out loud and long, it was Bamugemereire who matched against the roads authority. And only Bamugemereire could face the land grabbers, who are usually men!

Edith Nakalema

Lt. Col. Edith Nakalema is a young military officer, who joined the army in 1999. She has risen through the ranks in the finance department of the Special Forces Command (SFC). She has worked as the personal private secretary to the President, before being elevated to personal assistant, prior to Molly Kamukama.

Today, she scares all and sundry as the head of the State House Anti- Corruption Unit, which has stolen all the limelight from other anti-corruption agencies in the country. She has been in many districts, Uganda Revenue Authority, Bank of Uganda, PostBank, medical facilities, such as Kiruddu, universities, like Soroti and labour export companies.

I know men who prefer to receive a call from the locusts to one from her.

Florence Nakiwala Kiyingi

Nakiwala is the Minister of State for Youth and Children Affairs. She served as Kabaka's minister for youth affairs and as tourism minister previously. She contested on the Democratic Party ticket for the Kampala District Woman MP seat and lost. And no man can be scared about this.
So, what brings her name here?
Nakiwala has turned her ministerial position into that of a prosecutor with full powers to admit, diagnose and prescribe solutions to marriages. She investigates, counsels, prosecutes and polices, all, without punching gloves.
As a result, her office on the fifth floor of Simbamanyo House in the city centre is crowded with people hoping for solutions for their marital problems. Among them are the men, clad in clothes of culprits, summoned to answer allegations made against them by their wives.
Across her offi ce is the Central Police Station, where such people should be going. But they know where the power lies. Nakiwala has compelled a priest to acknowledge a child he was denying, forced the parents of Fresh Kid to return him to school, and etc, which includes Pastor Aloysius Bugingo and Singer Matthias Walukagga. They all prostrate when she passes.
Diana Atwine

Dr Atwiine is the permanent secretary of the Ministry of Health. She replaced Dr Asumani Lukwago, who would not look her in the face and smile.

She began her ascent to her scaring throne as a private secretary to the President in charge of medical affairs. Not only was she his personal physician, but she was also tasked with monitoring medicine and services. There, she unearthed illegal rackets, recovered stolen drugs, found over 300 ghost workers, arrested impostors and brought almost 100 corruption cases to court.

An impressed President appointed her permanent secretary, the youngest in the country, replacing Lukwago, with whom she had been bickering. That sent Lukwago's group, led by Dr. Anthony Mbonye, who was acting as the director-general of health services, scampering for safety. Her performance management system expelled several guys and those who remained stayed half soaked in fear.

Maama Fiina

Maama Fiina is her scaring name. Otherwise, on a calm day, she is Sophia Namutebi, if she is not being Sylvia Namutebi. All seem to be the names of the boss of all Uganda's traditional healers.

Maama Fiina is a paradox, heavily popular in a country where just 1.8% are said to be believers in traditional religions. Yet she is often the first port of call when people get challenges. Her shrine is always full of people and her clientele is said to include ministers, MPs, chief executive officers, managing directors election candidates and corporate people.

She is said to secure divine blessing for wealth, jobs, marriage partners, court cases, safety and, name it! And she is a living testimony of all of these. She was listed as one of the wealthiest women in Uganda, yet she has no foundation of education, rich family or godfather. She started as a maid but is now an importer of clothes, vehicles and building materials. This convinces many that she has mystic powers. I do not know any man who will dare to stand in her way.

Her puzzle is complicated by her direct access to the President, protection by presidential guards and the respect she commands.

Evelyn Anite

Anite is the state minister of finance in charge of investment and privatisation and has formerly served as state minister for youth. She is also the MP for Koboko Municipality.

Unlike the other tough women, the 35-year-old employed the traditional females' tools of tears of vanquishment to dethrone powerful men. She boldly approached a hive, full of irritable and powerful men and shook it hard. When the bees rolled off their assault, Anite turned into a frightful mode, wailed about her impending destruction, predicted upon herself assassinations by the mafia and prayed for divine mercy.

It was difficult to imagine that it was the same Anite, who had threatened Ugandans with annihilation for opposing the lifting of the presidential age limit!

Unknown to many, she also had subterranean prongs that amassed beneath these powerful opponents to suddenly blow up their foundations. Before they knew it, their base crumpled and they came tumbling after. Their powerful titles developed a prefix of the word 'former': Former UTL administrator Bemanya, former minister of Justice Maj. Gen. Kahinda Otafiire, and former Deputy Attorney General Mwesigwa Rukutana! Few men can now stand against the girl who moved the Kyankwanzi Resolution of 2014.

To all ye women who scare us more than our fellow men; Happy Women's Day! I pray you remain as scaring because some of your colleagues, who occupied those thrones left when men discovered that their fi re was actually honey combs.

These include, but are not limited to
Jennifer Musisi
Miria Matembe
Allen Kagina
Amelia Kyambadde
Winnie Byanyima
Proscovia Nalweyiso
Imelda Namutebi Kula
Julia Sebutinde
FIDA
MIFUMI