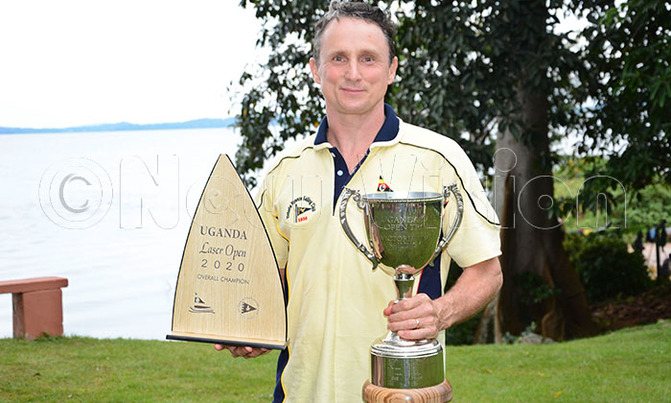 "I had good starts, the wind was very strong for me and everything was okay..."
SAILING

Naivasha Yacht Club's Al Bush continued to exude class as he won his 10th Uganda Laser Open Championship after three days of action at the Victoria Nyanza Sailing Club (VNSC) Kaazi on Sunday.

Sailing on a standard boat, the 48-year old beat 35 competitors to the annual champions on 6 points with two discards from eight races, that started on Friday.

"I had good starts, the wind was very strong for me and everything was okay," Al Bush said.

"This is one of my best courses; the winds and waves are okay, I like it here because the winds are medium. I lived in Dar-es-salaam for many years the conditions are perfect so I did a lot of practice," Bush who sails at least twice a month said.

"But I learned to sail here in Kaazi as a teenager so this is like home,"

Another Kenyan sailor Daniel Francis finished second on 16 points while Hamis Muhamed from the Dar-es-salaam Yacht Club finished third overall with 25 points.

Vedastus Alphance and Roland van de Ven and Xandra Pennanen-Kok from the same club won the youth, apprentice and first female trophies as Uganda's Harriet Fowler won the handicap trophy for the Victoria Nyanza Sailing Club competition. The best senior sailor award went to VNSC's Phillip Betts.

Mussa Ngahama, Stephen Luswata, and Barnaby Dykes won the day's races from Friday, Saturday, and Sunday respectively. The tournament also had 11-year old Max Horemans a pupil at ISU and only competing for the second time, finish 30th on 160 points.

The sailors will now prepare for the Naivasha Open, March 28-29 in Kenya.

Commodore Annabel Bowerman thanked the sailors for exhibiting a great sense of sportsmanship and competition over the three days.

Uganda Laser Open

Top three

Al Bush 6pts

Daniel Francis 16

Hamis Muhamed 25

Youth

Vedastus Alphance 27pts

Apprentice

Roland van de Ven 30

Senior

Phillip Betts

Day leaders

Friday: Mussa Ngahama 40

Saturday: Stephen Luswata 35

Sunday: Barnaby Dykes 58

First female

Xandra Pennanen-Kok

Handicap winner (VNSC)

Harriet Fowler 24