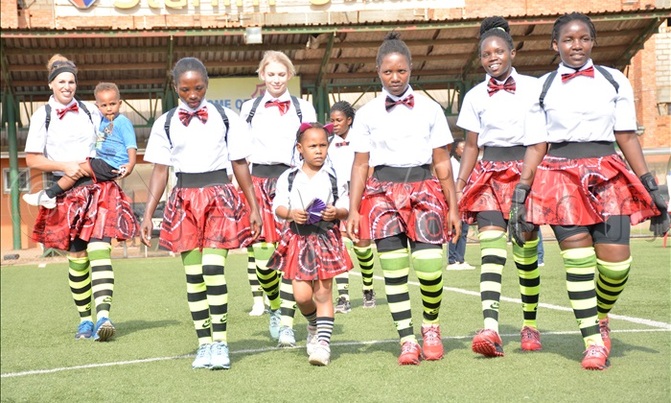 Hearts-Vision rooted for the Sustainable Development Goal (SDG) Quality Education and donned school uniforms with backpacks.
WOMEN'S DAY
For a sport that is dominated by their male counterparts, the love for football among the women is very much alive in the country.

This was exhibited in the Global Goals World Cup East Africa that was held at the Lugogo Star Times Stadium on Sunday. The International Women's Day was celebrated spectacularly.


Uganda successfully hosted the East Africa edition for the first time in her history. Over 34 teams from different entities showed up to participate in the five-a-side contest with each match lasting six minutes.


Centenary Bank team

The goal? A chance to represent the region at the Global Goals World Cup tournament in New York.

Ugandan team Hearts-Vision Power Girls emerged victors in the day-long event, merely edging Abigail's Grandmaz to the accolade.

"We are actually surprised that we won against Abigail's Grandmaz."


They were really good at what they do but we are happy with our victory," Len Nsereko, a Power Girls player said. Scoring the most goals and winning the most games was not the only benchmark for winning the tournament. Crowd engagement and creativity in appearance played fundamental roles in securing points for the winners.


Abigail's Grandmaz clearly had the biggest crowd. But the inventive Hearts-Vision Power Girls took originality a notch higher, something that gave them their biggest advantage over their opponents.
Rooting for the Sustainable Development Goal (SDG) Quality Education, Hearts-Vision donned school uniforms with backpacks. This gave them an upper hand that saw them emerge victors.


Mariam Mpaata, the Chief Executive Officer (CEO) of Afrika Sports Foundation Centre and the main host Global Goals World Cup East Africa 2020, urged the women to always provide a helping hand to fellow women.



"Women should support each other. Do not see a fellow woman struggling and be the one to push her down. We should always be there to lift each other up and push this country forward," she said.
Majken Gilmartin the founder of Global Goals 2020 said blood donation is part of the United Nations' (UN) sustainable global goals 2020 as part of the International Women's day celebrations.


"It's amazing to see that women have played good football as a way of enjoying their day as the men played their part in helping women by donating blood," Gilmartin said. "A lot of women die while giving birth because there isn't enough blood in hospitals and so for the men coming out to support us, that I commend," she added.


Uganda became the third African country to host this tournament. Kenya hosted the tournament in 2017 and South Africa in 2018. Nigeria and Morocco are now next in line to host the event in the upcoming months this year.


The Global Goals World Cup tournaments were started in 2016 with over 4000 women participating.