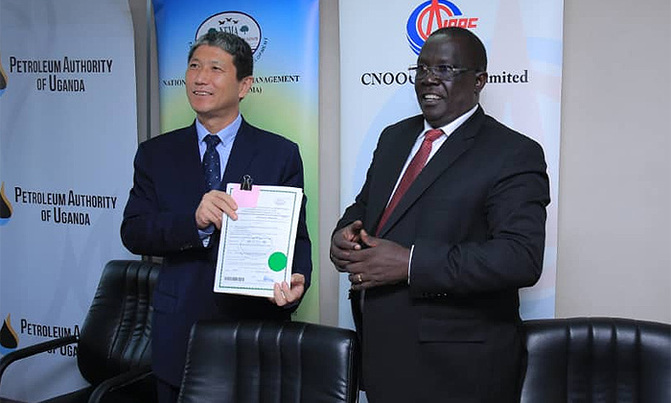 "We are pleased to issue this certificate in line with the principle of sustainable development," said NEMA boss Tom Okurut.
OIL PRODUCTION

KAMPALA - National environment agency NEMA has approved the environmental and social impact assessment (ESIA) for the Kingfisher Development Area.

The Kingfisher development area is located in Buhuka parish in Kikuube district in western Uganda. The plan is to build production infrastructure to extract an estimated 40,000 barrels of oil per day.

On Monday, NEMA presented a certifate of approval to CNOOC Uganda Limited to go ahead with the project, to facilitate the extraction of oil from onshore fields in the area.

Zhao Shunqiang, the president of CNOOC Uganda Limited, the lead operator of the Kingfisher project, called the development "a great milestone".

He received the certificate from NEMA executive director Tom Okurut at the NEMA head office in Kampala.

"This is a great milestone for CNOOC Uganda Limited and the development of the oil and gas project in Uganda. It is a step closer to a final investment decision and realization of [Uganda's] first oil," said Shunqiang.


The company Shunqiang leads is a subsidiary of CNOOC Limited, China's largest producer of offshore crude oil and natural gas and one of the world's largest independent oil and gas exploration and production companies.

"We are pleased to issue this certificate in line with the principle of sustainable development," said Okurut.

"NEMA shall continue to maintain an efficient mechanism for sustainable environment and natural resource management."

Getting the ESIA approval has been a work long in the making.

For a project of such broad significance as Kingfisher, a thorough assessment of the potential social and environmental impact - as well as measures to mitigate the impact and maximize the benefits - had to be undertaken before anything else.

After receiving a production license from the Government on September 16, 2013, CNOOC set out on the ESIA process.

The project involves the on-site construction of oil field facilities, including a central processing facility, camps, yards and parking areas, as well as a feeder pipeline.


It is understood the detailed assessment was focused on social, health, safety and environmental aspects such as air quality, noise and vibration, hydrology, surface water, waste and biodiversity.

After collection of the relevant data, an impact assessment was undertaken.

Five years after getting their production license, CNOOC submitted the Kingfisher project ESIA to NEMA for review, recommendations and approval, as required by law. That was on December 21, 2018.

Following public invitations of key stakeholders by NEMA, public hearings and consultations were later held in June last year in Kikuube and Hoima districts, respectively.

The host community and the general public offered their feedback and recommendations for the project development.

Nonetheless, NEMA subjected the Kingfisher ESIA to a review process that revealed issues that required CNOOC to address before a final approval decision could be made. This was done in accordance with the provisions of Part X of the National Environment Act No.5 of 2019.

CNOOC went ahead and made the necessary revisions, and then resubmitted the report on November 18 last year for final approval.

It turned out NEMA was satisfied with the revisions, and eventually gave the project a go-ahead.


Also related to this story

Final ESIA public hearing for Kingfisher oil projects today

Public hearings for Kingfisher oil project begin