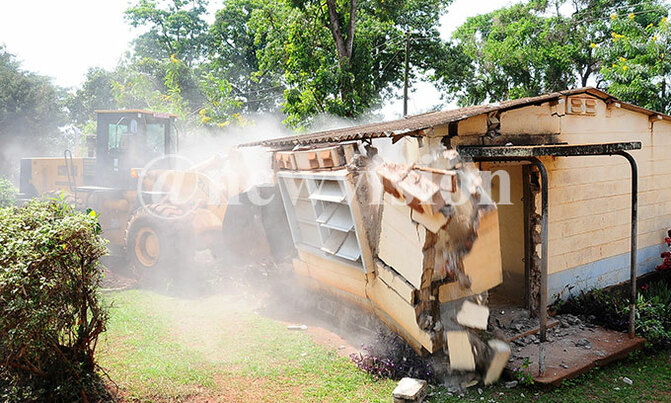 Naguru and Nakawa's growth into a sports powerhouse had a lot to do with proximity to Uganda's biggest sports centre.
When tractors razed Naguru and Nakawa housing estates in 2011, it was like a chapter was being rubbed from Uganda's history.

These estates, constructed for African workers by the colonial government shortly before Independence, had built a reputation as Uganda's sports capital.

John "The Beast" Mugabi (boxing), Phillip Omondi, Moses Nsereko (football), Yayiro Kasasa (rugby), John Oduke (tennis), and John Ssebowa (table tennis) are just part of a long list of stars produced from the area.

Naguru and Nakawa's growth into a sports powerhouse had a lot to do with proximity to Uganda's biggest sports centre. Between the estates, was Lugogo, a stretch with six football fields, two hockey grounds and two rugby fields and the mult-discipline National Council of Sports complex.
Uganda's greatest footballer Philip Omondi
Complementing Lugogo, were facilities within the estates like football pitches, volleyball and tennis courts and the famous Naguru Community Centre, best remembered for serving as a boxing gym.

With hundreds of families in the estates, there was never a shortage of raw material to churn into formidable talent. At one point almost the entire national boxing and football teams had athletes from the estates.

Rugby legend Yayiro Kasasa, who started off as a boxer and later played handball to national team level, recalls that there was always too much on offer that budding stars were at times spoilt for choice of sport to focus on. Is it therefore surprising that one of Africa best footballers Omondi also started off as a boxer?

Mugabi, a silver medalist at the 1980 Moscow Olympics and later a world champion in the professional ranks, noted in a 2004 interview that besides the facilities, their rise to stardom also had a lot to do with reputable idols.

"As children we followed our seniors training through the gym's windows. Before long, we were also going through the basics. No one grasps faster than a child." Mugabi, however, observed that today's fighters don't have idols to emulate.

The estates' industry was also boosted by the fact that Uganda used Lugogo as a centre of excellence. Local and international talent converged there providing a priceless educational effect.
John Mugabi aka The Beast with WBC belt
Clubs like KCC FC and Naguru Boys that used the estates as a tapping ground, were also beneficiaries of a talent growth system developed over the years by sports leaders in the area. Children would, during holidays, compete according to their groups of residence.

The best boxing talent would then compete in a Naguru versus Nakawa contest to select the KCC team. Former national boxer and coach Dick Katende, in reference to the stiff competition, recounts that it was easier to win a national title than making it to the KCC team.

The estates fortunes, however, started changing in the early 90s. Local leaders banned boxing from the Community Centre. City authorities leased off chunks of the Lugogo soccer fields to huge malls.

Minister Kahinda Otafire was one of the strongest advocates of the new order. Completely oblivious of not only the health benefits, but also the vast financial potential sports has, Otafire, during his reign as local government minister, spiritedly fought for the malls. To Otafire, the fields were merely a base for jiggers.

Today, even the estate is gone and there are all signs that even the remaining fields will also soon be snapped up. A satellite city is supposed to be constructed in the area where previously the two estates stood. That sounds brilliant.

It is, however, clear that much as Kampala's skyline could soon be sparkling with more new structures, there will still be something amiss in sports terms.

It is after all true that something has indeed been erased from the pillars that once kept Uganda's flag high.