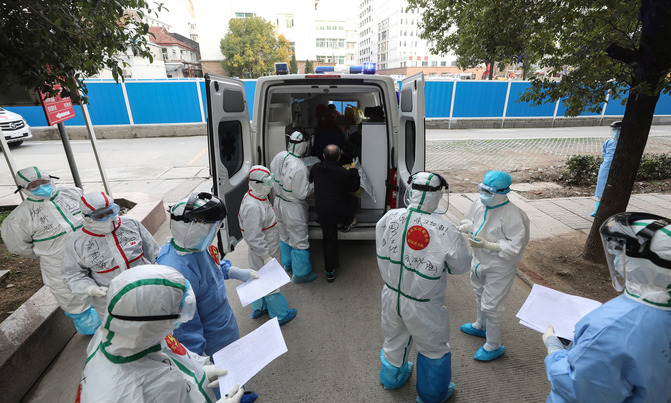 "How did it come to $600,000 from $61,800?" asked one of the students.
It is close to a month since the Government pledged to send emergency funds to cater for Ugandan students who are stranded in Wuhan City, Hubei Province of China.

According to the students, they had not received the money by press time.

According to a statement made before Parliament mid last month, health minister Jane Ruth Aceng said the Government was to release money to the students.

"The foreign affairs ministry is aware of the challenges the students are facing. As such, it is in the process of wiring $61,800 (about sh220m) to support them in the interim as more evaluation of the situation takes place.
Funds can be sent to students directly through Payway systems on their telephones," read the statement by Aceng to Parliament, on the position of Government regarding the Ugandan students in Wuhan.
However, according to an ad hoc international payment released by Bank of Uganda on March 2, $600,000 was successfully transferred to the Ugandan embassy in Beijing China through Bank of China to cater for the Ugandan students.
When students saw the cleared payment for their cause, they were upset, raising fears that someone could have taken advantage of their suffering as a chance to swindle over $530,000 of government money.
"How did it come to $600,000 from $61,800?" asked one of the students who preferred anonymity. "Ugandans tend to be quiet on pertinent issues and wait to make noise after realising trouble.
People on this forum are all quiet, they should know that you deserve this money since it was promised and passed by your government.
Let us all demand this money before it ends up in someone's pocket," another student was quoted on one of the students' groups in Wuhan.
When contacted about the amount, of the money, Phillip Kanyoonzi, the principal secretary at the Ugandan embassy in Beijing, did not respond to the specifications and the breakdown of the money.

How many students are in Wuhan?

While presenting the statement on the status of Ugandan students in Wuhan in Parliament, Aceng said there are 105 students in Wuhan, yet according to Wuhan Uganda Students Association in China (WUSAC) they are about 71 students in Wuhan.
Some students believe that the numbers were inflated by those who were scheming to swindle Government money.
However, when contacted, Ronald Muhwezi, a medical student at Wuhan University and WUSAC vice-chairperson, said they are 82 students as per now.

Money ready to be paid to students

According to a message received by the students from the Chinese embassy, immediately after the money was cleared, it was asking students to confirm their particulars.
"Please, if your name is highlighted in red, contact your team/group leader as fast as possible. Your branch name is not clear. This is from the embassy.