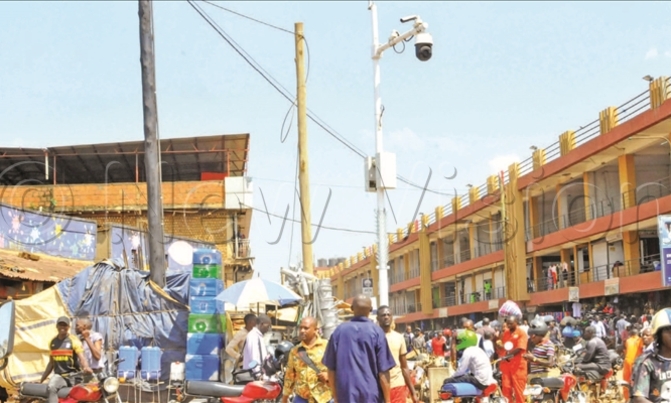 Several incidents have of recent happened in Kampala Metropolitan Policing (KMP) area, where there are cameras, but the footage capturing them has since gone missing.
CRIME

Footage of suspects caught on Closed Circuit Television (CCTV) cameras while committing crimes is being sold to offenders by investigating officers, Sunday Vision learnt.

A copy of a confidential Police report seen by Sunday Vision indicates that: "When the image of a suspect is clearly captured by the cameras, most times the investigating officers settle the case with the suspects upon showing them the footage."

It has also emerged that on many occasions, requests for footage by investigators are made after the footage retention period has expired. "The intention is to derail investigations," a senior officer who spoke on condition of anonymity, revealed.

The disturbing details come at a time when Police released a statement on CCTV cameras, which it sent to media houses on Tuesday, detailing the challenges the Police's directorate of Information and Communications Technology (ICT) has encountered.

However, the statement does not detail the overall findings about CCTV cameras, including trading in captured footage.

Police is yet to release last year's annual crime report.

Other challenges captured in the report include; Network failures due to fibre optic cable cuts derived from major road construction actors Kampala Capital City Authority (KCCA), Uganda National Roads Authority (UNRA) and local government entities, civil works by the National Water and Sewerage Corporation and landlords. "This has derailed pursuit of some major incidents under investigations," the report reads.

Several incidents have of recent happened in Kampala Metropolitan Policing (KMP) area, where there are cameras, but the footage capturing them has since gone missing.

INCIDENTS

Until last week, there were several discussions and debate over a fatal accident that was not captured on CCTV cameras on the Nakawa- Naguru road on February 24. The accident claimed the life of Ritah Nabukenya.

A People Power supporter, Daniel Kyeyune, was two days later shot dead in Nansana Municipality as he came from Mityana to attend the burial of Nabukenya. The Police have said they are yet to establish who was behind the shooting of Kyeyune. In both incidents, there is no CCTV footage that has been produced.

But People Power activists, family members and friends are accusing Police of having a hand in Nabukenya's death and the Local Defence Unit (LDU) personnel for Kyeyune's shooting.

In a statement on Monday, Enanga said the traffic investigations unit has taken over investigations into the fatal accident that killed Nabukenya, while the shooting incident in which Kyeyune died is being investigated by the Regional CID officers at KMP North.

There was also a prominent Opposition politician who was recently reportedly trailed by suspected assailants from Namboole to Bukasa, but when he reported the matter to Police, there was no footage captured of his car and that of the suspected assailants.

The assassination of Merina Tumukunde and Joshua Rushegyera Nteireho, on the Entebbe Expressway last year is one of the incidents that need a breakthrough with the help of a CCTV footage.

Tumukunde was gunned down together with Nteireho, a former Civil Aviation Authority security personnel.

The motive of the killers remains unknown. Detectives have retrieved the footage of the killers, but nothing is known about the details.

Although Police said images were retrieved from CCTV cameras that were installed on the expressway and at some buildings, Enanga, while giving an update on the murder recently, said: "There is no exact identification of the suspect, but a forensic analysis to zero down on the real shooter is underway."


POWER OUTAGES

The report on CCTV cameras also highlights issues of system failure due to constant power outages in certain policing divisions, thereby grossly impacting investigations.

"There are areas with no CCTV installation due to planned or ongoing road construction or upgrade.

These areas have proved to be free zone areas for tracked suspects to escape untraceable," the report noted. The report cited such areas as the Kampala flyover corridor, Clock Tower, Nsambya, Mukwano, Electoral Commission, Garden City/Wampewo Avenue, Kira-Kasangati-Matugga, Naalya and Ntinda, among others.

According to the report, the erection of banners or billboards within the corridors of CCTV camera view affects focus on areas of interest.

RECOMMENDATIONS

The report recommends that there should be timely requests from investigators to secure and retrieve footages for investigation.

It also called for formulation of Memoranda of Understating with other stakeholders (KCCA, UNRA and local government entities, NWSC, telecom companies and landlords), to always notify Police before commencing any civil works, to mitigate fibre optic cable cuts.

Formulation of joint technical teams between Umeme and Police to align unforeseen power outages and quick co-ordination for restoration.

The report suggested that affected policing divisions should focus on physical deployment/mobile patrols in areas with no CCTV installation due to planned or ongoing road construction/upgrade.

Before issuing permits to advertising companies to erect banners/ billboards within corridors of CCTV cameras, the Police want KCCA and local government authorities to seek its clearance.

DETECTIVES PROBED

In January, the Criminal Investigations Directorate (CID) leadership launched a crackdown on detectives suspected to have dubiously lost sensitive case files, leading to the arrest of at least 40 investigators.
Preliminary investigations showed that files that disappear mostly involve capital offences with cases like defilement, murder, kidnap, robbery, car thefts, land cases, rape and gold deals, among others, where suspects allegedly pay dubious detectives for their freedom.
The CID spokesperson, Charles Twine, confirmed the probe, explaining that the crackdown had led to the arrest of several detectives.
As a result, several officers fled their duty station. CID has over 4,000 officers.
In 2017, PSU wrote to the Police's directorate of legal, recommending the sacking of at least 60 cops, who included CID officers.
Around the same time, at least 80 Police officers were arrested over taking part in the crime.
They allegedly took part in extortion, robbery, concealing evidence and fraud.
PSU received complaints ranging from case file management, extortion, response to incidents and irregular conduct in the areas of Kiboga, Nateete, Mityana and the Savana region, which comprises Luwero, Nakasongola and Nakaseke districts.

CCTV BACKGROUND

The CCTV surveillance system was established in October 2007, in preparation for CHOGM, and by November 2007, it was up and running.

However, the system has been bedevilled by failure, resulting into government procuring cameras afresh.

Modern CCTV with facial recognition devices were recommended to be installed in all municipalities, towns, selected Police stations and border entry points to fight crime. So far, 2,546 cameras have been installed, out of the 3,233, at 1,038 sites. The cameras are supposed to be installed at 1,248 sites.

The Government has injected in over sh150b in the ongoing project to install cameras countrywide.

According to Enanga, 2,319 surveillance cameras will be installed in the second phase, which started with a feasibility study on September 1, last year.

The CCTV cameras, with the capacity to monitor a radius of 2km, will help reduce crime, Enanga said, adding that 80 highways will have cameras that can read number plates to reduce traffic-related crimes.

The cameras are expected to also track defaulters of traffic express penalty scheme tickets.

Traffic Police have been finding it difficult to track express penalty scheme ticket defaulters. In 2017, the Police imposed traffic fines worth sh17.7b, but only sh2.2b was paid.

TIGHT NOOSE

While commissioning the national CCTV command monitoring centre and the building at Naguru Police headquarters last November, President Yoweri Museveni said KMP alone has 83 monitoring centres and 522 operators under 50 commanders.

"I tested the system with an impromptu demand that they show me surveillance feed for Gobero and Namayumba, 33 miles from Kampala, on Hoima Road, which they did successfully," he said.

The work has been carried out as part of the Police investment in CCTV provision across the country, on the directive of President Yoweri Museveni. After commissioning the cameras (CCTV first phase in Kampala) President Museveni said: "In my recent addresses on security, I indicated that the Government would undertake this project to fight urban crime. The cameras are now up and running."

"The Banyankore advise that if you hear footsteps behind you, do not just run without seeing the source of the noise. "You might be running away from a mere cock. Christians know the story of panicky disciples as they crossed the lake while Jesus slept. They had little faith," he added.


This story first appeared in Sunday Vision on MARCH 8 2020.
Compiled by Simon Masaba and Chris Kiwawulo.