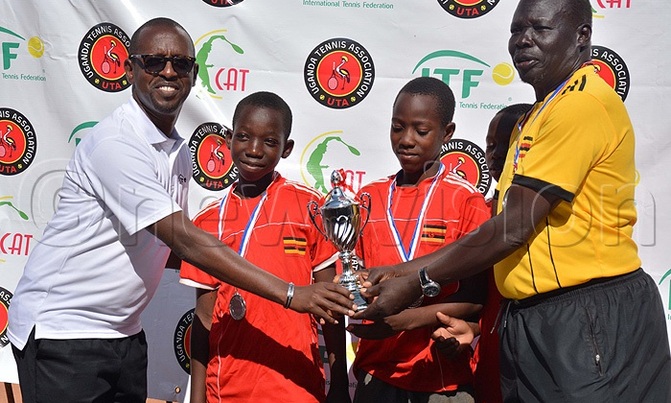 Kenya and Tanzania dash Uganda's hopes.
TENNIS

KAMPALA - Uganda's hopes for qualifying for the ITF/CAT Africa 12 and Under Teams Competition were blown away by Kenya and Tanzania in both the boys and girls categories in Lugogo, Kampala.

Eseza Muwanguzi, who competed last in the finals, was beaten 6-3 6-2 by Tanzania's Irene Munishi.

Edinah Nabiryo also lost 6-4 6-4 to Nasha Singo in the singels.

Munishi and Singo went ahead to defeat the pair of Muwanguzi and Nabiryo in the doubles 6-3 6-7(4) 5-10 as Uganda finished third in the girls' category behind leaders and second-placed Tanzania and Kenya, who qualified for the finals.

Kenyan duo Zayyan Virani and Ruincliffe Ominde defeated Ugandan pair Francis Agonzebwa and Junior Nyata 7-5 6-1 and 6-3 6-1 in the two singles matches.

On a sobering day for the hosts, the Kenyans beat Agonzebwa/Nasser Ochom 6-1 6-2 in the doubles, which subjected Uganda to a second runner-up finish.


Thierry Ntwali, the ITF development officer in charge of East and Central Africa, presided over the five-day competition.

He underlined to the qualified teams that they have a lot of work to do.

"We have a lot of talent but the teams that have qualified need to work harder since they will now be competing with teams from north and southern Africa," said Ntwali.

"They need to practice more and they will benefit a lot when they compete on behalf of East Africa."

The competition saw Uganda tussle it with Tanzania, Seychelles, Sudan, Burundi, Kenya, and Ethiopia.


ITF/CAT East Africa 12 and Under Teams Competition

RESULTS

Boys singles

R.Ominde (Kenya) bt J.Nyaata (Uganda) 6-3 6-1

Z. Virani (Kenya) bt F. Agonzebwa (Uganda) 7-5 6-1

Boys doubles

Z. Virani/R.Ominde (Kenya) bt F. Agonzebwa /N.Ochom (Uganda) 6-1 2-6

Girls singles

Irene Munishi (Tanzania) bt E. Muwanguzi (Uganda) 6-3 6-2

N.Singo (Tanzania) bt E. Nabiryo (Uganda) 6-0 6-4

Girls Doubles

I.Munishi/N.singo (Tanzania) E. Muwanguzi/e.Nabiryo (Uganda) 3-6 7-6(4) 10/5