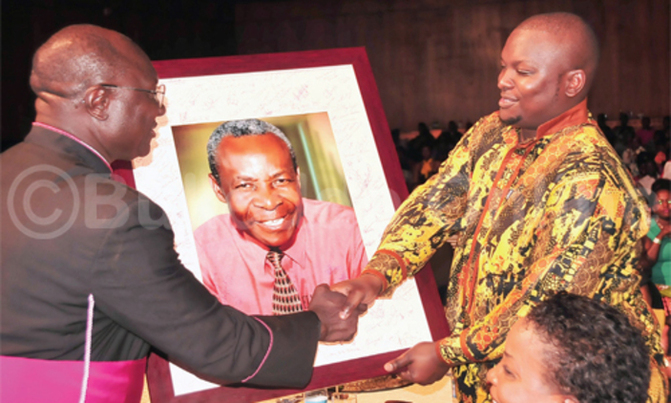 This year's edition is aimed at paying tribute to the late Elly Wamala and his musical journey.
One of the events to remember Elly Wamala in 2014. File photo
MUSIC ELLY WAMALA

By Ranell Dickson Nsereko

Fans that love dancing and grooving to oldies Ugandan musical are yet again going to experience another thrill of entertainment.
The tugende mukikadde is a musical experience that is held to help Ugandans reminisce about those times.
For many, it will be memories and throwing back to the music that made them dance themselves lame or even escape from school or home to dance to.

This year's edition is aimed at paying tribute to the late Elly Wamala and his musical journey. Elly Wamala, born Elishama Lukwata Wamala on December 13, 1935, was a Ugandan musician who succumbed to throat cancer at Mulago Hospital on 22 August 2004.
Some of the artists at the launch of Tugende Mukikadde. Photo by Dickens Nsereko
He started his musical journey as a guitarist at a local bar called New Life Bar in Mengo before going to Kenya to study advanced guitar cavorting at the Nairobi Conservatoire.

By the time of his death, he had over 60 songs to his name with the popular ones being Nabutono and Josephine.

A selected number of artists were listed to perform each of his most danced to tunes. Performers such as Kabuye Semboga who were mentored by the late Wamala are already rehearsing for the event.
He added that it was the late Wamala who advised him to quit playing the guitar and hold a microphone because he saw the real talent in him. Sarah Zawedde who is also a performer on the night said old is gold.
Sixteen years since his passing, he remains alive in the hearts of Ugandans, in their living rooms, in theatres and bars and every possible medium.
In 2014, as a way to celebrate the late Elly Wamala's life, 10 years after his demise, his family collaborated with contemporary singers to redo over 15 of his songs that were popular then.

The April 4, 2020 event will feature many other artists.
Related stories