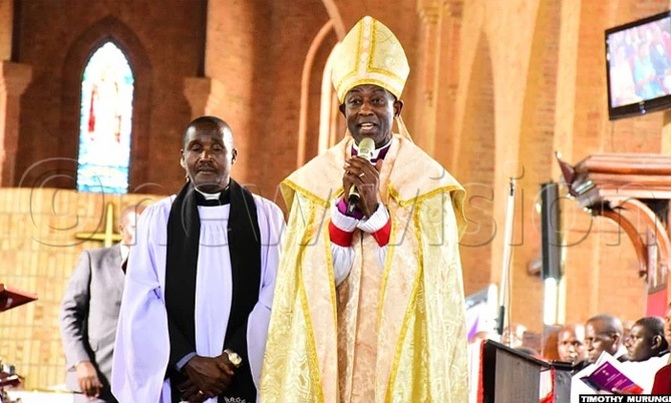 "My mother struggled to educate me through primary school. She used to sell things, such as charcoal and foodstuff, such as cassava and matooke, in the market to get my fees. I also sold things, such as pancakes and roasted groundnuts," Kaziimba
RELIGION

KAMPALA - On Sunday, all roads led to St Paul's Cathedral Namirembe, where Dr. Samuel Stephen Kaziimba Mugalu was installed as the Archbishop of the Church of the Province of Uganda. On Sunday, March 08, he will be installed as the Bishop of Kampala Diocese at All Saints Cathedral Nakasero. He will also become the Chancellor of Uganda Christian University (UCU) Mukono. Mathias Mazinga explores the journey that led Kaziimba to that moment.

The long-awaited ceremony was presided over by the outgoing Archbishop Stanley Ntagali. President Yoweri Museveni graced the function. Kaziimba's election as Uganda's ninth Anglican archbishop surprised many people, especially those who did not know much about him.

However, even for those who knew him, it was inconceivable that the smiling prelate of humble demeanour could be entrusted with the highest clerical office in the Anglican ecclesiastical province.

So, what is special about Kaziimba that won for him the admiration and confidence of his fellow bishops? What is in him that has caused general public excitement over his election?

Well, Kaziimba is a man of interesting attributes. But something that has boosted his worldwide reverence to even greater heights is his unstoppable rise from a poverty-stricken and troubled background. "I was born at Gulama-Najja, Nyenga, in Buikwe district, on August 15, 1962. My father, Besweri Kaddu, was a polygamist. He separated with my mother, Jessica Nannyonjo, when I was still young," he says.

"My mother struggled to educate me through primary school. She used to sell things, such as charcoal and foodstuff, such as cassava and matooke, in the market to get my fees. I also sold things, such as pancakes and roasted groundnuts," Kaziimba adds.

"After primary school, my uncle, Emmanuel Mukasa, took me under his care and paid for my secondary education. He was a brewer of mwenge-bigere (local brew), which is made from sweet bananas. I would help him to harvest the bananas," he says.

"We would keep the bananas in the kitchen and wait for them to ripen. We would then squeeze juice from the bananas using our feet, mix the juice with sorghum flour and then cover it in a wooden boat-like container called eryaato, to facilitate the fermentation process. The juice would turn into brew after three days. Uncle would then sell it and clear my school fees."

Many young people lose hope when they get challenges. Kaziimba nonetheless saw his needy situation as an opportunity to prepare himself for the future, which, in his discernment, posed even greater challenges. "I missed the love and care of my mother for the greater period of my childhood and youth. I believe this was God's plan to empower me with the survival skills that would enable me to prevail over the challenges ahead. Working with my uncle in the gardens helped me to have a proper attitude to work, right from my childhood," he says.

Kaziimba prevailed through his challenging situation, full of hope and determination. He had his primary education at Lusaka Primary School, Makindye, a city suburb. He later attended Seeta College, Mwanyanjiri, in Mukono.


Kaziimba's attributes
Kaziimba has certain extraordinary qualities that have made him one of the most influential prelates in the history of the Church of Uganda.

He is most acknowledged for his projects, which have enhanced the Church's policy of self-reliance.

Kaziimba's passionate pursuit for ecclesial self-sustenance first came to light when he was Provost at St Andrew and Phillip Cathedral, Mukono, where he spearheaded significant income-generating projects, which saved the diocese from foreign dependence.

His most outstanding project, though, is the commercial building that he set up in Mukono town. The building, which is currently rented out to some commercial banks, is one of the major income-generating entities of the diocese.

Kaziimba's ecclesial development orientation became even more visible when he became the Bishop of Mityana Diocese in 2008.

One of his most acclaimed projects is the multi-billion shilling students' hostel — Pension House — which he built at Ndejje University, in Luwero district. The income from the building is used to cater for the diocese's retired clerics.

Kaziimba also bought two commercial buildings in Mityana town and, by the time he was elected archbishop, he was finalising the construction of yet another three-storey commercial complex: Pennsylvania House, in Mityana.

Kaziimba has also always been keen to empower his clergy. He knew that projects would be irrelevant without skilled clergy.

So, he encouraged and sponsored his priests to study courses at tertiary institutions. He also improved their living/working conditions.

He encouraged Christians to build decent presbyteries for the priests and also, to provide them with cars, so that they do their pastoral work conveniently.

Kaziimba defended his clerical welfare policy, saying: "I do not agree with people who say cars are a luxury. A priest needs a car to be able to reach out to God's people. Priests also need to live in comfortable residences."

Kaziimba's most acknowledged project is the sh7b St Andrew's Cathedral, Namukozi, in Mityana.

The 2,500-seater church, which was inaugurated by President Yoweri Museveni in 2018, stands out majestically as the embodiment of Kaziimba's successful episcopal ministry in Mityana.

Kaziimba, who says his name means a builder, also built posh administrative units at Namukozi.

The Rev. James Kityo (a priest in Mityana Diocese) admired Kaziimba's clerical welfare policy, saying: "By the time Kaziimba became our bishop in 2008, only three priests, in our diocese, had a car. Today, 92 of us are driving. Those who do not own cars are in the pipe-line of getting them. Our diocese also currently has 50 priests with a bachelor's degree, compared to three in 2008. We also have four priests, who are currently pursuing PhDs." Former diocesan head of the laity, Daudi Malagala, appreciated Kaziimba's deep commitment to ecclesial self- reliance.

He said Kaziimba mobilised Christians to safeguard and utilise the church's resources. "He rescued about 350 acres of Church land, which is now being used productively by the diocese," he said.

Kaziimba preached self-reliance through leading by example. He saved part of his monthly stipend and bought land, which he sold years later and built the family's commercial projects.

"God gave me the grace to understand the value of land. So, everywhere I worked, if I heard that somebody was selling land, I would go for it. Land then was still cheap. At one time, I acquired several plots in and around Mukono. I sold some of these plots and got money that I used to construct my family house and two hostels in Mukono," Kaziimba says.

Passionate evangelist

Kaziimba is also acknowledged as a zealous evangelist, who preaches the Gospel with irresistible eloquence, energy, and doctrinal conviction. His homilies are rich with descriptive power, effective, imageries, metaphors and similes.

He spices the homilies with rib-cracking jokes and rhyme, which keep his congregants hooked to the sermon.

The focus of Kaziimba's homilies is Jesus Christ and his saving love that surpasses all human understanding and the need for people to accept his salvation.

Kaziimba expresses heart-rooted joy as he preaches about Jesus, who he says elevated him from "grass to grace" and also, saved him from the bondage of sin.

Bishop Kaziimba's evangelistic zeal is reflected in these words that he addressed to his priests on the occasion of the 42nd anniversary of Mityana Diocese at St Andrew's Cathedral, Namukozi, recently.

"As we celebrate the 42nd anniversary of our diocese, we need to recommit ourselves to the Church's mission of spreading the gospel.

We must ensure that the Gospel reaches every nook and corner of the diocese. No minister of the Church should sit back when many people have not yet received the light of Christ," Kaziimba said.

The prelate also revealed the diocesan plan of setting up 20 churches every year as a practical way of celebrating four decades of the diocese's existence.

Commitment to children

Basing on his deep understanding of young people as the future of the Church and the country, Kaziimba developed an extra-ordinarily deep commitment to children, who he says, must always be accorded preferential treatment. "If you take good care of these children, the future of the Church and the country will be blissful. These children will be the future bishops, legislators and even presidents. You must give them good care and examples. If you mistreat them, they will grow without a conscience. So, show them acts of charity and civilisation."

Environment activist

Kaziimba is passionate about environmental conversation. He is one of the first Anglican prelates to join the campaign against plastic bags at the Namugongo Martyrs Shrines, which was pioneered by the Catholic Church.

Family man

Kaziimba is married to Margaret Naggayi Kaziimba, an intercessor and Born-again Christian. The couple has four biological children. They are the Rev. Deacon Moses Mugalu Kisakye, Peter Samuel Muwanguzi Kyeswa, Captain Enoch Daniel Musaasizi Ntulume, a commercial pilot based in South Africa and Joseph Kwagala, a medical student.

Talented sportsman

Since his youth, Kaziimba has always been a spectacular soccer player, coach and philanthropist.

He has been the captain of the soccer team of the clergy of Mityana Diocese. He is also an ardent supporter of the National soccer team Uganda Cranes, English Premiership club Arsenal FC, Mpindi FC, Ssingo FC, and Kyaggwe FC.

Music genius
Kaziimba is a talented singer, who wows congregations with his warm and mellow baritone, every time he takes to the microphone.

He is always at his best when he sings choral hymns. Kaziimba is also a born-virtuoso composer of poetic music.

He bequeathed his musical talent to his sons, who also formed a family ensemble called 'The Kazimba Boys.'

Champion of ecumenism

Kaziimba has a deep understanding of the principles of human unity and solidarity. Owing to his understanding of God as the creator of all human beings, Kaziimba relates and works harmoniously with all people, regardless of their age or socioeconomic status.

During a recent interview, Kaziimba revealed that the money he used to build the Cathedral at Namukozi was contributed by people of different faiths: Anglicans, Catholics, Evangelicals, and Muslims.

They were also, supporters of different political parties. He appointed Muslims and Catholics on the organising committee of his installation.

Kaziimba's pun-play

Kaziimba is acknowledged as an eloquent speaker, who spices his homilies with fabulous pun. Below are a few of his Gospel-tinted quotable quotes: "God calls ordinary people to use ordinary objects for extraordinary purposes." "Without prayer, all that we do either back-fire, misfires or makes no fire." "Where God is, the impossible become possible." "God has the power to make anybody to become somebody in front of everybody."



Kaziimba's plans

Subsequent to his election, Kaziimba promised to continue preaching a holistic gospel, which takes into account the spiritual and economic welfare of the people. "We need to evangelise the head, heart and the hands of our people.

Christians must be taught the Gospel, but they must also be encouraged and empowered to work.

Honest work or business complements the Christian message. Jesus came to give people life in its fullness as he says in John 10:10."

Kaziimba also said he will come up with special programmes for children, youth and women. He also promised to push for national reconciliation, ecumenism and international partnerships.

What people say...
The Rt. Rev. Dr. George Sinnabulya (Bishop Emeritus of Mityana)
He is an extraordinary preacher of great anointing. His powerful homilies always climax with miraculous deliverance and breakthroughs. As a result, thousands of people have embraced Jesus as their Lord and saviour.

Gaster Lule Ntake (entrepreneur and philanthropist)
He is one of the most inspirational preachers. Mission and evangelism is always his priority.

Kaziimba is a missionary prelate who takes the Gospel to every nook and corner of the diocese.

To further his evangelistic programmes, on the 42nd anniversary of the diocese of Mityana, he commissioned a new $13,000 super custom van for the diocesan mission department.

Mutaasa Kafeero (businessman)
I make a pilgrimage to Mecca annually. Oftentimes, we Muslims are sidelined, but our brother, Kaziimba, has loved and trusted us. I pray that other leaders emulate his good examples.

Edith Nanfuka Sinabulya: Bishop Kaziimba has gone to great length to ensure that the clergy and their spouses lead a decent life. He has helped many priests to further their studies and encourages Christians to build decent houses for the priests.

Ruth Nankabirwa (government chief whip) Bishop Kaziimba is an embodiment of development. He is a religious leader of noble character. He is also a seasoned mobiliser.

Owing to his visionary leadership, the diocese of Mityana has attained unprecedented holistic development. He has ably taken God and development to the people.

Kaziimba's priestly ministry

Kaziimba's clerical ministry did not come from a vacuum.

Baptised by Canon Baddokwaya at St Luke Church of Uganda, Kibuye, in 1973.

After his confirmation (by Bishop Misaeri Kauma (1979)), he started teaching Sunday school children. He also sang with the church choir.
Served as a catechist (1981-83).
1985: Enrolled at Baskerville Theological College, Ngogwe (in Mukono), where he trained as a lay leader. On completing the course, he was posted to St Peter's Church, Lugazi.

Provincial certificate in theology from the Uganda Martyrs' Seminary, Namugongo. Diploma in theology from Bishop Tucker Theological College, Mukono.
December 9, 1990: Ordained deacon by Archbishop Livingstone Mpalanyi Nkoyoyo (RIP), who was then Bishop of Mukono, and posted to Nakibizzi Church of Uganda parish (1990-94) and Katente parish (1997-99).

Appointed as Vicar and later Provost of St Andrew and Phillip Cathedral, Mukono (2000).

Obtained a master's degree and, later, a PhD in Theology at Western Theological Seminary, US (2004-2007).

Made Canon by Bishop Elijah Paul Luzinda in 2007.

Fourth Bishop of Mityana Diocese on October 26, 2008, replacing Bishop Dr. Dunstan Kopliano Bukenya.

Elected as the 9th Anglican Archbishop last year.