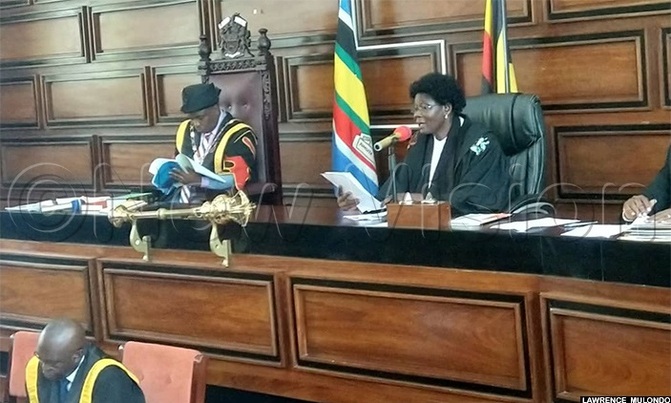 The councilors that have shown interest for the position of speaker including Doreen Nyanjura, Abubaker Kawalya and Muhammad Ssegirinya.
ELECTIONS KCCA

KAMPALA - The situation is calm at City Hall Kampala were elections for the Kampala Capital City Authority (KCCA) speaker and deputy speaker elections are going to take place.

The Police have deployed heavily at City Hall. There are two security checkpoints in the area and for one to access, they have to present their identity cards.

The councillors that have shown interest for the position of speaker including Doreen Nyanjura (Makerere University), Abubaker Kawalya (Rubaga) Bruhan Byaruhanga (Kyambongo) and Muhammad Ssegirinya (Kawempe) have already sat in the council chambers waiting for the process.

Those aspiring for deputy speaker include Doreen Sabuka (Makindye) and Alice Amongi (Nakawa).

The election process is expected to be on the order paper of the meeting that will be chaired by Lord Mayor Erias Lukwago.

The KCCA councillors have already arrived at the City Hall as they prepare to vote the Speaker.

The voting will be presided over by Buganda Road Chief Magistrate, Miriam Akello.

Bruhan Byaruhanga (Kyambogo) who had shown interest in the speaker's seat decided to go for deputy speaker.

Office of the Speaker

On November 28, 2019, President Yoweri Museveni assented to the Kampala Capital City (Amendment) Act, 2019.

The Amendment Act, 2019 under sections 8A and 29A established the offices of Speakers and Deputy Speakers of the Authority and Division Urban Councils respectively.

Under the amended Act, the functions of the Speaker and Deputy Speaker shall be presiding over all meetings of the Council, be charged with the overall authority for the preservation of order in the Council and ensuring the enforcement of the rules of procedure of Council.