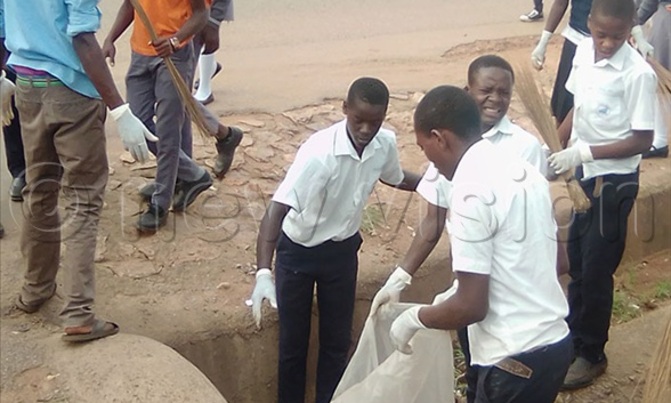 The "Burungi Bwansi" initiative is also aimed at improving hygiene and sanitation as well as educating residents on their role in waste management and disposal.
ENVIRONMENT LITTERING
With most local governments' revenues dwindling, crippling their ability to provide key services, some urban residents have come to provide support that gives much-needed relief to the entities.
In Ibanda municipality, for instance, residents have launched a monthly community work initiative to promote cleanliness in Ibanda town.
The "Burungi Bwansi" initiative is also aimed at improving hygiene and sanitation as well as educating residents on their role in waste management and disposal.
This comes after council failed to collect the town's garbage for the past four weeks.
This led to public outcry about heaps of uncollected garbage across the town with some town dwellers threatening to protest.
"Council has not been collecting garbage for the past one month, so we have intervened as residents to remove some of the waste to ensure a clean town to safeguard lives," said Julius Arinaitwe, one of the organisers during the inaugural activity on February 27.
Besides, it is our responsibility as residents to ensure the town is clean, he added as residents cleaned the town from three streets, including Kibubura, Jubilee and Main Street, where over 10 truckloads of garbage were collected.
The exercise was organised by Ibanda Community Development Forum and a local media house in collaboration with Ibanda Municipal Council. It attracted residents, organisations, students from schools and institutions in Ibanda town as well as traders.
The community work will be conducted on every last Thursday of the month. Organisers said that besides the monthly cleaning of the town, they will carry out public awareness drives to sensitive residents on proper waste management and disposal and their role in creating a clean town.
Gilbert Mukama, from Ibanda Community Development Forum, said the garbage had become a health risk in town as council was no longer collecting it, adding that there are no rubbish bins where residents can dump it.
Council speaks out
Fred Banywana, the municipality works secretary, called on residents to cooperate with council as the local authority devises means to address the garbage problem. He said some residents dump waste in town's drainage channels and at gates of people's home at night, but then turn around to blame council.
"It is our responsibility as residents to manage and dispose of the garbage we generate as prescribed by the municipal by-laws," he said, adding that a dirty town does not attract investors.
Bernard Bakundi, a municipal councilor representing Kigarama Ward, said initiatives like this were crucial to development because it creates a sense of ownership among the people.
What residents, traders say
Feddy Byamukama, a trader, says the town alleys have turned into dumping sites, saying enforcement of laws on garbage management and disposal has failed.
She, however, lauded the organisers of the cleaning exercise saying it has given the town a breather.
Sulaiman Muhoozi, the chairman of Ibanda district Chamber of Commerce and Industry, urged traders to buy sacks where to keep their rubbish. He added that a dirty environment is a business killer.
Greening project
Early last year, the municipality leadership launched a programme to promote cleanliness and hygiene under the largely ambitious green growth blueprint of Ibanda Municipality.
The project, which also sought to promote investment in Ibanda and position the town as a key tourism hub in the sub-region, was never fully implemented as squabbles between political leaders and the technical staff affected it.
Under the project, most of the rubbish would be recycled or sold to farmers of this predominantly rural municipality as manure.