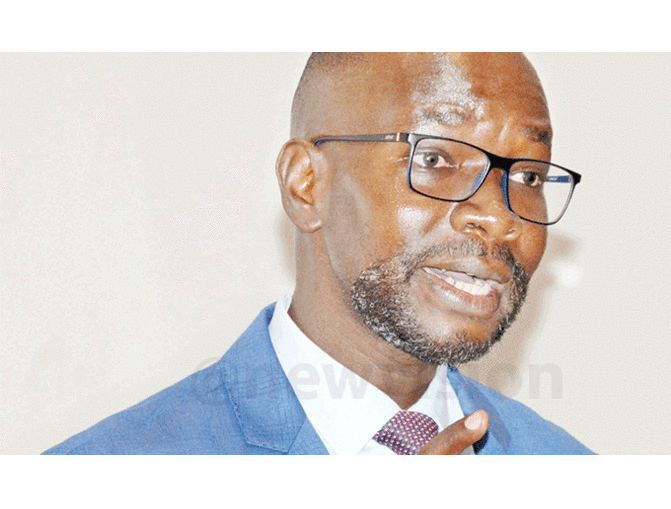 We have looked at the challenges that the sports sub-sector is currently faced with. I talk about us because it is not a one-man or one lady show. It is a collective responsibility.
Hamson Denis Obua, the new Sports State Minister is an industrious man who believes Uganda's sports sub-sector can be much better. He told NewVision how he intends to boost the sector.

Are you related to the late Denis Obua?
Myself, the late John Akii-Bua, the late Denis Obua senior and David Obua all come from the Atek Okwero-We clan, one of the clans in Lango. Atek means I am strong.

Before this appointment, were you seriously involved in sport?
As a student of Lango College for my O and A-levels, the furthest I reached was the Coca Cola Schools Championship of 1994. I did not participate in the competing team, but I was part of the school's first, second and third eleven that was in Mbale.
Later on when I joined parliament that provided an avenue. For the last 12 years, I have been a player of the parliamentary football club. We are the defending champions of the East Africa Inter-Parliamentary Games. While at Parliament I served as the team manager of this team. I am still also the team captain. I also served as the chairman of the Uganda Cranes steering Committee for the 2012 AFCON qualifiers.
As the new minister what are you promising Ugandans?
We have looked at the challenges that the sports sub-sector is currently faced with. I talk about us because it is not a one-man or one lady show. It is a collective responsibility.
Government, the ministry, NCS, Department of Physical Education, all the 51 registered national federations and associations and parliament are stakeholders.
The key areas that we are looking at include the law. We are using a 1964 law.
By all standards, this is an archaic and obsolete law that calls for a total overhaul. The challenge we have is that the policy that was made to operationalise the coming into force of the bill to repeal the 1964 law is under review.
Until this 2004 policy is fully reviewed the bill cannot come into force because the policy operationalises the bill. So, in the ministry by the time I joined, I found the issue of revising the sports policy, it is on course. Two is the question of infrastructure.
As you interview me now, I am just from Namboole and Nakivubo. On our infrastructure, we are looking at the title deeds for the pieces of land that have been earmarked for sports infrastructure.
Obua with badminton players
I am happy to note that Nakivubo and the National Council of Sports have titles. The biggest challenge now is with Mandela National Stadium.It is one issue that we debated upon in today's meeting and tour.
We are optimistic that all these facilities must have land titles because, under the registration of title deeds, a land title is conclusive evidence of ownership.
The land of Namboole has been encroached on, I toured the entire piece of land even areas that have been encroached. We have had meetings here with Uganda Land Board, Ministry of Lands, Finance and we are all saying we need Namboole with a land title. Even the piece of land that has been leased to Kabale Distributors and Pioneer Bus Company, upon expiry of the lease must go back to its intended use.
The pioneer lease was for five years and it is soon expiring. But the lease was also acquired, in my opinion, in the wrong way. The Namboole board and the shareholders were not consulted. So there were irregularities.

Were you impressed with what you saw at Nakivubo
I must tell you without any fear of contradiction that what I have seen, I believe in it. Before I was appointed I heard that: Nakivubo land was gone! That instead of a sports facility, people were constructing a shopping mall.
I went there and was taken through the artistic impression, I toured the facility together with the team. We were reliably informed that upon completion Nakivubo
will have a sitting capacity of 35,000 and the construction is in progress. There will be a football pitch with artificial turf, there will also be an eight-lane athletics track and a provision for more facilities for netball, volleyball, and basketball. So I call upon these people who have been saying this land is gone to pay a visit and see the progress.

I will at an appropriate moment be visiting the other regional stadia, for instance, Bugembe, Kapchorwa, Mbale, Gulu, Buhimga, Kakyeka and Lira to see the land government has earmarked for the construction of Akii-Bua stadium.

But in moving I will also be marketing an idea that has worked with Pece stadium and Gulu district local government.

This is an idea of "we can do it." If Gulu Local Government managed to mobilise resources from their economy and they renovated their stadium, a facility that five years ago was dilapidated, others also can. Today it is fenced with a good ground. I believe that is possible with the other stadia also. It takes the political leadership to mobilise the corporate world that is operating within their area. This is possible in these districts with stadia.

So I will be slowly but also surely marketing that idea. On infrastructure, his excellency the President also directed the construction two stadia with a grant from China. They gave Uganda requirements that must be met before finally the proposal is tabled to them. This is for Akii-Bua and Buhinga stadia. Now the ministry is at the point of doing a feasibility study. Advertisements were made.

Akii-Bua is phase one and Buhinga phase two. We are now at the point of getting a contractor to do the feasibility study. Then later on the report will be tabled to the Chinese government through the Chinese embassy in Uganda for securing that grant.

Any other key area you will be addressing in your term?
Funding is the other challenge. I addressed the National Sports Forum under the NCS regulations of 2014 and I highlighted three forms of funding that everyone must go for. The first is government funding, second is the corporate world. I must salute some of our national federations and associations that are already walking the talk.
I believe that rest can also move the extra mile and borrow a leaf. Another source of funding is grants from international federations or associations. We believe that
even in developed world sports is majorly run by the private sector. But in this case, we still have the latitude of government sponsoring or funding the sports activities.
We shall, on funding, be engaging ourselves to see how we can get more financing from the three areas. On wrangles, within and without federations, I have appealed that during my reign, we need stability. The President needs stability. The Minister of Education and Sports needs stability in the sports sub-sector. I have
made a passionate appeal that we must focus more on the game as opposed to role conflict and sibling rivalry.
Yet another challenge is the taxation of sports equipment.
I may not promise much because this one requires an amendment to the law. But we will attempt. If the whole idea is sold to parliament and cabinet and is bought that will be good for the running of sport especially for the betterment of the sector. But these all require collective responsibility by all stakeholders.

What did you consider in appointing the NCS board?
We took into consideration different stakeholders in the sports arena in Uganda. There is the Uganda Olympic Committee which takes into consideration over 20 sports federations. Uganda Paralympic Association, Uganda Sports Press Association, Physical Education and Sports Department of the Ministry of Education and we have also looked at eminent personalities from within the public with skills and knowledge that will bring in something new; like in areas of finance and law because there are issues of PPP and issues of the law. So, we have constituted a multi-disciplinary and skilled board.
We also took into consideration issues of gender. The number of women has increased from two to four which is a work in progress. We also considered regional balance. All four traditional regions of the country are represented.

Your choice of a chairman who is also the UOC secretary-general is raising a lot of debate.
We have looked through the rules both domestically and internationally and for now, there is nothing that bars a member of UOC from serving on NCS. The only challenge or impediment which I think is part of the 2014 regulations is that the current chairman will relinquish his position as the chairperson of the swimming
federation. Holding these two positions is the only conflict of interest. But all said and done there has also been an issue of role conflict between NCS and UOC.
This is meant to bring a point of convergence because we are all working for the betterment of the game.

Do you have any immediate tasks for the board after it is sworn in?
First of all it has the responsibility of studying the NCS funding policy of the respective registered federations and associations. That said, the President guided on what he termed as the niche sports for Uganda. These are disciplines where Uganda has a comparative advantage. Where we have in the recent past delivered.
They are eight. They are disciplines which in the ranking of receiving national funding, receive more. But that does not mean that other disciplines are not a priority. What is most important is to look for more resources, once these are availed we will be able to use them using the notion of pro-rata.
I know some people are saying some of our big brothers are up there and we are down here. First, bring them down and we go up together. In my culture, once you have a big brother on top of a mango tree, you don't pull him down in order for the two of you to go back together. You ask him - how did you get there and how
can you help me get there. That must be the principle we must use.

You talk of niche sports, but even amongst these, disciplines are getting huge funding yet delivering less.
Before we make any conclusions on this issue, we must first make an assessment looking at for instance how many qualifications you participate in. When you look at for instance football, there is World Cup qualification, Africa Cup of Nations, CECAFA, CHAN to mention but a few. Then when you look at the number of teams
managed by FUFA - there is U-17, U-20, U-23, the senior team, ladies team. Then this is a group game. All this is factored into the aspect of resources.
With all this in mind, not all sports can receive the same amount of money. Once the funding policy is completed we shall be able to have the benchmarks. For instance, you are Uganda Swimming Federation we shall be asking you how many competitions do you participate in at a continental, international or regional level compared to football?

There are fears that you might favour football given your relations with current FUFA leadership.
I cannot run away from the fact that I played football. I am a team captain. But now that I am appointed a minister for state for sports I have even made history. In these two weeks, I have made history by becoming the first minister to visit the rugby, boxing, swimming, table tennis national team camps.
In doing all this I am leading by example. I am undoing that thinking, idea, opinion that Obua is a football person. I am a sportsperson. By the way, I did some boxing
in high school. Did I miss the rugby ball in that line out when I visited their camp?
I demonstrated to the whole world that I am also a rugby player. So, I want to allay the fears of those who think that Obua is more of football. I am here for all sporting disciplines.
Next, you will see me with the athletics team. So, I am an all-round man who is here for all the 51 registered disciplines. This is part one of an interview with sports minister Hamson Obua.

The second part will run online tomorrow.