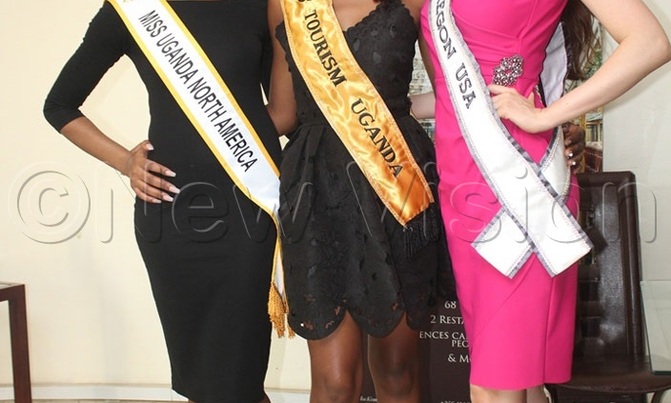 Miss Uganda North America, Vanessa Nansamba is also advocating for the preservation of the Murchison falls that is likely to face demolition for a dam construction.
Vanessa Nansamba 26, Miss Uganda North America 2019/2020 together with Miss Oregon USA Katerina Villegas is in the country for the third Miss Uganda North America's cares tour.
Miss Uganda North America 2019/2020, Vanessa Nansamba with Miss Oregon USA Katerina Villegas

The beauty queens together with care's tour team are in Uganda for purposes of sensitising young people on matters of mental health, Charity outreaches, Culture and tourism as they will be visiting Murchison falls, Rubaga Girls School for mentoring and counseling, Bulange for purposes of preserving and promoting Buganda culture and charity visit in Katanga to spread the message of sanitation and give out sanitary materials as well.

The tour is targeting the girl child and according to the program president Tibba Murungi Kabugu, they are looking for that woman who is still in the process of decision making. "This year we are focusing on the teenagers. How we can still make them leaders, mentor them and be able to give back to the community." She said

"We help young people create their platforms and use these platforms to achieve their goals." Miss Vanessa Nansamba a mental health medical student said she is to use her crown to talk about mental illness with different groups and also sensitize societies on the same issue.


"This is an opportunity for me to use my crown to start attending to mental health, have conversations about mental health with friends." Miss Katerina said her visit is an opportunity for her to reach out to different societies to sensitize and also share how with societies how the mental situations can be attended to.



"When I was invited to be a part of this tour, I was very excited because people look at mental health differently. Some see it as something that is made up; some think it is dramatic depending on where they are because we have different back grounds. Where I come from, feelings are not something to talk about so it means a lot because all around the world, we describe it very differently and we can still uplift one another and accept one another no matter where we come from."


Asked whether they will be visiting any mental health facility, Mrs Tibba said they will not be attending any but will reach out to the young people and guide them so that they live a life that will keep them away from the mental health facilities.


Since promoting tourism is one of the tour's targets, the two queens said they are advocating for the preservation of the Murchison falls that is likely to face demolition for a dam construction.


"I do believe in having vegetation because a healthy environment is a healthy mind, healthy people and a healthy country" Said Miss Uganda North America Vanessa Nansamba.


"It is important to preserve what you can because it makes people like me want to come back. It makes me want to go back home and tell everyone you need to come visit." Miss Katerina said.


Miss Nansamba also revealed that she would love to advocate for Luganda schools in America to keep the Buganda culture strong for the next generation.