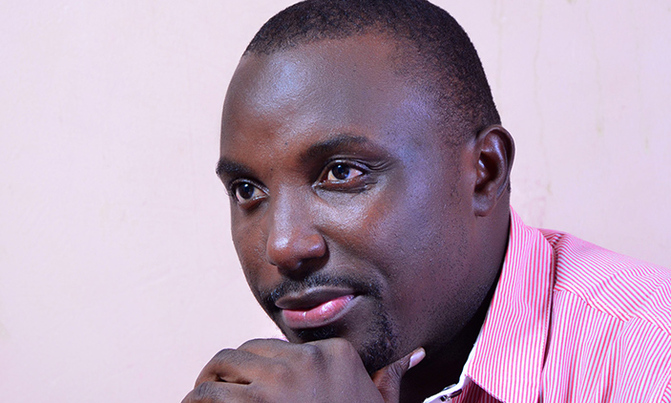 The rights of Ssemaganda's mother were violated. Her property plus land was grabbed. She could not explain what was going on but he was watching.
GENDER VIOLENCE WOMEN RIGHTS

A day before he was born, Sam Semaganda a journalist, writer, and poet lost his father. "My mother chose to remain in her marital home to raise me despite efforts by relatives to push her out and inherit property," he says. Also back then, the practice of widow inheritance was the norm, but she refused it.

When Semaganda was much older he started noticing the abuse his mother was going through in the hands of paternal relatives.

"Those were day's women had to tolerate all violence, pain and suffering quietly. I started seeing mistreatment at the hands of my relatives yet they should have been protectors of a young lady with a young man to raise. They turned into brutalizes," he says.

The rights of Ssemaganda's mother were violated. Her property plus land was grabbed. "She could not explain what was going on but I was watching," he reveals.

Ssemaganda adds: "Despite all the inhuman treatment, she refused to be inherited as a widow and was sent out of her marital home and barred from taking me with her. I was left with a paternal uncle, while my mother went to stay with my maternal uncle. That is when my questioning of the place of women and their rights in society began."

"I saw how vulnerable and helpless her position was in society. My mother was forced to leave me behind. That is when I knew something was wrong," he adds.

As a result of his mother denied her rights, and being separated from her son, Ssemaganda went through a lot of dehumanizing treatment.

"I could only turn to myself for help. I asked myself questions to which I never had answers. I was my only hope" he says.

Ssemaganda would start fighting for women at a very tender age.

"I was given one chance to visit my mother, I never went back. I started life afresh with my mother, bonding again, learning human values through stories she would tell. I got knowledge. I knew I wanted to protect her and other women. It's impossible for me to get off this journey," Ssemaganda states.

Righting the wrongs

It is one thing to empower women with rights and what they should settle for when at home there is a man who does not care for these rights, says Ssemaganda.

"If men are not involved, then we are fighting a losing battle. Many times men know the turmoil they unleash on women, their close friends know it too and they even talk about it. We need to stand in this gap, he says.

To ensure men embrace women empowerment and rights, Ssemaganda deliberately engages men on the topic of women empowerment and rights whenever they are gathered.

He makes use of breaks during football game screenings in bars or restaurants, or whenever there are meetings to engage colleagues and even acquaintances, and his effort is on a daily.

This way, Ssemaganda is getting men to discuss and appreciate women's empowerment, and rights.

"It is better to get men on board to realise that treating women as equal human beings does not make them less of a man. Men have their men talk, start conversations in church, offices, taxis, in the house, on streets, there is a man who will listen and change their perception about women empowerment and rights," he says.

The Impact of engagement

Judith Owembabazi Head of Marketing and Product Development at Housing Finance Bank can only describe Ssemaganda as an incredible spirit.

"He has dedicated his time and resources to support women. There is consistency in his commitment to women's issues. He will seek you out, give you time, listen and advise, and you feel alive. His heart is in the right place. He cares for women and gets up to do it in a country where not many people pay attention to women," she says.

"His book titled "Enough" speaks volumes. It jerks you out to think what is enough? Ssemaganda's poems and other writings are meant to empower, celebrate and inspire women," Owembabazi adds.

I have read enough, Ssemaganda understands the challenges women face and creatively brings out the solutions through his writings. He is very practical about his cause and has not only helped me but even other women," Zilla Mary Arach a Software Developer also says.

Ssemaganda's book discusses among other issues of violence against women, girls, and children, rape, and social injustice.

"Upon reading my book, several women have opened up. Women looking for safe space, are telling their story, in this book they find their courage, the book encourages women to speak up," he reveals.

In some countries, violence against women as a result of gender inequality is estimated to cost countries up to 3.7% of GDP more than double what most governments spend on education, according to the World Bank.

Failure to address this issue also entails a significant cost for the future, says Ssemaganda.

He has many unpublished stories but when challenged on gender inequality he writes. "My mantra is that; in all the things I do, I am righting the wrongs done by men on women, by writing them," Ssemaganda says.

Could this passion be for the money?

"I don't need donor money to talk about societal issues. I turn up where there are men watching a football game and drop stories about women to engage them, says Ssemaganda.

Through simple conversations, he engages whoever is present. "If 10 men did what I do daily, imagine the impact. Start at your place of work as a footballer, journalist, parliamentarian," Ssemaganda says.

But he admits money can do a lot "if donors are interested in the campaign they put money but it shouldn't be a means for engagement. Every little effort, wherever you are, makes a difference," he says.

But the road has not been smooth

Acceptance is not easy in women's space, according to Ssemaganda. But even though all women are empowered, it does not solve the problem, he states.

Men should be empowered too and called into discussion when designing policies and programs on the rights of women and girls to promote equality and emancipation of women, that's where the solution is, he says.

However there is skepticism, hesitation, some women don't know what to do with me and other men getting on board women's issues, Ssemaganda reveals.

"I was once asked by a woman if I have ever been a woman after one of my talks about GBV. You cannot voice women's issues and just walk away in a society deeply rooted in patriarchy. There are even women who promote it because this is how they were taught," he says.

He adds: "When these women see a man give women space they come to pull down the woman because in their thinking it is not normal."

Patriarchy is deep in our roots. It promotes male dominance. The system punishes non-conformity to societal rules on male dominance.

For Ssemaganda with this history men can only encourage and reassure women. "Men are partners in the struggle. Women can't run this race alone. Violence against women affects men and boys too. It affects the society women live in. Women should strive to be receptive when men get on board to advocate for women empowerment," he says.

What does the future hold?

Lawyer Nickolas Opiyo says the dedication of Ssemaganda to the empowerment of women is quite unique and a trail-blazer.

"He is showing men it is about being involved. His work not only gives hope that we men care for equal opportunities for women but empowers boys to look at women differently, as equal to men, this for me is the biggest achievement," he says.