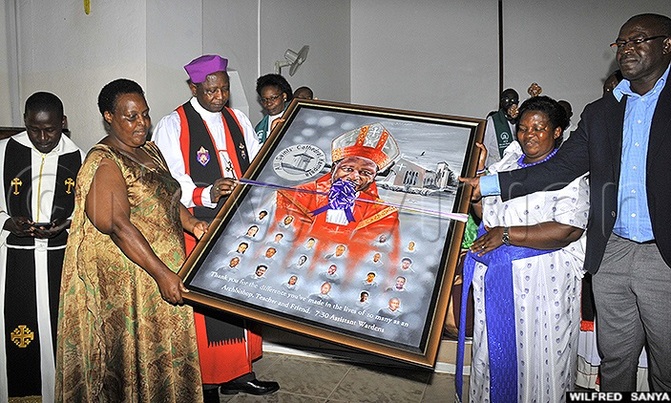 Ntagali told politicians to remain focused on God because leadership comes from God but not from bribing people.
RELIGION CHURCH

KAMPALA - The outgoing Archbishop of the Church of Uganda, Stanley Ntagali, has advised politicians not to borrow money from banks and money lenders to finance campaigns. His appeal comes ahead of the highly billed 2021 general elections.

"Remain focused on God; leadership comes from God but not from bribing people to vote for you. And to you electorates, use your constitutional rights to choose the people of your choice"

A recent report by the finance monitoring group estimated that a candidate running for a parliamentary seat will be required to use over Sh500m.

The observers and politicians alike have consistently castigated commercialization of politics arguing that it fuels corruption and hampers service delivery on top of excluding poor able leaders from leadership.

Ntagali made the remarks as he concluded his farewell journey to the whole Province of Uganda at All Saints' Cathedral Nakesero in Kampala Sunday

He will next Sunday, March 1, hand over the Province to the Archbishop-elect, Samuel Stephen Kaziimba Mugalu, who was elected on August 28 2019, as the 9th Archbishop of Uganda.

The event expected to attract over 7000 guests according to the enthronement committee led by Government Chief Whip, Ruth Nankabirwa, will be held at St. Paul Cathedral Namirembe.

On March 8, Ntagali will relinquish the Episcopal and Ecclesiastical Authority of the Diocese of Kampala to his successor at All Saints' Cathedral, Kampala.

On December 24, 2012, Ntagali was enthroned as the seventh bishop of Kampala Diocese just two days after being installed as the Archbishop of Uganda.

Ntagali in his last sermon thanked Christians and the Church for their support. "I want to thank God for this day. I have been waiting for it. "I'm the happiest person on earth because I have a successor."

He added; "Retirement is healthy. It starts from the mind and as for me, I am well prepared to go home and stop being a visitor in my own family.

My wife, Maama Beatrice Ntagali is the happiest person for my retirement because she knows I will have enough time for her and the entire family."

Retiring when you're still strong and energetic, Ntagali said, it was the only way one can still be relevant to his or her family.

"For over 40 years, I have been moving all over the world on evangelical mission and I have given very little time to my family and relatives whom I must compensate," he said.

In his sermon titled; "God's grace has led us this far," Ntagali said he has gone through many challenges but God has been faithful. "Challenges of today are testimonies of tomorrow" he preached.

He implored Christians against holding onto anger by forgiving those that have wronged them. "When you know your enemy; those who wish you bad or persecute you, don't revenge. God says vengeance is mine. Pray for them, smile at them and wish them well" he counselled.

Additionally, Ntagali cautioned Christians against being selfish saying this breeds greed and subsequently corruption.

"Corruption has eaten our beautiful nation, youth are being trafficked, there are no jobs and liberalism is on increase," he said.

Among Ntagali's achievement's in eight years include the completion of Church house, building a 5000 Cathedral-seater at Nakasero, enthroning of 23 Bishops, starting a medical school-UCU School of Medicine at Mengo hospital, among other things.