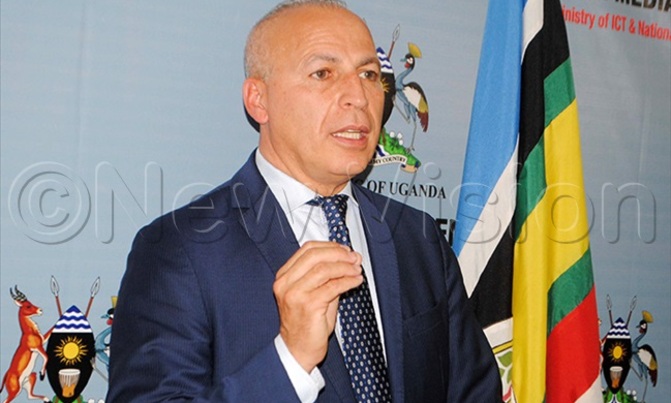 "We use the summit to speak with one voice to negotiate the best terms with creditors"
DIPLOMACY SUMMIT

KAMPALA - Over 6000 delegates are expected in Uganda's capital Kampala, to attend the third G77 UN Summit.

It will run from April 17th to 19th this year, at Munyonyo Resort Hotel.

The G77 summit at the United Nations (UN) is a coalition bringing together 135 countries; aimed at promoting its members' collective economic interests and create an enhanced joint negotiating capacity. The G77 was started by 77 members in 1966 but has since expanded to 135 members to date.

It brings together large, small, emerging and medium economies on one table to negotiate on several issues to promote development.

Addressing journalists at the Uganda Media Centre in Kampala, On Friday the Senior Advisor for Communication and Outreach G77 Secretariat, Ambassador Zakaria Fellah said this is a great opportunity for Uganda to market itself to the world.

"Many heads of state with their delegations and other participants from 135 countries will all be flying to Kampala to attend this high-level meeting. It is now up to Uganda to showcase what it has to offer," he added.

He said the summit will mainly focus on trade between countries, investment and humanitarian aid, among others issues under the theme: "Leave no one behind".

He said the world today has new challenges that need to be addressed.

"This is aimed at boosting the south to south cooperation and trade. We use the summit to speak with one voice to negotiate the best terms with creditors. If any country has any issue, we use this platform to lobby for it as a bloc," Fellah noted.

He said the summit only focuses on economic and social issues that are on the UN agenda, but not politics.

He explained that the third summit was supposed to take place in Libya in 2010, but didn't take place because of the fighting which was taking place.

Fellah commended President Yoweri Museveni, who has revived the summit after 15 years.

The head of Public Diplomacy at the Ministry of Foreign Affairs, Ambassador Alfred Nnam, said they expect 2000 delegates and over 4000 participants.

He said this a good opportunity for Uganda to promote tourism.

"All cameras in the world will be on Uganda. This is going to promote our image as a country and tourism. Ugandans must prepare and offer services to the delegates and other visitors. These people will need accommodation, food, touring and buying several items like crafts," he noted.