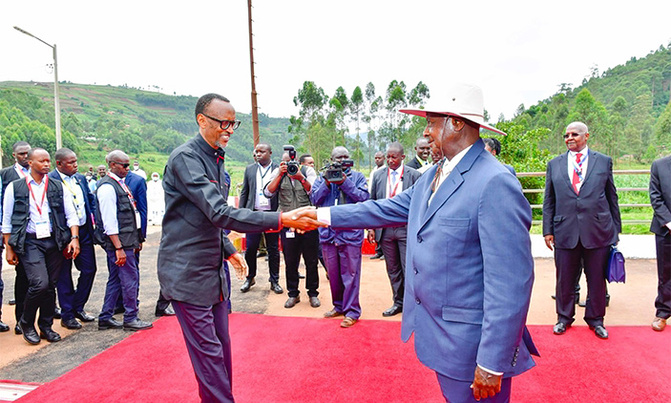 First to arrive at the venue was Museveni while his three counterparts led by Kagame arrived minutes later. All leaders came by road.
DIPLOMACY PEACE

KAMPALA - The wait is over. The 4th Quadripartite Summit is currently underway at the no-man's land in Katuna between Uganda and Rwanda.

Aimed at stabilising the relations between Uganda and Rwanda, the summit being attended by President Yoweri Museveni and Paul Kagame, is being mediated by the President of Angola, João Lourenço and Democratic Republic of Congo's President Felix Tshisekedi.


Presidents Paul Kagame, João Lourenço, Felix Tshilombo Tshisekedi and I, have held a meeting on the sidelines of the fourth Quadripartite Heads of State Summit 2020 at Katuna/Gatuna border.

We shall be addressing a press conference shortly. pic.twitter.com/zm6lwlyowx

— Yoweri K Museveni (@KagutaMuseveni) February 21, 2020


First to arrive at the venue was Museveni while his three counterparts led by Kagame arrived minutes later. All leaders came by road.

The Ugandan journalists, as earlier advised, were not allowed near the meeting venue. The only chance they had to capture photos of Museveni's motorcade was at Mayengo trading centre, about 4km away from the no-man's land.

However, they were to be briefed after the talks.

Among other dignitaries accompanying President Museveni was foreign affairs minister Sam Kutesa.



The standoff

Trouble started in February 2019 when Rwanda government closed its border with Uganda and even issued a travel advisory barring Rwandans from traveling to Uganda.

In March last year, Rwanda publicly accused Uganda of abducting its citizens and supporting rebels bent on overthrowing the government.

The rebel groups Rwanda government accuses Uganda of supporting include the Rwanda National Congress and the Democratic Forces for the Liberation of Rwanda.

Last week on Friday Uganda and Rwanda delegations held fruitful talks in Kigali during which measures for ending the impasse between the two countries were agreed upon.

The two countries agreed to resume collaboration among their security organs which had been stopped when the relationship between the two countries collapsed at the beginning of last year.

The Kigali ad hoc committee meeting was a follow-up on the February 2, 2020 summit of Uganda President Yoweri Museveni and Rwanda President Paul Kagame which transpired in Angola's capital of Luanda.

Both parties committed to further verify the number and the status of nationals of either party detained in each other's country and to report back in a three weeks' time.

The two parties resolved to be committed to the need to protect and respect the human rights of nationals of either party in observance of the rule of law and international humanitarian law and by ensuring that the due process is followed.

Both governments agreed on the need to finalize the extradition treaty to be signed in the presence of the Heads of State at the fourth Quadripartite Summit that is happening Friday.