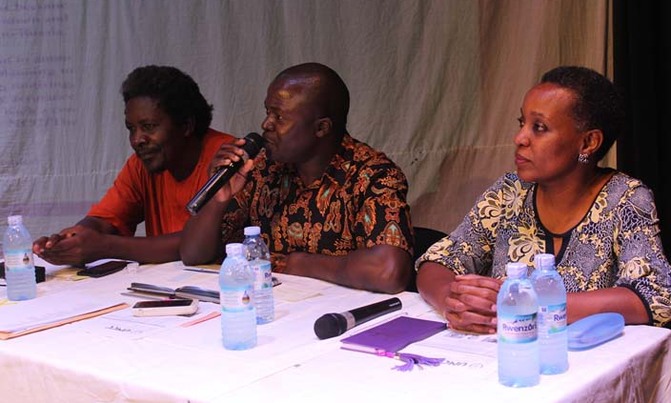 Two decades since her passing, many in the performing arts fraternity are still trying to figure out how best to maintain Rose Mbowa's legacy.
ENTERTAINMENT

KAMPALA - Performers, professors, students and creative thinkers gathered at the Uganda National Cultural Centre for the annual Prof. Rose Mbowa Memorial Lecture on Wednesday.

The lecture that also drew Mbowa' family and friends, brought back memories of Uganda's first 'woman of letters' as many call her.

During her time, Mbowa not only composed the women's anthem and initiated theatre and development, but also guided and inspired many students to pursue the MDD (Music, Dance and Drama) course at Makerere University.


Twenty-one years since her passing, many in the performing arts fraternity are still trying to figure out how best to maintain her legacy.

"We come here as theatre artistes, educators and change agents to reflect and devour ourselves along key milestones of value and practice that Rose Mbowa marked with insight, commitment and sacrifice regardless," said Prof. Patrick Mangeni, whose career was inspired by the late professor.

"Every one of us must ask ourselves how else we can add value to a world that was shaped by those that came before us," he added.

On the state of Ugandan theatre today, Steven Rwangyenzi of Ndere Troupe could not help but wonder whether the late Mbowa was weeping or feeling proud in her grave.

"Rose taught, adjudicated and nurtured people of the best quality," he said.


Renowned educationist and performer Fagil Mandy Mbowa for shaping theatre, but underlined that performers are not living up to that.

"Rose Mbowa had a cause to bring about change for women and children. Today, prostituting elements are eating up women and men in the industry and we as artistes have failed to do what the artistes in history do," said Mandy.

Instrumentalist Albert Bisaso Ssempeke said the fallen professor would do whatever it took to see her students learn and grow, which he said is not the case today.

"Students are not rightly taught today," he said.

"Their teachers don't even bother to get talented instrumentalists from upcountry to rightly teach their students basic skills."


Meanwhile, Kiyimba Musisi voiced similar sentiments as other speakers on today's theatre. He said theatre today is not living up to Rose's hardwork because there are only a few individuals with a selfless heart as she had.

"Today's performers discriminate against each other, yet creative thinkers in the Western world are driven by unity.

"You don't need a structure. You first have to unite and allocate yourselves like think-tanks. Winners don't exist and the self-proclaimed winners will fall," said Musisi.

He rallied for more annual memorial lectures for others fallen stars.