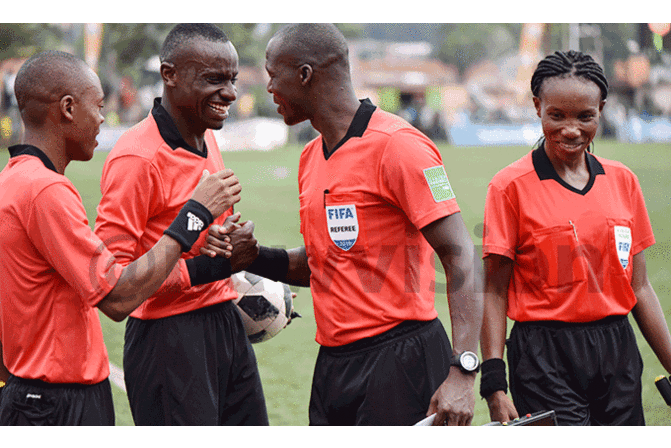 Late pay is one thing and poor allowance is yet another in Ugandan football.
Referees share a light moment during a league game. PHOTO: Richard Sanya
Football refereeing comes with huge responsibilities. You would, therefore, expect commensurate remuneration for these officials.

But as it turns out, this is not the case. It is a thankless job in Uganda. These match officials can go for as long as an entire season without pay!
Top-flight officials only received their first-round pay last week.

It gets even more bizarre in the Big League where match officials only received last season's payment on Monday. Late pay is one thing and poor allowance is yet another in Ugandan football. A combination of these ferments talk of Ugandan officials being compromised.

With dynamics like sports betting and the quest by some clubs to excel with minimal effort, the referees become sitting ducks.

While referees, who preferred anonymity, complained that they had only been paid arrears, Uganda Football Referees Association chairman Ronnie Kalema insisted that payment was up to date.

A top tier referee receives sh130,000 for officiating within Kampala. For matches in Arua and Mbarara, these officials get sh180,000 and sh170,000 respectively.

This is supposed to cater for transport, accommodation, and feeding.

If you thought that is bad, what about the sh50,000 that Big League officials get for Kampala assignments. They are added transport and sh20,000 for upcountry
accommodation.

The hard reality is that unlike the Uganda Premier League, whose teams are largely centralised, Big League clubs are almost countrywide and therefore involve longer distances.

"How do you expect me to survive on sh70,000 for a match in Yumbe when I have a family in Kampala?" wondered a referee.

Is it therefore surprising that referees are at times transported and accommodated by the same clubs they are supposed to officiate?

The poor pay has been given as the reason for the poor officiation wave that has swept various competitions.

FUFA Ethics Committee last month banned centre referee Emmanuel Kiweewa from taking part in any football-related activities.

Kiweewa was accused of soliciting a sh1m bribe to influence the result of the return leg semi-final between Uganda Martyrs University and St. Lawrence University during last season's University Football League.

A referee wondered why there are belated payments when league sponsors StarTimes make timely releases of funds.

"Could it be a case of our money being first used by someone before it eventually gets to us?"

Match officials are scared of openly complaining because of what they describe as high handedness of authorities.

"Your career can be killed. There are also benefits like the FIFA badge that you can never achieve if you have dissenting views."