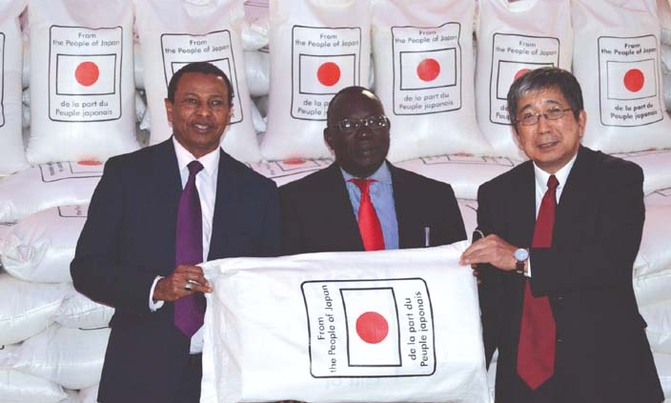 The WFP representative and country director, El-Khidir Daloum said the food they have in stock only takes them till the end of May.
FOOD SHORTAGE
The World Food Programme (WFP) Uganda has expressed fear of the decreasing stock of food for refugees in the country, saying this might lead to a crisis.
They noted that if nothing is done urgently, refugees are likely to starve.
The WFP representative and country director, El-Khidir Daloum said the food they have in stock only takes them till the end of May.
He said WFP needs $16m for every single month to provide food and cash assistance to 1.2million refugees in Uganda.
"We currently have food enough till the end of May and 800,000 refugees receive food, while 400,000 receive cash which is also ending this month," he added.
Daloum revealed this while receiving a consignment of 4,758 of rice worth $3.2b (sh12b) from the Government of Japan at the WFP offices in Nalukolongo, in Kampala recently.
WFP Officials walking with Japanese Ambassador
The consignment follows the agreement signed in 2017 between Uganda and the Government of Japan at the Ministry of Finance, Planning and Economic Development (MoFPED) for the Japan Food Assistance Programme.
Daloum said if nothing is done, they will be forced to reduce the ratio they distribute to refugees per day, which might lead to malnutrition, starvation and other security problems in the settlements.
He said it is a serious problem which needs to be addressed urgently by the International Community.
Unlike cash which can be distributed anytime, Daloum said they need about two to three months ahead of the break to plan for the procurement of the food.
"We need cash like at the end of this month to enable us to procure the food and deliver it to refugees," he added.
He thanked the Government of Japan and Uganda for the contribution of the rice as humanitarian relief.
"Uganda contributed an additional $640,000 in cash to meet the associated costs for transportation and handling of food. Uganda has made enormous sacrifices since the 1960s to currently hosting 1.4million refugees, the highest number in any country in Africa and third in the world," he noted.
Daloum said the rice contribution shows that Uganda realises the urgency in taking additional steps in building food nutrition security and resilience among refugees in order to achieve her Comprehensive Refugee Response Frameworks (CRRF).
He said Japan has been longstanding partners with WFP and has contributed up to $15m to WFP in Uganda in the last five years.
While receiving the consignment the commissioner for refugees in the Ministry of Disaster Preparedness, Simon Menya said Uganda has no program for procuring food for refugees.
"It is not a local problem and Uganda being part of the international community, we expect the international community to come to respond. We do not have a program and such money to procure food for 1.2 million refugees. We may have a program for internally displaces people or hunger stressed communities," he noted.
In his message delivered by Menya, the Minister for Relief, Disaster Preparedness and Refugees, Eng. Hilary Onek commended Japan for fulfilling its pledge towards humanitarian relief contribution to refugees.
Part of the consignment was distributed to refugees in Nyagak II, Kyangwali, Nakivale, Oruchinga, Rwamwanja in South West and Western Uganda and Rhino Camp in northwestern Uganda in August and September last year, leaving a balance of 62 metric tonnes.
While handing over the rice, the Japanese Ambassador to Uganda, Kameda Kazuaki said the donation was made possible through the Japans Grant Aid for a Food Assistance Programme.
"This rice will help improve the nutrition of at least 350,000 refugees and 150,000 host communities. We think the remaining rice can also be distributed to those suffering from natural disasters like floods and now locusts," he added.
Kazuaki noted that Japan has already fulfilled its pledge it made at the Uganda Solidarity Summit on refugees. "We have made our $10m pledge and distributed it through UN agencies," he said.
Menya said other countries like India and China fulfilled their pledges directly through the Government of Uganda while others used their various agencies like USAID and others.