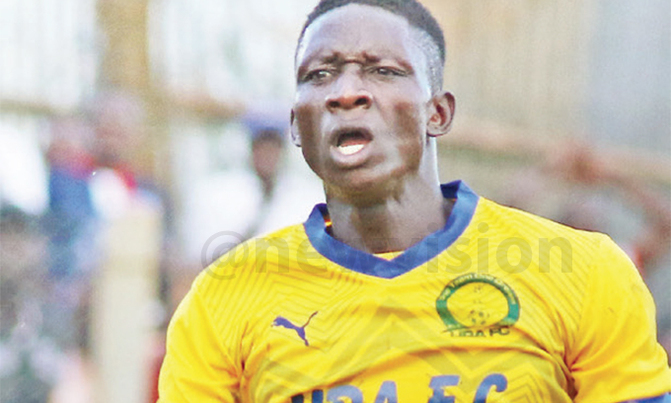 Rwothomio was voted the best player last month after scoring four goals and making an assist in five games he featured in for the tax collectors.
Uganda Revenue Authority (URA) Football Club is one of the teams with an improved display in the second round of the StarTimes Uganda Premier League.

The team's striker Cromwel Rwothomio is a player who has had a brilliant display in domestic football's premier competition.

Rwothomio was voted the best player last month after scoring four goals and making an assist in five games he featured in for the tax collectors. League champions KCCA and SC Villa are some of the teams that URA has defeated during their good run.

Rwothomio also led URA to an 8-3 victory over FUFA Big League side Nyamityobora. The win, on Wednesday, pushed URA to the round of 16 in the Stanbic Uganda Cup.

We interviewed the player.

What was your reaction after being voted the top footballer for January?
I was very happy and once again I would like to thank fellow players and coaches. It is all about commitment and hard work. This award shows that there is a lot more I can achieve.

What have you got to say about the team coach Sam Ssimbwa?
He is someone who encourages us to work hard. He does not entertain laziness and advises us on what to do. He is a coach every player would want to have.

Who inspired you to start playing football?
Proline FC striker Brian Umony inspired me a lot. He is a player I look up to since he is disciplined and works hard.

What is your worst moment in football?
When my team is a goal or more down. No player would love to lose any game after the hard work. I put in my best effort but at times, the results are not good, Losing is not easy to take in.

Some of the players you started playing football with are not at the same level as you. What has kept you going?
I never gave up although, at times, things do not work out well. I believe that if I continue working hard, my game will improve.

Have you been involved in any other sport apart from football?
I was active in the short races in athletics in high school. I am now fully in football.

How do you pass your time when you are not busy with football?
I watch movies, football highlights and meet friends. I also want to associate with people since at times I receive advice from them.

Besides being a footballer, who is Cromwel Rwothomio?
I am humble and not a person who talks a lot unless I have known you for some time. Then we can even crack jokes.

Where do you see yourself in the next five years?
My dream is to play outside Uganda. If I continue with this good performance, I believe I can go high up in the game.

How do you handle the pressure in football?
I talk to friends especially teammates. I have also played under big crowds especially in national league games in West Nile. There is pressure to perform well because fans pay to watch good football.
Rwothomio has helped URA to beat SC Villa and KCCA. Photo: Richard Sanya
Who are some of the exciting players you have so far seen?
Ans: My colleagues at URA including captain Shafi k Kagimu, Saidi Kyeyune, and Joachim Ojera, David Bagoole (Busoga United) and Fahad Bayo (Vipers). They are wonderful players.
What is your strength as a footballer?
My strength is speed and ball heading.

What is the secret for your good performance. You have scored four goals and made assists in the last couple of games for URA.
Listening and putting in practice what my coaches tell me to do. I also try hard to improve in every game I play.

What was your target before this season started?
My target was to score 15 goals this season. I believe I can score more goals if I work hard.

Of all teams, why did you choose to join URA
I was in touch with many teams- SC Villa, Onduparaka, Maroons and Mbarara City. I was impressed with the style of play at URA. In addition, I had a friend, Villa
Oromchan, who played for the team. (Oromchan now plays in Kenya).

How is life at URA?
Life is good though there were difficult moments in the past. I did not have friends at the club since it was a new environment. But the situation has improved so much.

As a player, do you feel you have achieved much at URA.
I have not yet achieved a lot. We do not deserve to be in the position (fourth) we are in right now in the national league. But I believe we can improve and be high up on the table.

URA had a poor run in the first round. What was the problem and what has enabled the club to improve in the second round?
Ans: We were playing well but did not convert our chances. When the first round ended, we worked on our mistakes and now we are doing well. There is still more to come from the team.
KNOW YOUR STAR
Favourite meal: Dry meat and kalo
Favourite artiste: Chris Brown
Favourite phone: iPhone 11
Dream car: Ferrari
Dream destination: Australia

FACT FILE
Name: Cromwel Rwothomio
Age: 27 years
On Facebook, WhatsApp: Yes
Honours: Uganda Cup and FUFA Super Cup winner with Paidha Black Angels in 2017
Teams played for: Pajobi Independent FC,Pakwach Young Stars, Paidha Black Angels, URA