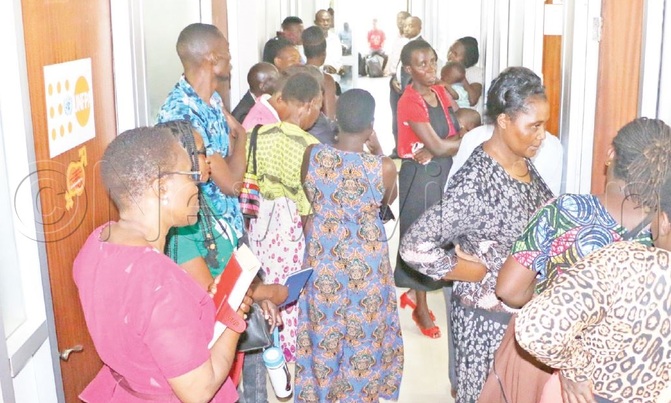 She said people who are questioning her motives have no idea what happens in society when the lights go off.
CHILD NEGLECT
Faridah sits on a bench near the reception on the first floor of Simbamanyo House in Kampala, waiting for the state minister for youth and children affairs, Florence Nakiwala Kiyingi, to arrive for work.
She has a sad story and she wants to tell it to the minister. She has heard that she solves such issues. For the past two months, the 30-year-old mother of two has been going to the eighth floor of the building that houses the gender ministry's head offices in Kampala.
Faridah's three-year-old daughter was defiled and her quest for justice has hit a dead end. When she sought Police help, the landlord, whose son she had accused of the crime, chased her away from his house. "I have nowhere to stay," Faridah told Sunday Vision.
She is sure that the minister will do something. The office from which Faridah is seeking help sits directly opposite the Central Police Station (CPS) in the heart of Kampala city.
Such cases would ordinarily be handled by CPS. But her hope for justice is in Nakiwala. And Faridah is not the only one. On Tuesday, Sunday Vision found over 80 people waiting for their turn to be ushered into the minister's office. The few men around had been summoned to answer to allegations about them.
Some are crammed on a bench and others are on the floor or are standing. That is how the state minister for youth and children affairs has turned into the solver of domestic and social complaints.
Her office has taken on the roles of investigator, counselor, legal aid, court, and Police as cases pile before her. The issues One of the other women in the queue was so mad that she easily talked to a journalist.
"My husband is disrespectful. He abandoned me with two children and married another woman. Marrying another woman is okay with me, but the man does not want to pay school fees for his children, yet the other woman's children are studying. I wanted to set his house on fire, but people advised me to see the minister," she said.
Her husband, she says, is a dean of students at one of the universities in Uganda. Another woman in the queue said: "I am the mother, father, and doctor of my children. Their father got another woman and left us in a two-bedroomed house in Mengo.
He agreed to pay fees, but he has refused. Instead, he is threatening to kill me," another woman said. "My husband is a drunkard. He has a group of men and women he hangs out with every day. I fear he might bring me HIV. Not only does he cheat on me, but he also does not provide anything for us, yet he has a good job. I want the minister to force him to, at least, pay school fees," said yet another woman.
Last month, Nakiwala compelled a priest to acknowledge and take care of a child he had with a member of the church choir. In January, the Rev. Ronald Kalende denied fathering the child with a 23-year-old Perusi Serena Nabirye, until Nakiwala, intervened in the matter.
She also got involved in issues of singer Fresh Kid, Pastor Aloysius Bugingo, Singer Matthias Walukagga and four orphanages in Wakiso district. In fact, the Church of Uganda commended her for advocating children rights and welfare.
However, among the people awaiting the minister are alleged culprits, disgruntled about being summoned to what they allege to be a wrong forum. "That woman is abusing her office. She summoned me here, but I have been here for seven hours and she is not yet ready to see me. Does she think I have nothing to do?" said a man who was summoned. "Does my wife think Nakiwala will give rules in my house? I am not happy," another man said.
However, others are worried that the minister is biting off more than she can chew. Some people are beginning to question her grounds and level of involvement.
Minister responds However, Nakiwala insists she is not straying off her portfolio. "It is all within my mandate of gender and children's affairs," she said. "There was a lot of abuse, so the law changed and gave us more powers.
Right now, you cannot adopt any child, unless my office is involved. I am getting all these complaints because I did not take my appointment lightly. The President looked at my history and gave me the responsibility," she said.
Nakiwala said people flood her office because the Police child and family unit is not facilitated well enough to cater for the cases. "The Police Family Unit has no children's units. They do not have services that cater for children, such as provision of diapers and food," she explained.
Nakiwala said child neglect and domestic violence top her list. She said people who are questioning her motives have no idea what happens in society when the lights go off. She, however, said she does not work in isolation.
She works with different government bodies and embassies. "I involve myself in society because I am hands-on and I know what it means to volunteer. I do not need to wait for a budget to act. You expect me to just sit and watch when children are being traded and their organs sold? The President wants us to be with his people not with him. Recently, I blocked a foreign national who had fathered triplets with a Ugandan girl from running. Many things happen to women and children," she said.
Govt reacts
Government spokesperson Ofwono Opondo agrees that a minister is not supposed to directly solve individual problems.
"But in our type of society, when people approach you, they expect to hear from you. You cannot fail to listen to them. If she gets the complaints, she should be able to forward them to the relevant departments or ministries. Otherwise, she will be overwhelmed," Opondo said.
Opondo advised Nakiwala to focus on writing policies that will reduce some of those problems she is dealing with. The executive director of the Forum for African Women Educationalists (FAWE), Susan Opoko Tumusime, said people flood her office because they have no information on where to go to report what problem.
"We need to create awareness on the role of individuals and different ministries. A minister is a policymaker. It is not right for her to receive all those people. The truth is she is overwhelmed," Opoko said.