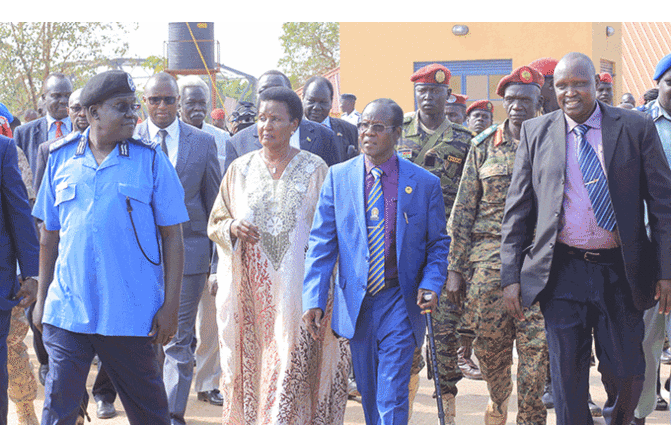 The OSBP is expected to ease the clearance of cargo along the South Sudan-Uganda border post, enabling traders to reach markets faster.
Trade Minister Amelia Kyambadde and South Sudan Vice President Dr.James-Igga at the Nimule border post. Courtesy photos
Trade between Uganda and South Sudan is set to increase following the construction of the first phase of the One-Stop-Border-Post (OSBP) at Nimule, South Sudan border with Uganda.

The OSBP is expected to ease the clearance of cargo along the South Sudan-Uganda border post, enabling traders to reach markets faster.

Through the OSBP arrangement, immigration and customs officials from the two countries are brought under the same roof at the crossing point, doing away with need for trucks and persons to undergo double clearance at both sides of the border.

Speaking at the handover ceremony of the $5m (sh18.3b) project at Nimule in South Sudan last week, Uganda's Trade Minister Amelia Kyambadde said South Sudan is a key market for Uganda's exports. She noted that trade between the two countries had declined due to instability; it has since rebound and is now expected to grow faster with the OSBP.

"South Sudan is a key market for Uganda's exports accounting for $239.2m (sh873.2b) in 2016, $299.3m (sh1.1 trillion) in 2017 and $355.9 (sh1.3 trillion) in 2018. These are expected to significantly grow, with the return of peace and security in South Sudan and the OSBP," Kyambadde said.
Trade Minister Amelia Kyambadde prepares to hand over a symbolic key for the Nimule border post to South Sudan Vice PresidentDr.James-Igga


She added: "The OSBP will go a long way in facilitating trade as it will ensure that there is quick clearance of goods and quick service delivery, improve access to markets, enhance competitiveness, improve the livelihood of people especially the border communities and facilitate sustainable trade," Kyambadde said.

Kyambadde urged East African countries to consolidate regional trade first and use it as a spring board to tap into and harness trade opportunities that will be presented by the African Continental Free Trade Area (AfCFTA).

Form associations

Kyambadde also urged leaders to organise cross border traders to form associations so as to fully benefit from the OSBP facilities so as to transform from informal to formal trade.

Funded by Trademark East Africa, the facility includes a parking yard that is expected to handle at least 300 trucks per day, a verification shade, drainage system and three access roads. It is expected to lead to faster clearance of cargo, thereby reducing delays that were costing traders millions of shillings.

The completion of the Nimule OSBP comes a year after the construction of the Elegu OSBP, at the Ugandan border point with South Sudan.

TMEA Uganda Ag. Country director Damali Ssali said the Elegu-Nimule OSBP which will strengthen bilateral trade between the two countries, given that over 90% of cargo that originates or transits through Uganda into South Sudan passes through this point.

According to the Uganda Revenue Authority, exports from South Sudan stood at $1.5m in the last financial year while imports stood at $3b.

Additionally, Ssali said, the facility will cut down on the red tape and bureaucracies, which she said are the two major challenges to cross border trade.

She committed that TMEA, in partnership with the East African Community (EAC) secretariat will train the border official at the Nimule-Elegu border in the OSBP controls to ensure efficiency and reduce the time it takes to cross borders to at least 50%.

Over the last 10 years, TMEA has constructed about 15 OSBPs in EAC, with donor support. These include Busia and Malaba at Uganda's borders with Kenya, Kagitumba between Uganda and Rwanda, Mutukula between Uganda and Tanzania, Holili-Taveta (Kenya and Tanzania border), Kabanga-Kobero (Burundi and Tanzania border and Tunduma-Nakonde (Tanzania and Zambia border), among others.
Trade Minister Amelia Kyambadde hands over a symbolic key for the Nimule border post to South Sudan Vice PresidentDr.James-Igga
Ssali said these have led to a 70% decline in the time it takes to cross those borders as well as slashed the cost of transporting goods across borders.

South Sudan Vice president James Wani Igga said the OSBP will boost cross border traffic, tourism and economic activity to boost trade.

He, however, said there is need to install an electronic scanner to further ensure faster and efficient cargo clearance.

Speaking on behalf of the TMEA chief executive officer Frank Matsaert, John Bosco Kalisa said that while it could previously take seven days to clear goods at this border, it has since reduced to a minimum of two days averagely and that is expected to reduce further with the OSBP.

"Most of the delays were due to absence of ample parking space but with this project, the space has been created. We are also happy to equip this facility with modern equipment; we shall engage high government officials from both countries to ensure that there is seamless information flow from both sides," he said.

Kalisa said TMEA has since 2010 invested over $117m in different infrastructure projects in the region.

The Principal Customs Officer for procedures and facilitation, EAC secretariat, Arthemon Ndizeye applauded TMEA for funding OSBPs in the region, saying that such infrastructure plays a central role in facilitating intra-regional trade.

He noted that the implementation of OSBPs enhances cargo clearance and increases compliance levels to enable revenue authorities collect more revenue as it reduces formalities, eliminates the difficult processes and reduces smuggling.

The Trade, Commerce and East African Community Affairs minister for South Sudan, Paul Mayam Aketch applauded TMEA for standing with them to promote trade as a tool to generate wealth and achieve prosperity, even when other development partners have either relocated or suspended funding to their government.

The Commissioner Pageri County, Maj Gen Emilio Alimas Igga alluded to the importance of the facility, saying it will enhance socio-economic development of the two countries.

He appealed to squatters on the land allocated for the second phase of the project to vacate to pave way for commencement of construction works. The second phase, according to Boaz Kukundakwe, the project coordinator will involve the construction of a freight building to house customs and standards agencies, among others.

Electronic cargo tracking needs

To work efficiently, Kayambadde said there is need to install the Electronic Cargo tracking system at the Nimule facility to monitor goods along transit routes, the Electronic Single Window to allow online clearance of goods to avoid delays and duplication and promote transparency, among others.

She, expressed concern over non-tariff barriers, saying they continue to be a hindrance to trade in the region.

"NTBs manifest through delays in clearance at the borders, non-recognition of trade documents issued by governments, non-harmonization of immigration requirements, multiple road blocks, arbitrary confiscation of goods, unjustified impounding of tricks carrying cargo and the like. We need to work together to eliminate them to ease trade."