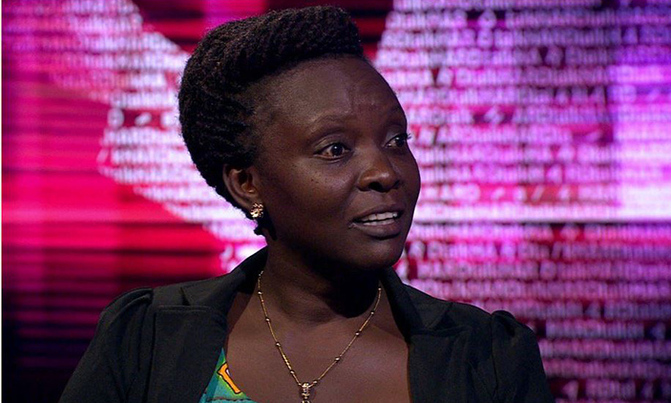 Nyanjura, then 14 was among 139 school girls abducted in 1996 when by Lord's Resistance Arm rebels.
AWARD HUMANITARIAN

Victoria Nyanjura was one of the victims on one fateful night in 1996 when St. Mary's College Aboke was seized and girls abducted by Lord's Resistance Army rebels. St. Mary's College Aboke is a girls school in Kole district, Northern Uganda.

Nyanjura, then 14 was among 139 school girls abducted. Nyanjura was among the 30 selected and retained by the LRA for eight years as a sex slave before she could escape.

With a horrific past, Nyanjura's present is shooting for the stars. She is one of the recipients of the 2019 Ginetta Sagan Award from Amnesty International USA.

Victoria Nyanjura, a second-year Master of Global Affairs (international peace studies) student also received $20,000 to support her ongoing work.

Nyanjura the founder of Women in Action for Women (WAW), an organization that improves the lives of women and youth through vocational, business training and guidance in accessing community and government services was honoured for her work with women and children in Gulu.

The Ginetta Sagan Fund Award Committee said her courageous advocacy for women and children displaced by the civil war in Uganda, and her work with WAW to help vulnerable women gain vocational and apprenticeship skills in rural areas of northern Uganda exemplifies what the Ginetta Sagan Award stands for.

"We hope that receiving this award will enable you to continue to do this inspirational work." The Award Committee said.

The co-recipient of the 2019 Ginetta Sagan Award is Malika Abubakarova, a lawyer from Chechnya, Russia, who founded an NGO focused on the legal protection of women and children.

Nyanjura has also worked as Project Assistant with the Gender Justice Department of the Ugandan Justice and Reconciliation Project and with International Justice Mission on efforts to protect Ugandan widows on property ownership especially land.

Hailing from the Oyam District, Nyanjura is also the recipient of a Thomas D. McCloskey Peace Fellowship and Navarre International Peace Prize 2018 for Solidarity.

She holds a Bachelor's Degree in Development Studies from the Kyambogo University and a Postgraduate Diploma in Monitoring and Evaluation from the Uganda Management Institute.

In 2018, Nyanjura was nominated by the Spanish diplomatic organization Casa África along with three other women, Hulo Guillabert, Theresa Kachindamoto, and Oumou Sall-Seck. They shared the International Solidarity Award and a 25,000 euro prize for their work to advance human rights for African women.