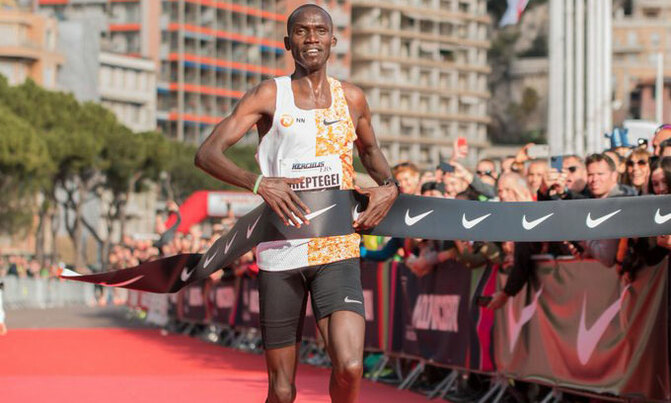 The 10,000m world champion made the most of perfect conditions in the second edition of this race to set a new record.
ATHLETICS

MONACO - Joshua Cheptegei has in one of those rare road racing feats broken a third world record.
The world Cross-country and 10,000m champion added another accolade to his collection with a 5 kilometer record this morning in Monaco.
The Police Athletics Club runner clocked 12 minutes 51 seconds to win the Herculis Monaco Run.
Just like when he broke the 15 and 10 km world records in 2018 1nd 2019 respectively, the Ugandan was again winner by a big margin.
His time today improves the official world record for the distanece set by Kenya's Sammy Kipketer 13:00 from Carlsbad in 2000.
Eliud Kipchoge, a world marathon record holder and Olympic champion, was one of the first people to congratulate Cheptegei.
"Many congratulations Joshua," he tweeted. Kipchoge and Cheptegei are both managed by Dutch company Global Sports Communication.
Cheptegei fulfilled Police coach Benjamin Njia's prediction of a new world record.
"I told you he is on form. That record had to fall," said Njia from Cheptegei's training area of Kapchorwa after news broke.
Cheptegei first rose to world record form in November 2018 when he shaved eight seconds off the 15km world record record at the NN ZevenHeuvenloop race in Holland.
He also went into yesterday's race just two months after breaking the world 10km road race record in Valencia.
He clocked 26 minutes 38 seconds that time.
Today's victory was in his first competition in a season where he is ultimately eyeing Olympic gold at the Tokyo Games in August.
Cheptegei is the only Ugandan to set three world records.
John Akii-Bua is the only other Ugandan to have set a world record. Akii-Bua shot into the headlines when he became the first man to run the 400m hurdles under 48 seconds.
He clocked 47.82 seconds to win gold at the 1972 Munich Olympics.
Congratulations to @joshuacheptege1 who has set a new world record in the 5km race at the Monaco Run. Uganda is proud of you and we look forward to even greater performances, especially at the @Tokyo2020 Olympics. pic.twitter.com/j0te7l4hrx

— Yoweri K Museveni (@KagutaMuseveni) February 16, 2020
Date of birth: 12 Sept, 1996
Main events: 5000m, 10000m
World records:
5km-12:51
10km-26:38
15km-41:05
Personal Bests: 5000m (12:57.41),
10000m (26:48.36)
Coach: Addy Ruiter
Manager: Jurrie van der Velden
Kit Sponsor: Nike

CHEPTEGEI'S HONOURS
2014- World junior 10000m champion
2017- World 10,000m silver
2018- Commonwealth 5000 and
10,000m champion
2019- World Cross-country Gold,
5000m Diamond League Trophy
and World 10000m track Gold