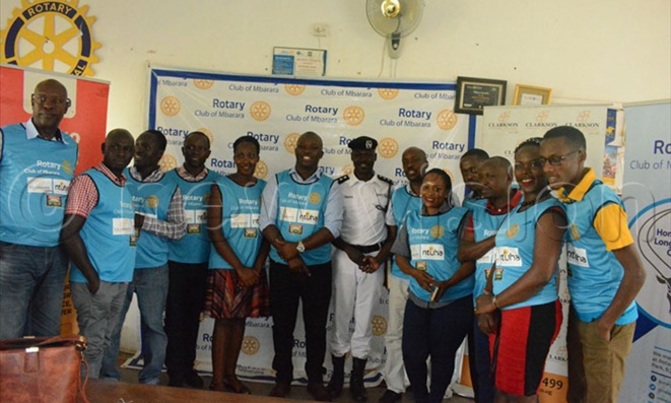 Kumbakumba noted in a year, they admit over 4,800 children and 60% of these are new born babies as opposed to older ones and 40% are premature.
MATERNAL HEALTH

MBARARA-Losing between 180-250 newborns at Mbarara Regional Referral Hospital every year is not good news, and this is among the reasons that Rotary Club, Mbarara has come out to organize a run targeting to raise over sh800 to equip an Intensive Care Unit for babies at the paediatric ward.

Addressing a press briefing at Rotary house in Mbarara town recently, the head of Paediatrics and Child health at Mbarara Regional Referral Hospital Dr. Elias Kumbakumba said they are still grappling with the challenge of new deaths because of limited funding that translates to lack of equipment to take care of these babies who are always at higher risk.

"We are trying very hard to reduce new born deaths because we have been able to reduce this from 250 deaths on average every year to now between 180 deaths but this number is also high. This is because of limited funding that we cannot have facilities in place to critically observe, care and treat these babies," said Dr Kumbakumba.

He said for example they have an Intensive Care Unit (ICU) at the paediatrics wing, this remains idle because it's not equipped.

Kumbakumba noted in a year, they admit over 4,800 children and 60% of these are new born babies as opposed to older ones and 40% are premature.

"However much we have tried to reduce the mortality rate of these prematures from 7.5% to 5.2%, they still need well equipped Intensive Care Unit since most of the preterm babies given the fact that some can be below a kilogram and are unable to breathe because they are too small, some get infections so these are the major challenges" added Kumbakumba..

He adds "These conditions require supporting breathing, keeping the babies warm, measuring different body parameters, checking their blood sugars all the time and monitoring equipment, we would save most of them because we are committed.

He noted that therefore when rotary club approached them on this partnership of equipping the children's ICU, it was a sigh of relief at bettering health service delivery especially of reducing the deaths on newborns.

He said with this equipment they will be able to admit and monitor these newborns better.Rotarian Ishmail Mitooma, the chairperson for the rotary marathon run that is scheduled for February 29, said the intervention is in line with their vision of safe motherhood and child health.

Mitooma said for the last four years theyb have been engaged in safe motherhood and have since fully equipped Mbarara municipal council health center IV theatre.
"After carrying out needs assessment we found out that Mbarara Regional Referral Hospital was in urgent need of an intensive care unit.
Together with hospital administration we found this required over sh800m, we are organising this run purposely for this, we will also do a lot of fundraisings and lobbying to see this project is accomplished very soon," said Mitooma,who added the run will also coincide with celebrations to mark 36 years of rotary club Mbarara.

Rotarian Allan Asingwire the Assistant governor for the year 2019/2020 said one of the areas that rotary looks at this month is maternal and child health and on the same day February 29, 2020 the rotary club of Mbarara will be celebrating 30 years since it was chartered.

Kumbakumba said part of the proceeds from the run will be used to install warmers, equipment to measure body parameters, and beds from where these babies can be treated from, machines that allows continuous positive airway pressure so that when the lungs open, they don't collapse they remain open, monitoring equipment for checking blood pulses