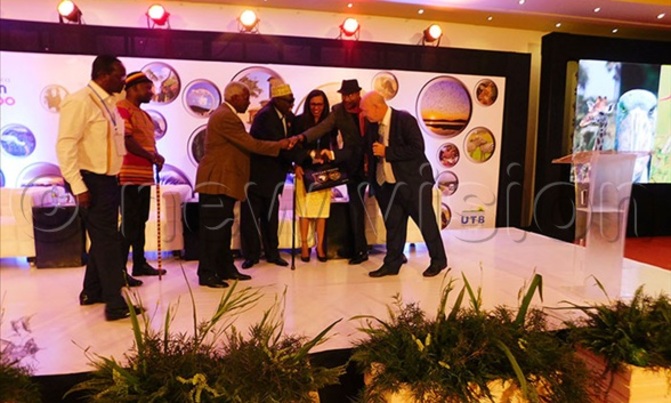 "The advantage Uganda has is having a variety of vegetation and heights," stressed Ajarova.
Tourism attractions, investment opportunities, and untapped potentials are the talk of the town after the concluded fifth Pearl of Africa Tourism Expo (POATE).
The expo showcased what the country is endowed with to more than 70 destination buyers and foreign journalists.
They were treated to adventure, culture and wildlife attractions across the country.
"Our aim is to delete the Idi Amin image that was blown out of proportion in the 1970s," said the Uganda Tourism Board CEO while addressing participants in Kampala. "We have since developed products like mountain gorilla tracking which remains the cheapest experience in the world."
Adding that, as the number of birds recorded in the destination shoot up one has a chance of logging more than 600 species out of the sum of 1,075 species spread across the country.
"The advantage Uganda has is having a variety of vegetation and heights," stressed Ajarova. "This implies getting birds that dwell in the forests, swamps, by the shores of water bodies and mountains."
News of nine high-end hotels with internationally renowned trademarks made hotel owners raise eyebrows in surprise. They are eying popular destinations like Kidepo Valley National Park, Murchison Falls, and Queen Elizabeth National Park.
"They are targeting the big shots who treasure their quality of service across the world," said Justus Karuhanga of KTA Advocates. "They are not a threat to the existing service providers handling back packers and budget travelers."
Contrary to expectations some of the POATE guests were of the view that, after movies like The Last King of Scotland and 90 Minutes at Entebbe glamorised Idi Amin Dada and destination Uganda, he ought to be developed into a product.
"How I would love to talk to his children to know what kind of father he was," said Ikechi Uko the organiser of Akwaba fair in Nigeria West Africa. "He was the only president who lived by beating deadline. When he ordered the expulsion of Ugandan Indians in 90 days he lived by his word."
Akwaba said he would love to see the accordion Amin always played whenever he felt celebrating his birthday which at times coincided with the country's independence day.
"Who would not love to know more about a man who married one of his wives (Sarah) twice due to public demand?" Akwaba asked in rhetoric. "Where on earth has a president plunged into a swimming pool, participated in a motor rally and engaged in a boxing bout as a president?"
Parents were urged to give their children vacations to places like Speke Resort Munyonyo, Uganda Museum, Ndere Troupe Center or Queen Elizabeth National Park.
"If you are one of the many parents struggling to stem the flow of unwanted toys into your home," said Great lakes CEO Amos Wekesa. "Gifting children's vacation and experiences instead of toys can boost their brain development."
Quoting an article in the Telegraph, child psychotherapist Wekesa stressed that this is because on a family holiday you are exercising two genetically ingrained systems deep in the brain. "Which are playing and seeking to know at the same time."