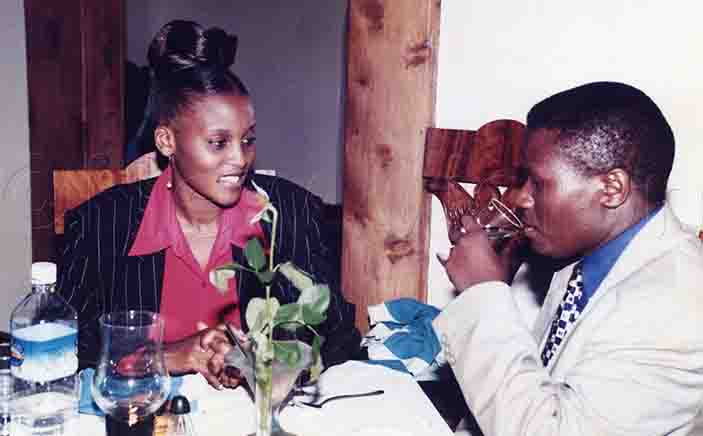 Kalungi's lens: Valentine's Day, what's love got to do with it? Like so many trends, it first became big in universities, especially Makerere. But it gradually became a major celebration.
ENTERTAINMENT VALENTINE'S DAY

Celebrating Valentine's Day in Uganda became a big thing in the late 90s and early noughties, when the country's economy started booming and Ugandans had a bit of money to spend.

Like so many trends, it first became big in universities, especially Makerere. But it gradually became a major celebration, and in a way, it was a sign that January had actually ended.

But among the celebrations, there were also some dark sides. Stories abounded about dates gone bad, and some really terrible gifts that some people got for Valentine's. The New Vision has been chronicling some of them. Before are the ones that stood out (names have been omitted for obvious reasons):

Valentine's Days gone bad

There was this guy that didn't care much for Valentine's Day, but his girlfriend offered to take him out to dinner. They went to Fang Fang, had a great time, but after dinner, she pushed the bill to him. Hadn't she invited him to dinner? No, she had "…just suggested where to go, after all, guys pay". When he went to an ATM to get money (he didn't think he was going to be spending, after all), he seriously thought of abandoning her. But he went back, paid the bill, and lost her number after that.

A former beauty queen tried to be exotic and arranged for a candlelight dinner at her boyfriend's place. But it all went wrong when the candles burnt the curtains just as they started to have dinner, and the house was almost burnt down. They spent the evening fighting the fires instead.

Then there was the campus girl that had to convince her guy to take her out for Valentine's Day dinner. When he finally agreed, she was very excited and dressed to the nines. But he took her to Chicken Tonight in Wandegeya, to her utmost embarrassment. She chucked him that very night.

What about the guy that found he was a side dish a day before Valentine's Day? He had to cancel all reservations he had made for the day when his 'girlfriend' decided to be with the main guy. He swore off girls and decided to focus on his career.

Another guy was shocked when, instead of going for dinner, his girl instead insisted they go to church, and she gave him a Bible for a present. He didn't talk to her again.

Worst gifts ever received

Some guy received a yellow shirt with a matching tie as Valentine's gift. He told the girl to her face that no way was he going to wear what he called 'a gay outfit', and they have never spoken since then.

Another guy got an STD for Valentine's present, when his girlfriend insisted they have live sex since it was a 'special day'. When he discovered he had an STD, he wanted to strangle her, but she managed to escape.

A girl got a re-cycled card from her boyfriend. Apparently, someone else had sent the card to the boyfriend, but rather than buy a new card, he simply scratched the initial names using a razor blade and carefully re-addressed it to her and accompanied it with a cheap spray. Understandably, she burnt the card.