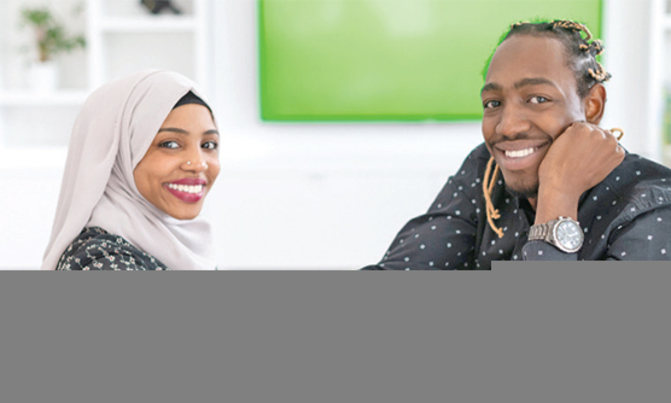 Allah allowed us to marry four wives so that we keep in love with our women all the time
As Christians and followers of other faiths join the world to celebrate Valentine's Day on Friday next week, Muslims seem not to have a common position about it.
Valentine's Day, also known as Saint Valentine's Day celebrated every February 14 every year, is recognised as a cultural, commercial and somewhat religious celebration of romantic love.
Muslim clerics are at variance, with some saying that there is no problem with Muslims celebrating it, while others refer to it as forbidden (haram).
Nateete Mosque Imam Sheikh Yasin Kiweewa says Islamic teachings are silent about Valentines and neither criminalise nor condone it.
"Every day should have been Valentine's because God put love as a foundation for our marriage in Islam," Sheihk Kiweewa says.
"That is why Allah allowed us to marry four wives so that we keep in love with our women all the time," he adds.
There is a well-known hadith narrated in different sources that the Prophet said: "People are all God's family, so the dearest people to Him are those who benefi t His family the most."
Hadith in Islam means record of the words, actions and things which got approval of Prophet Muhammad. Sheikh Kiweewa seems to have the same view on the matter as Zimbabwean mufti Ismail Ibn Musa Menk, commonly known as Mufti Menk.
Menk was recently reported to have advised Muslims to always love their wives as if every day is a Valentine's Day.
Some Muslims in Uganda widely understand Valentine's as limited to men celebrating romantic love with women, while others think it is intimacy with another person other than their offi cial partners.
According to various Muslim clerics, there is no verse in the Quran which talks about Valentine's.
Uganda Muslim Supreme Council (UMSC) spokesperson Haji Nsereko Mutumba told the New Vision that Islam does not recognise the Day.
"We even do not know when Valentine's is celebrated," Mutumba said.
One of the prominent sheikhs who preferred anonymity, however, agreed with Sheikh Kiweewa, saying that there is no offence in celebrating any day which does not have ill motives on the faith.
"I do not want problems with my colleagues who may fi nd Valentine's forbidden, but the fact is that Valentine's does not in any way violate any principles, norms and
values of Islam. Why should it be a problem?" he quizzed. Sheikh Adam Walusimbi, the Imam at Mukwano Mosque in Industrial Area in Kampala says love should not be conditional.
"Prophet Muhammed said believers should always love and if they do so, they become the best in life. So, why should one designate a single day for love?" he wondered.
VIEWS OF THE TABLIQS
The Tabliq sect is a group of Muslims that focuses on urging Muslims to return to practising Islam as practised during the lifetime of the Prophet Muhammad and, particularly, in matters of ritual, dress and personal behaviour.
It is considered a radical Muslim movement, whereas other sects, including Sunni, are considered moderate and liberal.
Sheikh Bossa Salim, one of the Taliq clerics, also the director of Madinah Islamic Nsanji- Katereke, said it is a very big mistake for Muslims to celebrate Valentine's.
"Show me any evidence or verse in the Quran or even in the life of the Prophet Muhammed that supports the celebration of such a day," Sheikh Bossa said.
WHAT IS THE PENALTY?
"Whereas there is no specifi c punishment for anyone celebrating Valentine's Day, a Muslim doing so would have annoyed Allah because of doing something he never told us to do," Sheikh Bossa said.
He also said that the celebration is a source of wrong doings in the society, which the faith preaches against.
"That day promotes prostitution and, in Islam, anything that encourages fornication is outrightly forbidden," Bossa emphasised.
Shaykhah (female scholar of Islam) also the chairperson of the friends of Muslim Women, Hajjat Amina Makumbi, said those celebrating Valentines knowingly commit an offense.
"Those who do not know that Islam forbids Valentine's will have committed no offence at all," she said.
"The problem is that people create things which looks good, but with bad intentions.
Muslims should better keep off such," she
advised.
However, Sheik Kiweewa says there is no problem with anyone celebrating this day as Islam promotes peace and love, quoting one of the hadith of the prophet.
"When you look at your wife and smile and when your wife looks at you and smiles, Allah looks at both of you and smiles," quoted the sheikh.
Al-haji Najib Luwandaga Buule, a resident of Bweyogerere in Wakiso district, is married with three wives. He said he has never celebrated Valentine's Day.
"It cannot even come to the minds of my wives. My family only believes and celebrates Idd and no any other day," Haji Luwandaga said.
"You know some sheikhs may refuse to tell the truth, fearing to lose popularity among Prophet Muhammed said believers should always love and if they do so, they become the best in life their followers, but I grew up knowing that Valentine's is not a day to celebrate," Luwandaga added.
Kiweewa said Muslims who participate in the celebrations of Valentine's Day are not liable to any penalty, urging men to always take gifts to their wives.
"A Muslim should take sweets, corns and any gifts that may please his wife to make her happy," Sheikh Kiweewa said.
It is as if the ideologically liberal clerics do not find a problem in celebrating Valentine's Day, while those sticking to what the Prophet said and did, refer to it as sin.