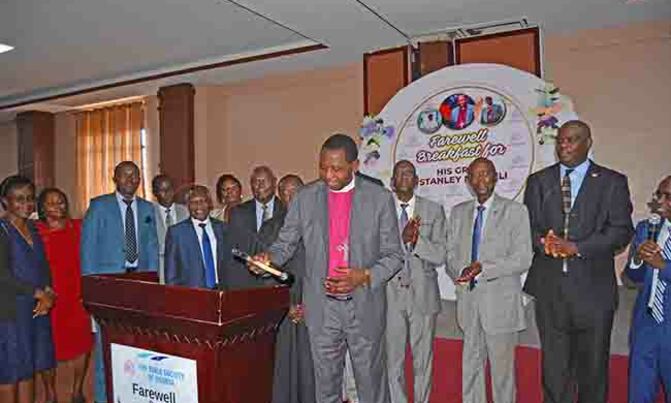 Archbishop Ntagali said he was happy to retire when he still has the energy and health to do his personal work.
CHURCH BIBLE RELIGION

KAMPALA - The Chairman Board of Governors of the Bible Society of Uganda, Fr. Dr Mark Richard Sajjabbi has paid tribute to the out-going Archbishop of the Church of Uganda, Stanley Ntagali for his immense contribution to the growth of the organisation, which does the ministry of translating, printing and distributing Bibles.

He said Ntagali has promoted the organisation's campaign for life membership, and also advocated for the visually impaired Christians to be helped to access the Word of God through the provision of the braille Bibles.

"Archbishop Ntagali has promoted corporate membership of the Bible Society of Uganda. All Anglican dioceses and Bishops are members of the organisation. The contribution of the Church of Uganda during Bible Week has also increased by 30%. The Bible has also been translated in a number of local languages. We are indeed very grateful to the Archbishop for his goodwill and support to the organisation. We congratulate him on his exemplary leadership. We wish him a happy retirement," Sajjabbi said.

He made the complimentary remarks during the farewell breakfast that Bible Society organised for Ntagali at Silver Spring Hotel, Bugoloobi on Friday.

Archbishop Ntagali said he was happy to retire when he still has the energy and health to do his personal work.

"I am the happiest person because I have a successor. I am going to retire from office because on March 1, I will clock the mandatory retirement age of 65. I will nonetheless continue to preach the Gospel."

The function was graced by dignitaries such as the Secretary-General of the Uganda Episcopal Conference, Rt. Rev. Msgr. John Baptist Kauta, Justice Ezekiel Muhanguzi (President of the Bible Society), the Namirembe diocesan secretary Canon Nelson Kaweesa and officials from the Church of Uganda Provincial Secretariat among several others.

During the function, guests contributed sh21m (in cash and pledges) towards the Bible House Project.

The worship team from St. Francis Chapel, Makerere University and pupils from Clevers' Origin Junior School, Kitintale gave cabaret entertainment during the function.