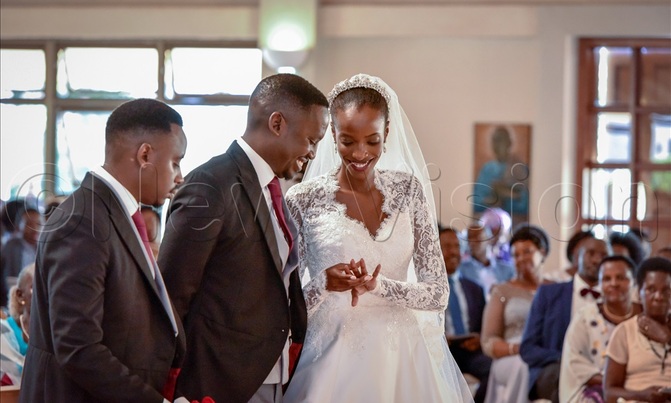 Hundreds watched as a three-year love story became a life time adventure for Jasi Kassami and Samantha Muhwezi.
KAMPALA - Oh yes, we did it", Jasi Kassami whispered to his lovely wife Samantha Muhwezi as they walked down the aisle after exchanging vows at Uganda Martyrs Catholic Parish, Munyonyo on Saturday.

Hundreds watched as a three-year love story became a lifetime adventure for the young couple. In the gentlest gesture, Jasi opened the car door as the couple set off for their wedding reception at Speke Resort Munyonyo where the couple treated their guests to local and exotic foods and an assortment of wine and spirits.

As they wined and dined, several guests gave speeches praising not only the couple but their parents too. One of Samantha's sisters described the couple's relationship as the best love story.

"True love is never easy but endures, am a 'sucker' for a good love story and yours is my favourite," she said.

The mother to the groom Podi Kassami thanked God, saying that her son was taking home a wife who is also a sister. "This is the work of the Lord, and am sure your father is so proud of you," she said.

There was a sombre mood in the room as the couple walked to the memorial table set to pay tribute to the groom's father, the Late Chris Kassami. The table was decorated with white flowers and photographs of the former Secretary to the treasury.

One of Jasi's sisters stated during her speech, "My dad used to say that if my brother ever married Samantha, he would throw them the biggest party ever. Am sure he would be so happy to have all of you here."

The groom Jasi thanked everyone who had made an enormous contribution to fulfil his dreams of marrying Samantha.

He became quite emotional while speaking about his wife. "Samantha, for the past three years, you have been my strength and I have come to the realization that doing this thing called life with you is the best feeling ever, I love you so much and am excited about this beautiful journey." He said.

Samantha is the daughter of Jim and Susan Muhwezi.