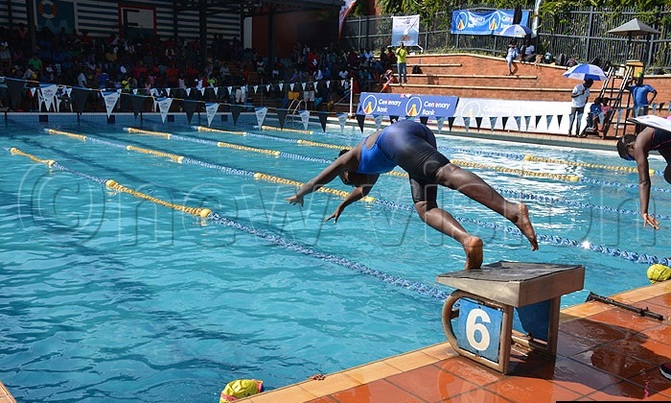 In the first event of the season, Dolphins took firm control of the boys 15 and over category.
SWIMMING

KAMPALA - It was an epic showdown as swimmers from 18 clubs took on the challenge in the 6th edition of the Seals League at Kampala Parents School on Saturday.

Dolphins Swim Club showed good form as they dominated the boy's category in the first event of the season.

They intend to keep that level of performance this season as they did last year on their way to winning six of the 10 categories. It was not easy for the rest of the team, who put up little resistance against dominant Dolphins.

Adnan Kabuye led the way, alongside his teammates Ben Kiganda and Tendo Mukalazi.

They took firm control of the boys 15 and over category, picking up 19, 17 and 12 points, respectively, and propelling Dolphins to the top of the pile in the first event of the season.

The number of swimmers has significantly increased this year, a move that has excited Racheal Kitonsa, the secretary for Seals League.

"This year, we have had as many Ugandan swimmers as possible swimming competitively, and we measure ourselves with the growth in numbers compared to the ones for last years' meet," she said.

"We were averaging 350 to 430 swimmers this year, which is a substantial 20% growth in a year, which shows an overall growth of swimming as a whole."

The first six swimmers of each event were awarded points.

For each age category and gender, the three swimmers with the most points collected over the four meets in the year will be awarded at the final meet in November.



SATURDAY RESULTS

15 and over boys category

Adnan Kabuye (Dolphins) 19

Ben Kiganda (Dolphins) 17

Tendo Mukalazi (Dolphins) 12

13 and 14 years

John Kafumba (Seals) 21

Pulsen Settumba J (Dolphins) 17

Steve Magera B (Dolphins)16

11 and 12 years

Ttyaba Kigundu E (Dolphins) 15

Pendo Kaumi, C( Dolphins)14

Havelland, Hector (Supra) 7

9 and 10 years

Sine, David M (Dolphins) 19

Arthur Mwase (Sailfish) 15

Kuc, Isiah (Silverfin) 10

8 and under

Kigundu, Ssango E (Dolphins) 7

Polo Elijah (Silverfin) 5

Luzinda Mugalu (Dolphins) 4

15 and over (girls)

Alexis Kituuka (Seals) 16

Yalonda Daya Mpeera (Seals) 16

Namutebi Kirabo C (Dolphins) 14

13 and 14 years

Kangi Neema (Seals) 21

Swagla Mubiru (Dolphins) 11

Karia Mugisha (Silver fin) 8

11 and 12 years

Karinah Katemba (Dolphins) 14

Sine Michelle K (Dolphins) 14

Angemi Isabel (Silverfin) 9

8 and under

Zara Mbanga (Jaguar) 9

Crystal Ssemanda TT (Dolphins) 5

Aryiel Angemi (Silverfin) 4