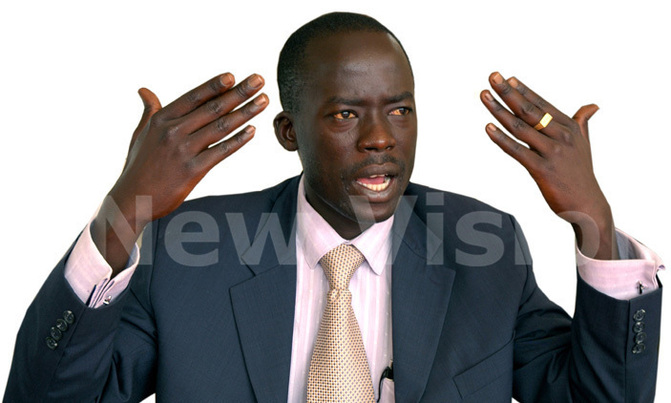 Unusually toned down, Otto had hoped that he would be accorded a platform to recount a brawl in which Kilak North MP, Anthony Akol assaulted him
BRAWL PARLIAMENT
Under-fire Aruu County MP, Odonga Otto yesterday attempted to make a personal statement in which he hoped to pin a fellow lawmaker for assaulting him but his efforts were washed down.

In a rather excruciating decision, House Speaker Rebecca Kadaga didn't not only throw out the half made statement but ordered that "the statement be expunged from the Parliament record," for failing to meet procedural standards.

Unusually toned down, Otto had hoped that he would be accorded a platform to recount a brawl in which Kilak North MP, Anthony Akol assaulted him, its cause and move legislators to send the matter to the rules, privileges and disciplinary committee for further investigation but he was blocked.


"The MP came to me saying he had a personal statement to make but what he is presenting can't be a personal statement under rule 54. It should, therefore, be expunged off the record," said Kadaga.

Last month, the media reported that the duo both members of the Acholi parliamentary group and Forum for Democratic Change (FDC), got entangled in a bitter exchange in which Otto is said to have physically provoked Akol who in turn punched him in the face.

Otto who was subsequently admitted to Nakasero hospital wittily told journalists while on his sick-bed, that although Akol's towering physic had landed him a heavy punch, "for us who are trained can distinguish a punch of a circumcised man from that of uncircumcised men and Akols' is not circumcised."

The Parliament session was on Thursday one hour behind time but Otto patiently waited for his turn to come as several MPs raised lengthy matters of national importance but when he took to the floor, a section was not willing to entertain his narrative of what caused the brawl.


According to Otto, the fight unfolded before MPs Leandro Komaketch (Gulu Municipality), Gilbert Oulanya (Kilak South), Michael Mawanda (Igara East) and Kasirivu Atwooki (Bugangaizi West) but it was Deputy Speaker Jacob Oulanyah's escorts that saved him from Akol.

He asserts that Akol attacked him for his (Otto's) opposition against the Government's compensation of the former's land in Amuru on which Atyak sugar factory is set to be constructed.

"I was invited to Kilak South sometime back by Hon. Oulanyah and while there, it is true that I tasked constituents to ask politicians where they got the communal land for which they have received Sh300m as compensation to allow Madhavan to construct a sugar factory. He is accusing me of decampaigning him but I was not in his constituency," said Otto.

The land in question is located south of the Zoka Forest in Amuru District, Acholi sub-region, stretching approximately 130Kms north-west of the Gulu Municipality.

The Amuru land became a subject of dispute when the Madhavani Group proposed to secure at least 10,000 hectares of land to establish the Atiak sugar factory.

Kitagwenda County MP, Agaba Abbas challenged Otto's statement on grounds that it was a personal vendetta that should not be allowed to paint the institution of Parliament in bad light while Minister for Kampala Betty Amongi said the controversial matter had already been settled by Parliament when it appropriated money in the national budget for compensation of Amuru landowners including Akol.

This is the second time members of the 9th Parliament were engaging in a fistfight. In September 2017 former Arua Municipality MP, the late Ibrahim Abiriga and Ayivu county MP Bernard Atiku fought after Abiriga reportedly insulted Atiku as stupid for having called him a Congolese national.