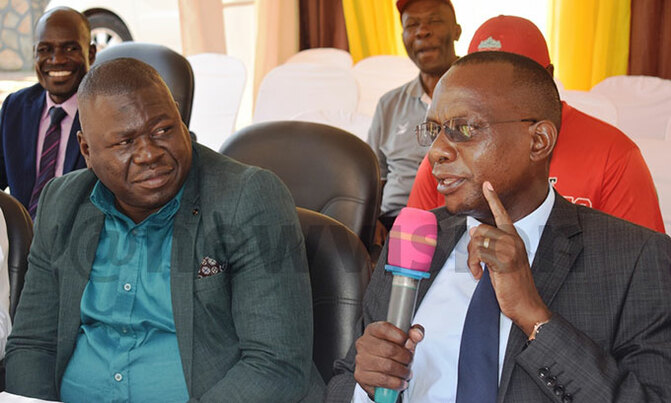 Uganda currently has 4,000 registered woodball players. UWbF is seeking to raise that number.
Paul Mark Kayongo, the president of Uganda Woodball Federation speaking at the AGM. Looking on is NCS General Secretary Ogwel. PHOTOS: Charles Lwanga
National Council of Sports (NCS) has pledged to increase funding for woodball activities this year.

"We have submitted our proposal for an increment in the sports budget to the government and woodball is going to be one of our priority sports this coming financial year," NCS General Secretary Bernard Ogwel told the 12th annual general woodball meeting at the federation offices in Mengo on Saturday.

Ogwel, who laid out part of NCS' plan for more financial support for the sport also commended the Uganda Woodball Federation (UWbF) for initiating the youth into the discipline.

"The national team is comprised of really young players. This is good. It shows that we as a country will still be winning many titles for years to come. This is even more reason to lobby funds for woodball," he added.
Ogwel (c) with Uganda Woodball Federation officials
The Uganda National Woodball team came second in the 2nd Beach Woodball World Cup at Spennar Beach last year and will be looking to achieve the same heights when they participate in the next edition that will be held in Perlis, Malaysia from 24 to 30 July 2020.

In a bid to win the title, the federation has also received three new woodball equipment making machines from the Chinese embassy, a chief sponsor of the sport.

UWbF president Paul Kayongo thanked the Chinesefor their support, stating that the body was going to do everything in its power to push the sport around the country and also across the borders.
Kayongo and other officials at the AGM
Uganda currently has 4,000 registered woodball players. UWbF is seeking to raise that number.

"One of our strategies this year is to amend our constitution so that we can make effective leadership in our clubs a must. Strengthening of leadership structures will improve management of woodball and this will make our target to have this game played countrywide achievable," Kayongo said.

"Part of our mandate is to also have five more countries in Africa playing in woodball,".he added.

With a budget of over shs975m drafted, UWbF is seeking to engage other key sponsors into the sport other than the Chinese and Ugandan government.