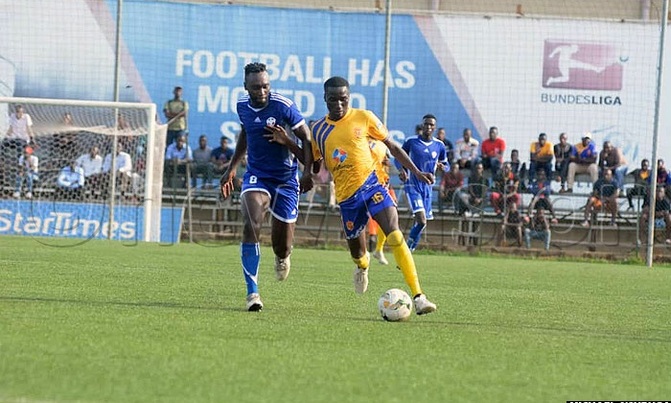 Mike Mutebi's KCCA have now reduced the gap at the summit of the log to two points, having played one game more than leaders Vipers, who face BUL this Sunday.
STARTIMES UGANDA PREMIER LEAGUE

Tuesday result

KCCA 2-1 Maroons

_______________________________

KAMPALA - Defending champions KCCA FC closed in on table leaders Vipers SC after a 2-1 home victory over Maroons FC at StarTimes Stadium, Lugogo on Tuesday.

Mike Mutebi's side have now reduced the gap at the summit of the log to two points, although title-chasing Vipers could restore their five-point lead on Sunday, when they play away at BUL.

For now, a third win in the last five games means that KCCA have given a good account of themselves in their title retention quest. Their remaining nine games and Vipers' remaining 10 will no doubt be more than significant in the two-way race for the title.

Under early Tuesday evening sunshine, Mike Mutyaba lashed the hosts in front half-way into the opening half, assisted by Herbert Achai.

Vipers coach Fred Kajoba, keenly watching the proceedings from the stands, saw his closest challengers go on to double their lead seven minutes before the break through Erisa Ssekisambu.

Maroons, eager for a way back into the game, introduced forward Fred Amaku in place of Fred Olinga after the hour mark for what was the first substitution of the game.

KCCA, sensing the visitors' ambitions of a comeback, made reforms of their own two minutes later. Mutebi brought on Sunday Opio, who replaced goalscorer Mutyaba.

Not long after though, nightmare for the hosts. Defender Peter Magambo turned the ball into his own net to gift Maroons some measure of respite. It was an unlucky deflection off substitute Amaku's cross.

From then on, it was nervy times for the watching home fans as the visitors huffed and puffed in a desperate hunt for the equaliser.

With 13 minutes left on the referee's watch, Sadam Juma came on for Keziron Kizito - the assist man for the second goal - as KCCA absorbed more pressure from the marauding Maroon attackers.

Despite the late pressure, the holders clung on to secure a vital three points.

Defeat means Maroons remain intact in 10th place on 24 points, although they could sink further towards the drop zone if the upcoming matches of their opponents do not go their way.


COACH REACTIONS

'I thought we were the better side' - Maroons coach Douglas Bamweyana

"Very disappointing from us not taking our chances. I thought we created more, we did more, we deserved more. But we also shot ourselves in the foot for not taking our chances (...) By the time they got their first goal, we should have already gotten a goal or two. We should have been more clinical with the opportunities we got.

"We got chances in good positions, but didn't make the most out of those, and that probably becomes work for us - to continue working. But I thought we generally tried to control the game.

"There were moments when we relaxed and it hurt us against the side that they have with people to punish. We probably lack in some situations that edge to penalise when the moments are there - that's the only difference. But I thought we were the better side.

"I was a tad disappointed with the second goal. In my opinion and (from) my angle, I thought it was offside, but I don't know, I will need to probably to look at the video. But then, it happens.

"As far as how we play, we never go into any games with any negative intentions. For us we always believe we can win against any side. We failed (on Tuesday) probably because we didn'tt get the luck on the day. But we work and we just play attacking football.

"We feel confident. We feel we have the quality to dig the results out. The team is evolving. It is still learning a couple of things - we need to keep working on some elements to probably make more of what we do on the pitch.

"It is very clear - we do some good work on the pitch but converting it into the most important thing, which are goals, is the thing that is still troubling us.

"Our concern is the consistency in the results. That is what is letting us down."


'We were not composed enough' - KCCA coach Mike Mutebi

"We got the results. We did not play as composed as we were supposed to, but I think we were effective when we got our chances. Sometimes, the 2-1 result flatters to deceive - I don't know how many chances we created that we would have put away. Maybe the game would have ended 7-2, 7-4 , something like that. But in the end, we picked the result we needed badly and it gives us more confidence to continue chasing whoever is above us.

"Everything rotates around him (Gift Ali) in my wa of doing things. And whenever Gift Ali plays at the level we expect, we look bright. But still, we are playing at 45 per cent. That's why we blow hot and cold -in the first, you are dominant, you are thinking 'yes, we can do it', but because these players are not used to being in charge, a little bit jittery.

"And when you look at the players that they are playing against, for example the Maroons players, all of them are of the same generation. So there is no fear.

"On the pitch, the players don't fear each other. They believe they can play - they are equals. But that composed midfielder on which the modern game rotates is very key. Gift Ali is doing it for us, but he is not doing it as perfectly as I would like. It has helped us get composed more.

"Upfield, we would have had a player who gives us the edge, but they are injured. But I think Sunday Opio can give us directness. You need to circulate the ball when you are hurting the opposition.

"[What is good for Ugandan football is that] at least, the players and the coaches are trying to teach how to keep the ball. Now, how to use it is another thing. That is still our challenge.

"Maroons have always given us a good challenge because they always play [possessive, attack-minded] football, which is good for me and for the [KCCA] players to test their ability.

"In the end, we shall continue chasing Vipers and every point that we can gather, adds to that chase."

____________________________