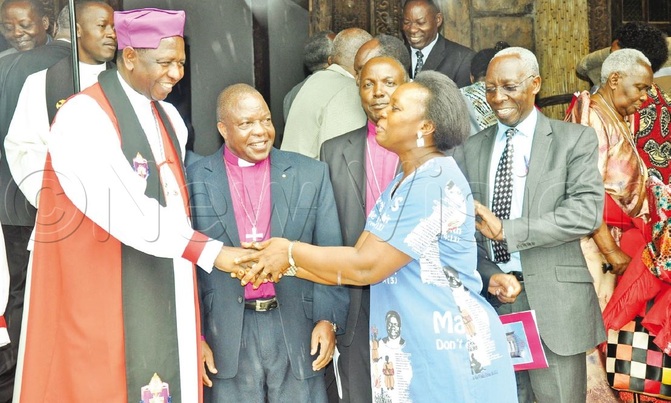 He told the youth that they could be harmed if they do not stay out of dirty politics.
Ntagali (left) interacting with Mary Kakembo, the former state minister for youth and children affairs, as Canon Samuel Boogere, the Bishop of Bukedi diocese and other retired reverends look on during a thanksgiving service at the Anglican shrine in Namugongo, on Friday. Photo by Jimmy Outa
CHURCH POLITICS
The outgoing Church of Uganda Archbishop, Stanley Ntagali, has predicted that next year's general election will be marred by chaos and warned youth against allowing to be used by politicians to fight their wars.
"We are having elections in 2021. It is going to be more chaotic than ever before because there are those young people, the youth who are going to be misused, as if their bodies are metallic," he noted.
He told the youth that they could be harmed if they do not stay out of dirty politics.
"We pray that God's grace will sustain the Church to remain the voice of the voiceless," he noted.
Ntagali made the remarks at the Namugongo Church of Uganda Martyrs' Shrine, where a thanksgiving service was organised by the Uganda Martyrs' Museum Namugongo Church of Uganda Development Committee and retired bishops of the Anglican Church to bid him farewell.
In his farewell message, he urged the Church to rise above the selfishness and corruption that has engulfed the country and remain the only voice of reason that can redeem those that go astray.
"Our motto has changed from for God and My Country to for God and my stomach. People have become selfish, greedy and self-centered. The Church must remain above all these things. Let us put God first. God who loved us, God who paid for our sins with His son, Jesus Christ," he advised.
He urged the Church to preach an uncompromising gospel that does not bow to western pressure for the world to accept their unbiblical behaviours, and to recognize that though times are changing, God is still on the throne.
He called on the retired bishops to lead exemplary lives, even if they are no longer in active church leadership. He noted that though the bishops are no longer in the main ministry, they should continue upholding the exemplary Christian virtues.