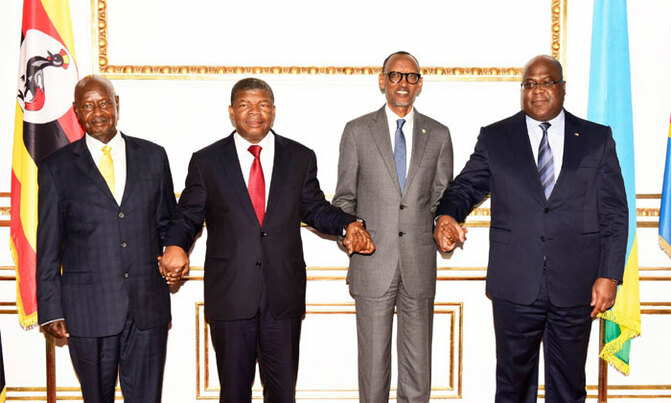 The two Presidents have, among other things, welcomed the efforts of their Angolan and DR Congolese counterparts to resolve the dispute between their nations - Uganda and Rwanda.
DIPLOMACY

President Yoweri Museveni has said Uganda will "do its part" to ensure that the resolutions of the Third Quadripartite Summit held in Angola's capital on Sunday are implemented.

The meeting, hosted by Angola's President João Lourenço, took place in a "climate of fraternity and perfect understanding".

In a tweet, President Museveni thanked President Lourenço for hosting the meeting, and underlined Uganda's commitment to sticking to what was agreed upon.

Presidents Paul Kagame of Rwanda and Felix Tshisekedi of DR Congo attended the summit, which followed similar meetings on July 12 and August 21 last year, also involving the four heads of state.

During Sunday's meeting, the leaders are understood to have "exchanged views on strengthening their political, diplomatic, economic and cultural relations", according to a missive.

Museveni and Kagame are said to have welcomed the efforts of their Angolan and DR Congolese counterparts "in the search for a peaceful solution in the spirit of pan-Africanissm and regional integration, to resolve the dispute between the two countries [Uganda and Rwanda]."

In recent months, diplomatic ties between to the two neighbouring East African nations have been far from warm. Through the summits, Angola and DR Congo have tried to reconcile to nations.


Attended the third Quadripartite Summit on Uganda, Rwanda, Angola and DR Congo in Luanda. I thank President Joao Laurenco for hosting the summit. Uganda will do its part to ensure resolutions of the summit are implemented. pic.twitter.com/o6LYTbaSaP

— Yoweri K Museveni (@KagutaMuseveni) February 2, 2020

According to the missive released after the latest meeting, Uganda and Rwanda "pledged to continue to prioritize the permanent dialogue between the two countries for the development and well-being of their peoples".

Presidents Museveni and Kagame also pledged to "take subsequent steps towards peace, stability, good neighbourliness and restoring mutual trust".

The Luanda Summit decided the following:

• The release of the national citizens of each country [Uganda and Rwanda] duly identified and included in the lists exchanged for this purpose.

• Both parties must refrain from all factors that may create the perception of supporting, financing, training and infiltration of destabilizing forces in their neighbour's territory.

• Both parties must continue to protect and respect the human rights of the national citizens of the other party.

• The continuation of the activities of the adhoc commission, as a mechanism for monitoring the implementation of this process.

• The next quadripartite summit will take place in Gatuna/Katuna in the common border between Rwanda and Uganda on February 21, 2020.