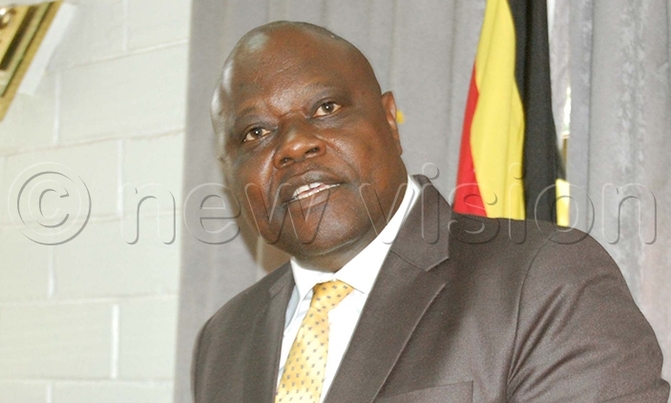 Reports indicate that some farmers have started slashing the vines to get rid of the pests
The government has procured pesticides, spray pumps and other items for nine districts in Eastern Uganda to aid them in the fight against sweet potato butterfly caterpillars that are ravaging gardens.
The caterpillars that are threatening food security in the region are endemic to Sub-Saharan Africa and for long have been minor pests. But due to climate change, it has become a major pest.
On Thursday, the State Minister for Agriculture, Henry Aggrey Bagiire who was accompanied by the Commissioner Crop Protection Steven Byantwale handed over the items to the affected district officials.
"The ministry has procured a pesticide (Cypermethrin 5%EC) and spray pumps," Bagiire said.
The outbreak has been reported in the districts of Luuka, Iganga, Pallisa, Bugiri, Jinja, Kamuli, Bukedea, Budaka and Namutumba.
According to Bagiire the ministry has linked with distributors of relevant pesticides to ensure that enough stock exists in the country especially in the affected communities.
"The pesticide is for demonstration, farmers are supposed to buy their own but can use the spray pumps which will be located at the sub-county," Bagiire said.
Annually, Uganda produces over 2.5million tones of sweet potato and is ranked fourth global producers of sweet potatoes.
"This outbreak threatens the populations' food security especially where the crop is a major staple food," Bagiire said.
The caterpillar's feeding causes drop off of leaves that reduces the plants' photosynthetic activity resulting in significant yield losses of up to 80%.
According to Byantwale, the government has procured 200 spray pumps, each district to get four, protective gear (gloves, gumboots, mouth mask), this is in an addition to what government had distributed during the invasion of fall armyworm.
"Our duty as agriculture is to teach and provide knowledge, we are not distributing to everyone. Therefore as you apply the chemical you should also protect yourself and apply the right dose," Byantwale said.
He revealed that the ministry of agriculture continues to do surveillance and monitoring the pests with the view of minimising its build-up and further outbreak in other regions.
"District agricultural officials have been alerted and advised on the control measures and education and communication materials have been developed to guide the pest management," Byantwale said.
Reports indicate that some farmers have started slashing the vines to get rid of the pests.
Micheal Mbayo, the district agricultural officer Budaka commended the government for supplying the demonstration materials to help fight the pest.
"The effect has been so much in my district with farmers crying to the government which has now responded," Mbayo said.
The ministry has requested the public to remain calm and not panic since this is an endemic pest that has become sporadic due to climate change and whose serious outbreak pattern takes some years before reoccurrence.