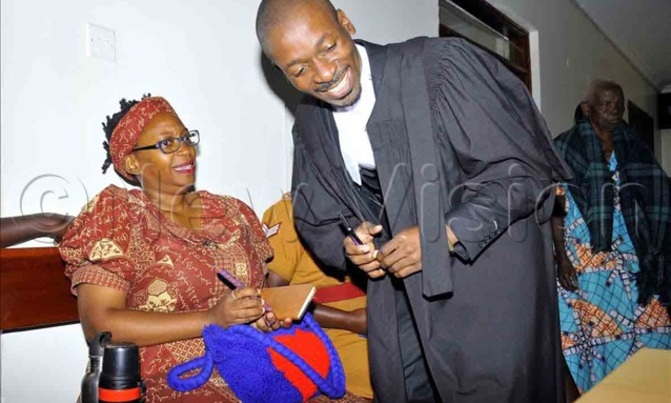 Nyanzi, a former Makerere University research fellow has been on remand since November 2018.
COURT CYBERCRIME

The High Court has set February 20 to deliver its judgment in a case which Dr Stella Nyanzi appealed against her 18 months sentence and conviction over cyber harassment.

Nyanzi, a former Makerere University research fellow has been on remand since November 2018 having been implicated and convicted over the same.

However, the same court slated the state's appeal against Nyanzi's acquittal on the same date.

Nyanzi was on August 2, last year, convicted and sentenced to 18 months imprisonment for cyber harassment but acquitted over offensive communication against President Yoweri Kaguta Museveni.

Buganda Road Grade One Magistrate Gladys Kamasanyu passed onto the punishment having found prosecution evidence sufficient to convict her.

Appearing before the International Crimes Division of the High Court in Kololo, the trial judge, Justice Peter Adonyo said he will deliver both Nyanzi and the state's appeals next month in February.

"Having heard all your submissions, this court will deliver its judgment on February 20, 2020.

Also take note that on the same date, the court will deliver the same in the appeal in which the state wants Nyanzi convicted over offensive communication," Adonyo ruled.

Nyanzi's appeal was based on ten grounds, petitioning the court to allow her entreaty, quash her conviction and set aside or vary her sentence.

Through her barrister, Isaac Ssemakadde, the appellant argued that the learned trial magistrate in the lower court passed an illegal and disproportionate sentence.

She further asserted that the same court erred and entertained the case against her yet it had no jurisdiction.

Prior, the state through its attorney, Timothy Amerit from the DPP's office appealed on three grounds and it wants the court to convict Nyanzi over offensive communication or enhance her sentence.

According to the state, the lower court failed to properly evaluate the evidence on record thereby arriving at a wrong conclusion of acquitting Nyanzi on offensive communication thus leading to miscarriage of justice.

"The opined post is more than just offensive, shocking or disturbing; satirical, iconoclastic or rude; in fact, it's beyond the expression of unpopular or unfashionable opinion about serious or trivial matters, or banter or humour. It is very distasteful to some or painful to those subjected to it," Amerit said.