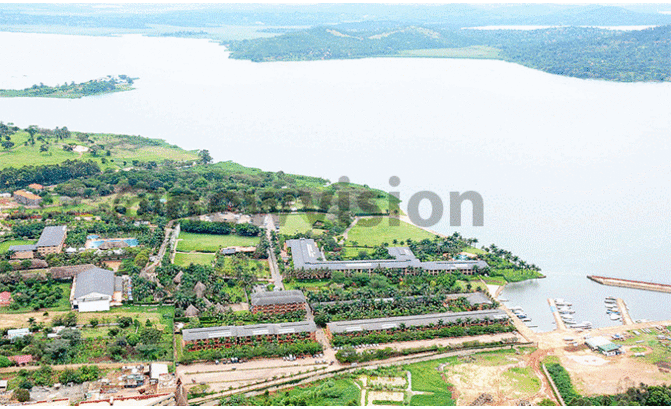 Although there were no automobiles yet in Uganda in 1884 (or in Europe for that matter) to congest the roads, the teenage king was already providing a solution to ease mobility.
PHOTO: In 1880s, Kabaka Mwanga spearheaded the project to construct a canal connecting Kampala to Lake Victoria through Munyonyo
He was only 16 years when he ascended the throne. The teenage king, Kabaka Mwanga, was not to know any peace during his reign that spanned the 1880s and 1890s decades.
But even though he spent most of his time struggling to resist the imposition of British colonial rule, the youthful Mwanga found time to lead one of Uganda's largest physical engineering projects that endures until today.

Although there were no automobiles yet in Uganda in 1884 (or in Europe for that matter) to congest the roads, the teenage king was already providing a solution to ease mobility in the future Kampala when he commissioned the digging of a canal to connect the city centre to Lake Victoria at Munyonyo. I do not know of any modern Ugandan civil engineer (they may be there, but I have not had the opportunity to hear about them) who has presented a more ambitious project to the country after all these years of training up to degree and post-graduate level, here at home and abroad.

Mwanga ingeniously identified a spot in Kampala where there were underground springs that would constantly flow to the canal regardless of rain or sunshine, and the digging started there.
The project had hardly covered 2km when his reign was hit by a colonial inspired revolt and the king was beaten out of power by a combined force of better equipped British officers commanding mercenaries and traitors who overwhelmed the royal army.
Kabaka Mwanga
What remained of the canal is Kabaka's Lake which covers about 2sq.km. Mwanga was neither a qualified civil engineer nor a planner, but he knew that growing settlements had to have diversified forms of transport to allow for swift circulation. Since there were no helicopters then and Mwanga was very keen on his navy — controlling most of Lake Victoria with his 6,000 canoes carrying armed soldiers — in digging the canal, he was trying to address the need to move swiftly from his palace to join his navy.

Do people in Kampala today need Lake Victoria like Mwanga thought over a century and three decades ago? One thing that is not in doubt is that Lake Victoria is navigable and used to have a bustling international transport network system that started weakening as the East African Community weakened.

In the mid 1970s, Ugandans ran very active smuggling units on the lake using small risky canoes taking coffee to Kenya where they were making a killing following crop failure in Brazil, the then world's biggest coffee producer.

In any case, fishermen have never ceased from crisscrossing the lake in search of fishing grounds. In recent times, the Police have been making day-long journeys using its powerful launches to Migingo island, the object of a small, but troublesome dispute between Uganda and Kenya.

There are also on and off steps to strengthen ferry services between Entebbe and the islands of Kalangala. With Kalangala islands being one of the hottest property markets at the moment, there are frequent trips by speculators, developers and merrymakers to the islands by private boats. Our people love a party and many private adventurers hold their bashes on the waters. All the above examples are given just to show that Lake Victoria is navigable. Over the years, Kampala city has expanded to the lakeshore.

The present pace of unguided development will see a longish coastal settlement stretching from Entebbe through Kampala to Jinja. It is just a matter of time for people to start using water to connect to these places while avoiding the congestion and traffic on the land.

Either the authorities and planners will set up decent marine transport services for Greater Kampala, or the people will do it in their small crude way. Gradually, the country will end up with numerous small unsafe canoes connecting Greater Kampala by water. It has happened with taxis after the failure of the bus system. It then happened with boda-boda, with the failure to develop decent roads. It will happen on water. Prepare for canoes, or a major public marine investment.