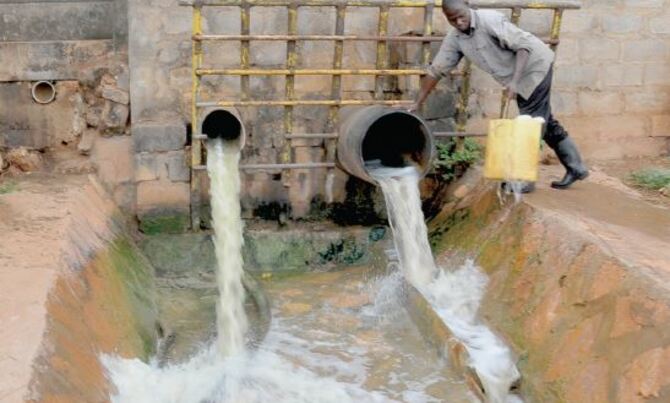 Ggaba is part of Murchison Bay where Kampala's water is extracted but it is also the same place where wastewater, including sewage, is emptied into Lake Victoria. Murchison Bay also covers parts of Munyonyo, Port Bell or Luzira in Kampala and Bukasa near Namanve.
One of the industries that empty waste into Lake Victoria in Luzira. Photos by Gerald Tenywa
SAVE LAKE VICTORIA DEGRADATION POLLUTION
In Luganda, the name Ggaba means "give or provide," says Vincent Kimera, a fisherman at Ggaba landing site in Kampala.

He also says Ggaba has lived to its name by giving a lot of fish and drinking water to Kampala and the surrounding areas.

But Kampala residents have betrayed Kimera and his colleagues because they keep releasing wastewater such as sewage into the lake, especially near Ggaba and Port Bell in Luzira. This, Kimera says, has polluted Lake Victoria, leading to a reduction in fish stocks and making the water unfit for human consumption.

"There is a lot of dirt around us and most of it comes from Kampala through Nakivubo Channel," Kimera says.

He says during the dry season, the stench becomes unbearable and forces some residents to abandon their homes. They go to other parts of Kampala until the smell reduces.

As a result of pollution, the water at Murchison Bay on the northern part of Lake Victoria has turned green. This is because organic matter including sewage and solid waste keep on feeding algae (tiny aquatic plants) which manifests in green colour.

The algae, which looks like green paint, give off the foul smell, especially when it dies.

Ggaba is part of Murchison Bay where Kampala's water is extracted but it is also the same place where wastewater, including sewage, is emptied into Lake Victoria. Murchison Bay also covers parts of Munyonyo, Port Bell or Luzira in Kampala and Bukasa near Namanve.

In addition, expansive wetlands including Nakivubo, Kansanga, Kinawataka and Namanve are between Kampala and Murchison Bay have thinned out. They used to filter the wastewater from Kampala before releasing clean water into Murchison Bay.

The wastewater draining from Kampala used to take weeks to reach the lake. Today, the flood water goes straight into the lake the moment it stops raining. This means wetlands are no longer able to filter the water.

"The rich people are the ones who are encroaching on the swamps," Christine Nekesa, a resident of Port Bell, said, adding that the wetlands have been replaced by houses and a concrete jungle.
A point near Murchison Bay where rubbish is emptied into Lake Victoria

"We have seen swamp after swamp get destroyed over the years," she says.

Nekesa adds: "We were growing yams and vegetables in some wetlands which were not destructive, but the wetlands, have been given to the rich people. We see all these excesses but we are powerless."

She says the National Environment Management Authority (NEMA) is better placed to protect the environment. In her view, NEMA is acting to the contrary. "The NEMA officials are doing nothing as the wetlands disappear," Nekesa says.

She says NEMA harasses people who cultivate yams in the swamp but does not harass the rich who drain the wetlands and build big structures.

"NEMA does not seem to care. If you move along the railway, you will see what I am talking about," Nekesa says.

At one time, NEMA stopped city businesswoman Sylvia Owor from encroaching on a swamp at Kawuku in Kampala, but the place was later taken over by a tycoon, who erected a residential building.

Nekesa warns that if not checked, the waste clogging the lake will poison the lake and kill the fish.

"Everybody will be affected and this will not spare the rich or the poor."

Hassan Muwawu, the chairperson of the Beach Management Unit at Port Bell, said the wetlands need to be restored to curtail flooding.

NEMA responds
Dr Tom Okurut, the executive director of NEMA, denied giving away any wetland. "Together with the lands ministry, we are busy cancelling land titles in wetlands. We have given away any wetlands," Okurut said.

Many of the people who live near Murchison Bay do not agree with what Okurut said.

NWSC's interventions
Reacting to why Kampala's sewage has remained a big source of pollution for Murchison Bay, Sam Apedel, the National Water and Sewerage Corporation (NWSC), said the sewer lines in Kampala were old yet the population is growing.

"We used to have Nakasero as a residential area but it has changed into a commercial centre with shopping centres replacing the residential houses," Apedel said.

He, however, said the agency was trying to refurbish the lines.

"We have put in place new sewer pipes where a human being can walk through without bending," Apedel said, adding that the old pipes were narrow.

He also pointed out that the sewage treatment plant at Bugolobi has been revamped to turn sewage into biogas and fertilizers. This, he said, will increase the treated waste from the city from only 6% to 30%.

Steve Lawrence, a consultant on planning, says the sewage treatment plant is expected to treat polluted water from Nakivubo Channel before releasing it into Lake Victoria.

Restoring Nakivubo
Richard Kimbowa, the chief executive officer of Uganda Coalition for Sustainable Development, a non-governmental organisation involved in a campaign to protect the lake, said NEMA cannot run away from the blame. He said the destruction of Nakivubo wetlands has taken place under NEMA's watch.

Experts also blame NEMA for not opposing the construction of Nakivubo Channel. Unlike the swamps that used to hold water before releasing it into the lake, the channel directly flows into the lake.

Way out
The Cabinet resolved to cancel all land titles in wetlands and have swamps restored under the leadership of NEMA and the lands ministry.

In addition, Najib Lukooya, the officer in charge of the environment at Kampala Capital City Authority (KCCA), said they plan to use Nakivubo wetland for eco-tourism as part of the restoration process. "We have done studies on the restoration," he said.

Despite the Cabinet order, houses are still being constructed in Nakivubo wetland.

He said funding for the restoration has been secured from KFW, a German bank through Lake Victoria Basin Commission.

"We cannot proceed if people are still holding land titles," he said, adding that Kampala residents risk suffering in case of backflow from the lake.