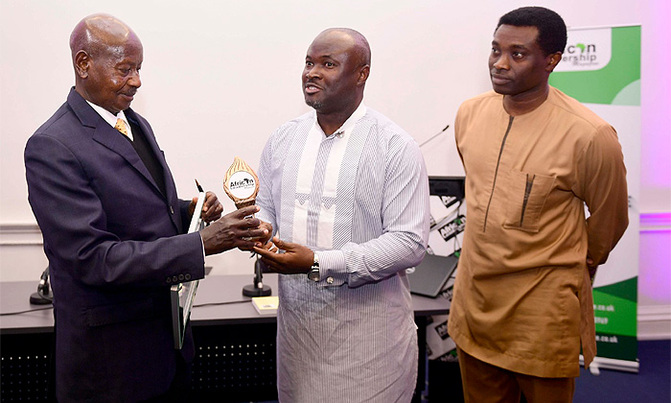 President Yoweri Museveni has relished his African Leadership Peace Award that he received from the African Leadership Magazine in London.
ROLLING NEWS


Presented by Joseph Kizza

@joekizza

(Scroll down the page for earlier updates)

_____________________________


2:34pm | Deadly tree fall?

That a tree has fallen at Banda stage, along the Kampala-Jinja Road, reportedly killing two people.

That is according to information going around, which we cannot independently verifiy at the moment.



_____________________________


2:15pm | Museveni concludes London trip

Following his just-concluded official engagements in London, President Museveni has said he is looking forward to "closer trade relations" between Uganda and the UK.


Concluded my four-day official visit to London this morning. I thank @BorisJohnson for the invitation to attend the UK-Africa Investment Summit. I look forward to closer trade relations between our countries. pic.twitter.com/R6ewREwmyJ

— Yoweri K Museveni (@KagutaMuseveni) January 22, 2020

_____________________________


2:03pm | Successful leadership 'must be collective'

In his keynote address at the Africa Leadership Magazine Dialogue 2020, President Museveni says that leadership, if it is to succeed, must be collective.

"I thank you for giving me the award for leadership. Leadership, to succeed, must be collective. It is true, that for 60 years now, I have been in leadership roles as a student leader (1960-70), a resistance leader (1971-86) and a State leader from 1986 upto today," he said.

"In all those 60 years, one of my primary tasks was to transform the traditional life-style of the Ugandans (from obujajja to modernity). I could not have had any impact if I did not always work with colleagues, many of them, perishing in the struggle or departing this world since."


_____________________________


1:50pm | Museveni receives African Leadership Peace Award


President Yoweri Museveni has relished his African Leadership Peace Award that he received from the African Leadership Magazine.

This was at the Royal Geographical Society in London, where the President has been to attend a series of meetings including the UK-Africa Investment Summit hosted by Prime Minister Boris Johnson.

"Africa will continue to rise and shine, once we diagnose its problems correctly and offer appropriate prescription," he tweeted Wednesday.


There must be no sectarianism in Uganda because it fragments our market. Moreover, even the Ugandan market is not enough. We need the African market.
Find the full address at African Leadership Magazine Dialogue here: https://t.co/gmenepWl6D pic.twitter.com/dXUXNZRBvk

— Yoweri K Museveni (@KagutaMuseveni) January 22, 2020

_____________________________


1:38pm | How much do you (want to) know about Coronavirus?

This, here, can help . . .


🔹What is a #coronavirus ?
🔹Where do they come from?
🔹 How can I protect myself?

Watch this Q&A from @WHO for the answers. pic.twitter.com/Kal2PA6Vvj

— WHO Jordan (@WHOJordan) January 22, 2020

_____________________________


12:47pm | Liberation Day celebrations

The Minister of Presidency, Esther Mbayo, has addressed the media about the January 26 NRA/M Liberation Day celebrations at the Uganda Media Centre.

This Sunday will mark "exactly 34 years since our country was liberated from bad leadership and commenced on an unstoppable journey to socio-economic and political transformation", says the minister.

"The day was a climax of an armed conflict that begun on February 6, 1981 at Kabamba Barracks by the National Resistance Army fighters under leadership of Gen. Yoweri Museveni ending in the capture of Kampala & restoring peace & order in the country.

"Lasting five years, the NRA protracted people's war had been executed consciously by ordinary citizens who exhibited extra ordinary heroism, sacrifice and skill bearing in mind that it was not their fight but a fight for the masses.



"The Liberation Day will remind us about a fight for the people that is why it is called the people's war.

"This year's celebrations will be held under the theme: Celebrating NRM/A's Patriotic struggle that ushered in national unity and socio economic transformation.

"The National celebrations will take place at Ibanda Core PTC Grounds, Ibanda District. President Yoweri Museveni will be the Guest of Honour and other very important Guests are expected to join His Excellency the President to celebrate this day.

"The history of the NRM/A struggle dates back in the 1970s during the regime of President Idd Amin who had captured state power through a coup in 1971.

"President Yoweri Museveni who was a few years from the university began the protracted struggle during his exile life in Tanzania to restore democracy and rule of law in Uganda," says Mbayo.


_____________________________


11:46am | Day three of Parliament Week

The Annual Parliament Week is in its third day today, with a panel discussion on building a strong democracy in the country under way.

Members of civil society organisations are attending the discussion.

West Budama MP Jacob Oboth Oboth, who also chairs the legal and parliamentary affairs committee, is representing Speaker of Parliament Rebecca Kadaga.


#ParliamentWeek2020 At this debate now underway at @Parliament_Ug theme "Building a strong democracy in Uganda." Am representing @GovUganda & @NRMOnline. Here also is @PatrickAmuriat of @FDCOfficial1 & @ObothOboth representing @RebeccaKadagaUG @UgandaMediaCent pic.twitter.com/GaPyYNuJ46

— Ofwono Opondo P'Odel (@OfwonoOpondo) January 22, 2020

_____________________________


11:32am | Works on sh20bn water project resume
By Adolf Ayoreka in Ibanda:

The ministry of water and environment has resumed works on the Nyabuhikye- Kicence piped water supply and sanitation project Phase I after experiencing a six-month halt in operations.

The break was due to compensation issues of the land owners where the project is taking place, which reportedly stemmed from delays in the release of funds from Government.

Joan Kembabazi, the clerk of works from M&E consults, a supervisory firm of the project, says the project was started in June 2017 and the contractual period was 15 months, but that due to the delays caused by compensation and the nature of the site being rocky, the project was halted for half-a-year.

The project intends to ensure that people have water in their homes.




_____________________________


11:17am | ANT with engagements down west

The political kettle is beginning to whistle. It is busy times for political parties as election year (2021) starts to knock.

Today, Maj. Gen. Mugisha Muntu's Alliance for National Transformation (ANT) is set for engagements in Bundibugyo district and in Kasese on Thursday.


_____________________________


11:03am | Novel Coronavirus: WHO Emergency Committee meets today

Today, the World Health Organisation (WHO) director-general Tedros Adhanom Ghebreyesus is expected to today convene an Emergency Committee on the Novel Coronavirus (2019-nCoV) under the International Health Regulations.

The committee will ascertain whether the outbreak constitutes a public health emergency of international concern, and what recommendations should be made to manage it.

The virus is reported to have been first detected in Wuhan City, Hubei Province of China.



_____________________________


10:20am | Uganda Cranes, believe! Believe!

Of course the World Cup is on Uganda's bucket list.

Imagine the sea of goosebumps that would form all over your body if the Uganda Cranes made it to football's biggest stage!


Goosebumps. 🌍🏆 #WorldCup #WCQ @FIFAcom @FIFAWorldCup

pic.twitter.com/N4dwNSL0fl

— CAF (@CAF_Online) January 21, 2020

_____________________________


10:15am | 2022 FIFA World Cup Qualifiers: African draws

Here is the entire lot . . .



_____________________________


10:07am | 2022 FIFA World Cup Qualifiers: African draws

We may be nine months away from kicking off our Qatar FIFA World Cup 2022 qualification campaign (October), but already, you can sense a mood of excitement following Tuesday night's CAF draws.

Uganda are in Group E with fellow East Africans Kenya and Rwanda, and west African side Mali.

Altogether, there are 10 groups for the African teams. But qualification is premium stuff, as only five slots are available for the final tournament in Qatar.

The Uganda Cranes will have to be super steely to grab one of those.


A young & talented @LesAiglesduMali and local derby rivals @Football_Kenya & @FERWAFA await @UgandaCranes in the @FIFAWorldCup qualifiers kicking off in Oct 2020.

A group that presents great opportunity, but also intriguing challenges. We look forward to the journey.

🇲🇱🇺🇬🇰🇪🇷🇼 pic.twitter.com/daXAmAEK4y

— Johnathan McKinstry (@johnnymckinstry) January 21, 2020

_____________________________


9:50am | Tarehe Sita celebrations: Why Great Luwero Area?

To celebrate the 39th Tarehe Sita anniversary, the UPDF will hold main activities in Great Luwero Area. The districts to be covered are Luwero, Nakaseke, Nakasongola and Wakiso (Busiro North).


So why Great Luwero Area?

"This area has been chosen because of the special historical role the people played during the 1981-1986 protracted peoples' struggle to liberate Uganda," a statement released by UPDF spokesperson Brig. Richard Karemire says.

The celebrations this year are themed: Consolidating the UPDF strategic partnership with the people to guard gains of liberation.

During the Defence Forces Week, which will kick off on January 28, "the UPDF, wherever it is deployed, will conduct a range of civil military activities in support of the local areas".

The aim here is to foster harmony between the forces and the people by working with communities to conduct cleaning of insitutions, urban centres, tree planting, engineering works and medical camps.

"Members of the public in these areas are encouraged to participate and take maximum advantange of these services," says Karemire.

So, what is going to happen?

• National launch: Tuesday, January 28 at 9:00am at the Ministry of Defence and Veteran Affairs/UPDF headquarters in Mbuya.

• Regional launch: Wednesday, January 29 at Timuna Senior Secondary School, Kasangombe sub-county in Nakaseke district.

• District launches: To be conducted on January 30 at the following centres:

- St. Francis Health Centre III Migyera (Nakasongola district)
- Makulubita Health Centre III (Luwero district)
- Kiziba Health Centre II Masulita (Busiro North in Wakiso district)

• Main celebrations: To be held on Thursday, February 6 at Butalangu Grounds in Nakaseke district.

_____________________________


9:23am | DP clears Mao for 2021 polls

The sitting president general of the Democratic Party, Norbert Mao, has a chance to stand again for the top-most position of the party.

The party secretary general, Dr. Gerald Siranda, says that although Mao has not yet expressed interest in competing for the same position, he is free to stand.

"Mao is free to come and stand again if he so wishes. Our constitution does not have limits. It is up to the delegates to amend it," he said.

DP is preparing to hold its national delegates conference on March 28 until March 31 in Gulu, where they will elect the party's new leadership.

Those interested canpick their nomination forms from March 13 until March 16.




_____________________________


9:15am | Health ministry bids farewell to Malac

The health ministry has said goodbye to the outgoing US ambassador to Uganda, Deborah Malac.

Malac said she is "proud of the things we have done because of our partnership". She said the US Mission in Uganda will continue to work with the Ugandan government and that "we will continue to do great things together".

Malac's successor at the mission is Natalie E. Brown.


"Thank you for good partnership. We have had a good time as a sector working together. You're leaving at a time when we are embarking on the next Demographic survey. Wherever you are, please keep a close eye on the survey. It will reflect our work done together" ~ @JaneRuth_Aceng pic.twitter.com/63ovcrodDU

— Ministry of Health- Uganda (@MinofHealthUG) January 21, 2020

_____________________________


8:44am | What happened on Tuesday

A lot.

But I tried to condensed some of the happenings on the day into one page. Check it out HERE.


_____________________________


8:40am | Today's Ras Toon

The Auditor General's report has revealed that the Government is struggling with a debt repayment burden




_____________________________


8:25am | Museveni woos UK investors in London

On Tuesday, President Yoweri Museveni addressed the UK-Uganda Business Forum in London, UK. During the meeting graced by chief executives of over 70 British companies, he wooed them to invest in Uganda.

"I pointed them to the immense opportunities available in agriculture, mining, tourism, and the services sectors. Serious investors in these areas can be assured of adequate raw materials and other government support," the President tweeted.


Museveni also mentioned the need to rid the system of corruption.

He tweeted: "I urge investors to report any government officials that ask them for bribes. Corruption is a bottleneck to development. We are cracking the whip and once we get the facts and evidence, action will be taken."


After addressing the business forum, President Museveni also paid a courtesy call on Prince William, the Duke of Cambridge, at Buckingham Palace.

The two discussed "several issues of mutual importance".


It was a busy itinerary in London for President Museveni during which he sat down for an interview with BBC Newsday lead presenter Alan Kasujja and discussed wide-ranging issues about Africa.


Interested in listening to the interview? Tune in to BBC World Service from 9:00am - 2:30pm (Ugandan time).





_____________________________


8:10am | Morning prayer

But first, let's start off with some measure of divinity, shall we?


LET'S PRAY

Lord, Jesus, today is Your day, and I want Your will to be done. So, whatever happens, hold my hand and let's face it together. Amen. pic.twitter.com/cRFu4jZ5dg

— New Vision UGANDA (@newvisionwire) January 22, 2020

_____________________________


8:00am | Hello everyone!

'Morning good people.

Fallen Indian lawyer, politician, social activist and writer Mahatma Gandhi once said: "There is more to life than simply increasing its speed."

He was right, I would say.

Sometimes, you have to ease your foot off the pedal - be a little less active-aggressive by taking the backseat and allowing life to plunge you into a state of passiveness.

But hey, at least for now, better rush out of your home. Else, the traffic will slow you down. Run and get to your appointment in time. Best you clear your errands early enough.

Get on with it!