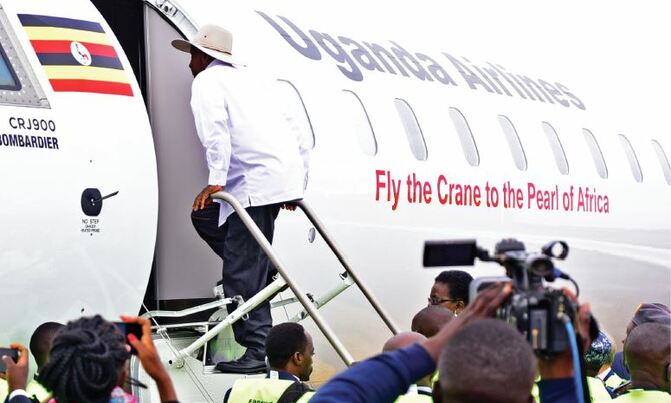 Stephen Sseruyange, a lecturer of economics at Makerere University, says the airline will enhance the country's competitiveness by reducing the cost of air transport and easing connectivity to and from Uganda.
President Yoweri Museveni boards Uganda Airlines Bombardier CRJ 900 at Entebbe Airport in April 2019
UGANDA AIRLINES TOURISM
In 2016, just months after being sworn for a fifth term, President Yoweri Museveni during the Independence Day celebrations in Kayunga, Luuka district, announced the revival of Uganda Airlines after a hiatus of 15 years.
The airline is in line with Uganda's Vision 2040 which sets the long-term aspirations of transforming Uganda from predominantly peasant to a modern and prosperous country within 30 years.
The idea was formulated in the First National Development Plan and the Second National Development Plan where the Airline is highlighted as one of the flagship projects expected to drive Uganda towards its medium to long-term development goals.
Uganda Airlines pilot Ritah Nasirumbi operates the aircraft at Entebbe Airport in May
After years of careful planning, Uganda Airlines started commercial operational in August with two Bombardier CRJ 900 aircraft. The Airline has a route list of Entebbe-Juba, Entebbe- Mombasa, Entebbe- Nairobi, Entebbe- Mogadishu, Entebbe- Kilimanjaro and Entebbe- Bujumbura.
The government recently completed the payment of $56m for the purchase of another Bombardier CRJ900 aircraft to aid the expansion of the airline's route list. For Uganda Airlines to be profitable in the face of cutthroat competition from established regional and international airlines, Museveni advises that the new airlines should target four major constituencies.
These are; Ugandans in the diaspora, Asian-Ugandans who were expelled by Idi Amin in the 1970s, Ugandan business people and tourists. "Sometimes bad things create good things. During Amin's time, very many Ugandans ran away because of insecurity and when they got where they went, they established themselves and they always want to come back. So, you should establish their exact figures.
That diaspora in North America, UK, and Southern Africa is big, find out how big it is because they are always travelling," Museveni said. The president added that the tourists who come to Uganda are always inconvenienced by several stopovers in different capitals like Nairobi, Addis Ababa, and Kigali.
"What will happen if a tourist can fly direct from the UK to Entebbe or from Guangzhou to Entebbe or from Amsterdam to Entebbe?" Museveni said. The President added that the country will save in the excess of $400 million in foreign exchange which Ugandans travelling outside pay for their trips.
Monica Azuba Ntege, the Minister of Works and Transport, said the problem of Ugandans paying high prices for travel has finally been solved. "Ugandans have depended on foreign airlines which have unreasonably high tariffs and unfair services. It is the beginning of a new era where Ugandans will get the air services they need and deserve," Azuba said.
She, however, said that building an airline is no simple task. She said the road ahead is very challenging. But she was quick to add that as government, they have got a clear sense of direction to make sure that the problems, which forced other airlines to close shop, do not reoccur.
"Ugandans are happy and excited about the revival of Uganda Airlines. The new airline is yours and it is for you, the government has invested heavily so that it can serve your needs; take advantage of it and patronise it as your airline of choice, then it will be able to sustain high-quality services," Azuba said.
Development
Stephen Sseruyange, a lecturer of economics at Makerere University, says the airline will enhance the country's competitiveness by reducing the cost of air transport and easing connectivity to and from Uganda.

"It will support faster harnessing of opportunities in the economy and fulfill the requirement to establish air transport infrastructure to meet the growing demand for air transport," Sseruyange says. According to Sseruyange, the revival of the national airline is an infrastructure development that will have tremendous impacts on the economy.
Dr. Omotayo Adeybuyi, the dean faculty of Business Administration and a renowned marketer, explains that one of the expected impacts is facilitating the promotion of tourism by offering connectivity to and from source markets abroad. "The connectivity provided by international air transport facilitates the fast-growing global tourism industry," Omotayo says.
The airline will also stimulate growth, employment creation, and revenue generation. According to Omotayo, the air transport industry has a substantial economic impact, both through its own activities and as an enabler of other industries. Of the 5 million direct jobs generated by the air transport industry worldwide, 4.3 million people are employed by the airlines and airports (aviation sector) globally, contributing around $275B of GDP to the global economy.
"One of air transport's most Uganda Airlines pilot Ritah Nasirumbi operates the aircraft at Entebbe Airport in May important economic benefits is its effect on international trade which plays a key role in promoting economic growth in countries in different stages of development," he says.
"Air transport is an important trade facilitator. It increases the global reach of companies, enables them to get products to market more quickly and allows them to be more responsive to customer needs," Omotayo says. Sseruyange adds, that there will also be an improvement in the balance of trade.
"A functional national airline has the potential to improve the balance of trade by saving and generating foreign exchange directly and indirectly through foreign exchange premium savings and spin-off activities," he says. He adds, that there will also be a balance of aviation opportunities arising from mutually beneficial Bilateral Agreements and benefits only attributable to national airlines.
Before, only foreign airlines were benefiting from Uganda's aviation market with revenue and profits repatriated to home countries. Uganda Airlines will also create employment and offer citizens the opportunity to develop careers and participate in an essential and growing aviation industry worldwide.