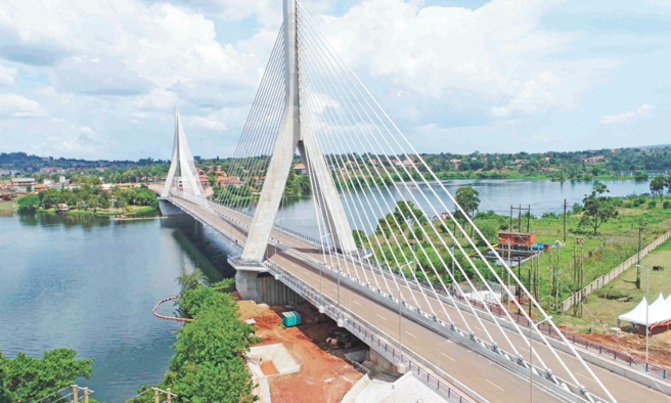 In 1986, the total national road network was 7,900Km and of the 1,900Km that had been tarmacked, only 114Km was in fair condition. The remaining 1,786km was in a poor state.
The Source of the Nile Bridge which was commissioned in 2018 replaced the Nalubaale Bridge which was built in 1954
TRANSPORT ROADS INFRASTRUCTURE

In 2012, residents of Mafubira village on the Jinja- Kamuli highway took to the streets and demonstrated over an impassable potholed and dusty road.

The Speaker of Parliament and Kamuli Woman MP, Rebecca Kadaga, also threatened to lead a group of Basoga in a demonstration against the same. Although the road has spent several years dogged with potholes, when the government contracted Dott Services to work on the road, the company dug the road and left it unattended to for close to a year, prompting the fury from residents.
The Kampala-Entebbe Expressway commissioned in 2018 is the first toll road in Uganda

"The road was full of potholes, dusty and almost impassable. It would take hours for one to reach there destination. The moving cars would leave behind dust that was unbearable and had forced many to close there businesses," says Peter Kalende, a resident of Mutai, a town on Jinja-Kamuli road.

The 70km highway has since been completed and it takes travelers up to one hour to reach there destination. Jinja-Kamuli Road is just one of the many roads that have been constructed by the government.
President Museveni flagging off the construction of the Kampala City Flyover in 2019
Roads than and now
In 1986, the total national road network was 7,900Km and of the 1,900Km that had been tarmacked, only 114Km was in fair condition. The remaining 1,786km was in a poor state.

"Overall, the total road network stood at 80,900km. Here, 6,000km of gravel roads were in dire need of repair and so were the 22,000km of district feeder roads and 15,000km of urban roads. About 30,000km of community roads had become footpaths," the Uganda National Roads Authority executive director, Allen Kagina, said in an earlier interview with New Vision.

Roads now
Currently, Uganda's total road network is estimated to be 129,469km long. Of this, the community access roads constitute 50%, district roads 26%, urban roads 7% and national roads 17%. Between 2010/11-2014/15, the stock of the paved road network increased by 19.7% from 4,364km to 5,224 Km.

The improved road network has attracted more vehicles on the road, resulting in inconvenience. Motor vehicles According to Ian Rumanyika, the acting assistant commissioner public, and corporate affairs at Uganda Revenue Authority (URA), there are approximately one million vehicles in Uganda up from 50,102 vehicles that plied Ugandan roads in 1999.
Nambigirwa bridge on Entebbe Expressway which is built on marshland measures 1.5km

"This government came in when I was 22 years of age and one of the sectors that have had a great turn-around is the transport sector. There has been alot of improvement in road transport. More investors have joined the public transport sector. There are buses, taxis, bodabodas and all modes of transport.

Road transport has never been as convenient as it is today," says Anthony Bamweyana, a businessman in Kampala. Kagina says, the paved network has improved tremendously and people can move from one border to another on a paved road across the country.

"You can move from Kyanika in Kisoro to Oraba in northern Uganda on a tarmac road," Kagina said. "However, in comparison to our network alone, that is about 1/5th of the 20544km of roads in the country.
Emphasis has been on trunk roads, and that is why you can move from one border to another. Our next drive is to move away from these trunk roads into the districts and communities. We have begun with the growth areas such as oil, tourism, and mineral areas," she added.

Water transport
In 1986, Uganda had two train ferries, MV Kaahwa and MV Kabalega. That was quite telling for a country with more than 50 water bodies, including lakes Victoria, Kyoga, Albert and Edward, and mighty River Nile, which flows into the Mediterranean Sea through Sudan and Egypt.

At the same time, usage was also on the low side. Statistics show that vehicle and passenger traffic on some of the longer ferry crossings at Wanseko and Kiyindi were very low in the 1990s. More vessels have since been acquired and deployed in diverse parts of the country to ease communication and trade.
The Kayunga-Kamuli new ferry at Mbulamuti landing site
"These ferry services across the country are offered at no cost. We now have 12 ferries across the country" Ntege Azuba, the minister for works and transport said. Mark Ssali, the director communications at Uganda National Roads Authority says the number of trips made by the vessels is dependent on the distances between the landings sites that they ply and dock.
The Acholibur-Kitigum-Musingo road at the border with South Sudan
"For example, while the Laropi in Moyo district to Umi in the Adjumani district ferry, which has a capacity for 120 passengers and 12 vehicles, makes 12 trips per day every day. The Kiyindi in Buikwe district - Buvuma in Buvuma district ferry with a capacity for 120 passengers and eight vehicles makes a maximum of three trips per day for six days a week and one trip on Sundays," he explains.

The former is across the River Nile, where it takes an average of 15 minutes per crossing, while the latter is from the mainland to an island on Lake Victoria and each crossing takes one hour. Just like in road transport, investors have joined the water transport business with many of them purchasing leisure boats that they use for boat cruises.