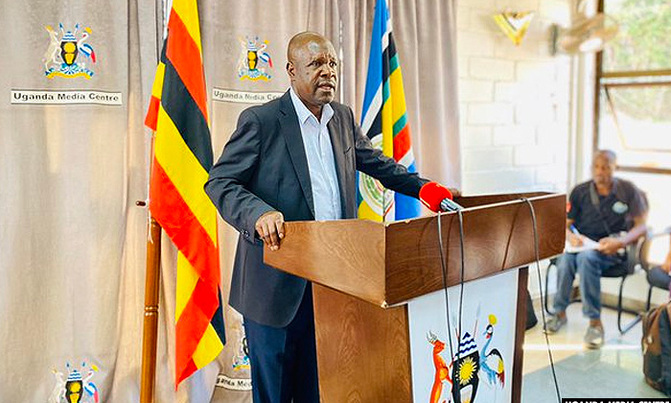 Cabinet approves the additional emergency funding request of sh32b for emergency relief supplies to the victims of natural disasters from the Contingency Fund.
ROLLING NEWS THROUGHOUT THE DAY


Presented by Joseph Kizza

@joekizza

(Refresh page for updates)

_____________________________


3:10pm | NRM polls in Kagadi

NRM elections for interim leaders is taking place in Kagadi district. The turnout is low, reports New Vision's Ismael Kasooha.

Some sub-counties did not send in any eligible contestants.



_____________________________


3:00pm | Plenary in session

The plenary sitting is under way, with Speaker Rebecca Kadaga chairing the session.

Legislators have observed a moment of silence in honour of the late Getrude Nakabira, former MP for Lwengo.

_____________________________


2:00pm | Bill-tracking app

If you are the type that is keen on the bills discussed in Parliament, then you are going to love this news.

Parliament has launched a mobile app dubbed Bungeni to track the progress of bills for both legislators and the public.

The app will also allow for feedback to be provided before a bill is passed into law.


The Speaker then launched the bill tracking mobile APP, Bungeni that will enable the MPs and Public to track progress of bills and also make comments on them before they are passed into law. #ParliamentWeek2020 pic.twitter.com/3274fCNXvi

— Parliament of Uganda (@Parliament_Ug) January 21, 2020

_____________________________


1:44pm | Kalaki NRM members fill party position

Kalaki district NRM party members have kicked of elections to fill party positions. The district was carved out of Kaberamaido district, reports Michael Onyinge.

The NRM district registrar, Richard Ekiu, said elections are for only vacant positions.



_____________________________


1:30pm | Rubanda NRM delegates choose leaders

NRM delegates at Rubanda district are choosing their leaders today. The hot seat is for the district chairperson, where the Rubanda East MP, Henry Musasizi, is contesting against a prominent businessman, Benon Bwebare.

The elections are taking place at Mulore, the district headquarters.



_____________________________


12:30pm | Calling up veterans for work

A call-up UPDF exercise of veterans who will be forming battle groups in preparation for deployment for a peace-keeping assignment in Somalia is going on at 2nd Division Makenke barracks in Mbarara district.

The exercise is happening in different parts of the country.

Who will make the cut?



_____________________________


12:15pm | FDC leader released in Soroti



Police in Soroti released FDC party president Patrick Amuriat Oboi last night at about 11pm, hours after the Opposition leader was arrested on charges of destroying property, disrupting traffic and disobeying the Public Order Management Act.

The four people he was detained with, including Kamuda LC3 Daniel Eigu, were also released.

In the picture below, Amuriat is seen waving to FDC supporters moments before he was arrested on Monday.




_____________________________


11:45am | Locust invasion in Pader? Says who?

There has been talk of an invasion of locusts in neighbouring Kenya - and that the occasionally gregarious insects are headed for Uganda.

So, have they arrived? No, according to officials in Pader district, in northern Uganda.


Officials dismiss locust invasion in Pader#NewVisionTV #VisionUpdates pic.twitter.com/kGznFXgeHg

— New Vision UGANDA (@newvisionwire) January 21, 2020

_____________________________


Happy Birthday, legend!

If you were born on this date, then you share a birth date with Uganda's football legend, Polly Ouma, who turns 78 today.

Ouma wore the Uganda Cranes captain's armband and also rose through the army ranks to become a captain there too.


Polly Ouma, one of the finest footballers to don the Uganda Cranes jersey, was born on this day 78 years ago. He captained the national side and was also served in the army where he rose to the rank of captain. #VisionUpdates pic.twitter.com/uQHg15Ucze

— New Vision UGANDA (@newvisionwire) January 21, 2020

_____________________________


11:23am | Here are Cabinet's resolutions this week




On Monday, Cabinet convened at the Office of the President on Apollo Kaggwa Road, Kampala, and noted and approved the following items:

• Noted that the 43rd commemoration of St. Janani Luwum Day will take place on Sunday, 16 February, 2020 at Mucwini Kitgum district under the theme: Let us not get tired of doing good.

• Approved the ratification of the Bilateral Air Services Agreements (BASAs). This will put Uganda at equal legal footing with her partners in as far as implementation of these agreements is concerned. It will also signify Uganda's sovereign intent to be bound by the terms of the agreements and her commitment to fully implement them.

• Approved the principles of the draft Local Governments Statutory Instrument 2020. The Purpose of the Instrument is to legalize the approval of Park User Fees (PUF) and collection procedures, and avoid arbitrary changes and charges of PUFs.

• Approved the additional emergency funding request of sh32b for emergency relief supplies to the victims of floods, landslides, windstorms, hailstorms and lightning from the Contingency Fund.


_____________________________


11:03am | No work ID, no access

Uganda Media Centre executive director Ofwono Opondo has said that all journalists will from today be required to come to the Media Centre with work IDs.

He adds that security will also be ramped up at the centre.

All this is to keep at bay acts of bribery and terrorism.


VIDEO: @OfwonoOpondo says while coming to @UgandaMediaCent, all journalists will from now be required to come with work IDs & security will be enforced at the Centre to counter attack bribery and terrorism cases acts. pic.twitter.com/RgrjOkbOrB

— Uganda Media Centre (@UgandaMediaCent) January 21, 2020

_____________________________


10:45am | Did you know?



And that almost half of humanity is living on less than $5.50 (about sh20,000) a day.

(This is according to Oxfam International)


_____________________________


10:40am | Wallet, wallet, who is the richest of them all?

World's 22 richest men have more than all women in Africa


The number of billionaires has doubled in the past decade and the world's 22 richest men now have more wealth than all the women in Africa, Oxfam has said in an appeal to the Davos elite to get serious about inequality.

"Our broken economies are lining the pockets of billionaires and big business at the expense of ordinary men and women. No wonder people are starting to question whether billionaires should even exist," Oxfam's India head Amitabh Behar said.

"Women and girls are among those who benefit least from today's economic system," Behar said ahead of the annual World Economic Forum in Davos, where he will represent Oxfam.

There will be at least 119 billionaires worth about $500 billion attending Davos this year, Bloomberg reported, with the highest contingents coming from the United States, India and Russia.

"The very top of the economic pyramid sees trillions of dollars of wealth in the hands of a very small group of people, predominantly men," the Oxfam report said.

"Their wealth is already extreme, and our broken economy concentrates more and more wealth into these few hands," it said.

The report said women and girls put in 12.5 billion hours of unpaid care work each and every day, estimated to be worth at least $10.8 trillion a year.

Oxfam's annual report on global inequality is traditionally released just before the forum opens on Tuesday in the Swiss Alpine resort.

Startling stats

It had some astonishing statistics.

If the world's richest one percent paid just 0.5 percent extra tax on their wealth for 10 years, it would equal the investment needed to create 117 million new jobs in elderly and child care, education and health, Oxfam said.

Oxfam's figures are based on data from Forbes magazine and Swiss bank Credit Suisse, but they are disputed by some economists.

The numbers show that 2,153 billionaires now have more wealth than the 4.6 billion poorest people on the planet.

Women and girls are burdened in particular because they are most often care givers that keep "the wheels of our economies, businesses and societies moving," Behar said.

They "often have little time to get an education, earn a decent living or have a say in how our societies are run," and "are therefore trapped at the bottom of the economy," he added.

"Across the globe, 42 percent of women cannot get jobs because they are responsible for all the caregiving, compared to just six percent of men," Oxfam figures showed.

The report called on world governments to "build a human economy that is feminist and values what truly matters to society, rather than fuelling an endless pursuit of profit and wealth".


_____________________________


10:26am | Today's Ras Toon

Today's editorial cartoon is looking at a rather touchy subject . . .

That many people are at risk of losing jobs after the Democratic Governance Facility cut funding to CSOs and NGOs.




_____________________________


10:05am | Daydreaming, or what?

I have just stumbled upon this while ambling through the Twitter landscape.

That we (media) wouldn't want to show you this? LOL


The Uganda that the Media doesn't want to Show you😎😎 pic.twitter.com/4uTlgEVhZo

— E u G i 🇺🇬 🇰🇪🇷🇼 (@Euginearinda) January 20, 2020

_____________________________


9:44am | 'Global tourism growth slowed in 2019'



Global tourism slowed in 2019 due to a cooling world economy, especially in Europe and Asia where uncertainties linked to Brexit and protests in Hong Kong also weighed, the United Nation's tourism agency said Monday.

The number of international tourist arrivals rose by 4.0 percent last year to 1.5 billion, its slowest rate since 2016, the Madrid-based World Tourism Organization (UNWTO) said in a statement.

"This is a growth that we can consider strong because it is within the historical average, but we see a slight slowdown compared to the last two years. But it should be noted that the last two years have been really exceptional with a growth that was not normal," the body's intelligence chief, Sandra Carvao, told a news conference.

Tourist numbers grew by 6.0 percent in 2018 and by 7.0 percent in 2017 as holidaymakers returned to sunshine destinations in the eastern Mediterranean such as Turkey and Egypt after several years of tourists staying away due to security concerns. Tourism numbers rose by 4.0 percent in 2016.

The UNWTO predicted global tourism will grow by 3.0-4.0 percent this year, buoyed by major sporting and cultural events such as the Tokyo Olympics in Japan.

An economic slowdown in many key issuing markets such as Germany and the collapse of Thomas Cook, the world's oldest travel form, had contributed to the slowdown in the sector last year, Carvao said.

Britain's looming departure from the European Union had generated "strong uncertainty" and "has impacted its economy, which has impacted the value of its currency" leading to fewer British nationals going abroad on holidays, she added.

Tourist arrivals in Europe rose by 4.0 percent in 2019, down from 6.0 percent in the previous year.

It remained the most visited region in the world, accounting for 51 percent of all international tourist arrivals last year, or 743 million people.

Arrivals in the Asia-Pacific region rose by 5.0 percent compared to 7.0 percent in 2018 as Hong Kong was rocked by sometimes violent political protests which caused hotel occupancy rates to slump in the Chinese-ruled city.


Africa posted a 4.0-percent rise in tourist arrivals, down from 9.0 percent in 2018.

"The Americas showed a mixed picture as many island destinations in the Caribbean consolidated their recovery after the 2017 hurricanes while arrivals fell in South America due partly to ongoing social and political turmoil," the UN body's statement said.

The Middle East was the one bright spot as tourist arrivals in the region jumped by 8.0 percent in 2019, up from 3.0 percent in the previous year, due mainly to Saudi Arabia's ambitious plan to draw foreign visitors and the recovery of the Egyptian market.

UNWTO expects France, Spain and the United States to once again be the three most visited countries in the world last year once it has final figures.

"We don't really expect changes in the rankings," said Carvao.

In 2018, France remained the world's most visited nation with 89 million arrivals followed by Spain and the United States.

Despite the slowdown in the rise in international arrivals, tourism spending continued to grow in 2019, especially among the world's top ten spenders.

France reported the strongest increase in international tourism spending, jumping 11 percent, while spending by international visitors from the United States rose by 6.0 percent due to the strong dollar.

But many emerging markets such as Brazil, China -- the world's top source market -- and Saudi Arabia reported declines in tourism spending.


_____________________________


9:18am | A bill a decade in the House

The Marriage and Divorce Bill, which has been in the House for a decade now, was initially called the Domestic Relations Bill.

It was split into three, to include the Sexual Offences Bill, 2015, which was introduced and later withdrawn from the House, and the Muslim Personal Bill, which has never been introduced.

Basiclaly, the Marriage and Divorce Bill seeks to reform and consolidate the law relating to marriage, separation and divorce; to provide for the types of recognized marriages in the country and marital rights and duties.

_____________________________


9:13am | Of marriage and divorce

It has been a divisive piece of legislation - brought to the floor of Parliament, discussed, shelved, reintroduced, debated again, and thrown back in 'kamooli' again.

Once again, we see the bill creeping back into the public ears.

Apostle Dr. Joseph Serwadda, the head of the Born Again Faith in Uganda, is attending the inter-faith prayer session at Parliament, and apparently, he has called for the passing of the Marriage and Divorce Bill.


The Inter-faith prayer service has now started with Pastor Joseph Serwadda calling for the passing of the Marriage and Divorce Bill.
#ParliamentWeek2020 pic.twitter.com/Z7V3nSxeIG

— Parliament of Uganda (@Parliament_Ug) January 21, 2020

_____________________________


8:57am | Parliament Week: Inter-faith prayer breakfast

It is plenty of interactions at the inter-faith prayer breakfast that is marking the second day of the Annual Parliament Week.




The Watoto Church children choir has ignited the spirits of the guests with a dollop of refreshing praise and worship.




_____________________________


8:49am | President Museveni dines in London

A bit more from the UK-Africa Investment Summit . . .


Last night His Excellency @KagutaMuseveni attended a #UKAfricaInvestmentSummit reception at Buckingham Palace hosted by The Duke and Duchess of Cambridge, along with The Earl and Countess of Wessex and The Princess Royal #InvestinAfrica #InvestinUganda pic.twitter.com/NHO3MRIl9F

— UK in Uganda 🇬🇧 🇺🇬 (@UKinUganda) January 21, 2020

_____________________________


8:40am | Parliament Week enters second day

The Annual Parliament Week is in its second day after it got under way Monday with a charity walk aimed at raising funds for the construction of a rehabilitation centre for persons living with albinism. As much as sh54m was said to have been raised on the first day.

Tuesday has started with inter-denominational prayers and Speaker of Parliament Rebecca Kadaga has posted a couple of pictures on her Twitter page.


Inter-denominational prayers to grace the Parliament Week are already underway, punctuated with very melodious music from diverse choirs. pic.twitter.com/g6uQnanz13

— Rebecca Kadaga (Official) (@RebeccaKadagaUG) January 21, 2020

_____________________________


8:27am | Today's dose of inspiration - 'Help someone else'

"If you want happiness for an hour — take a nap.
If you want happiness for a day — go fishing.
If you want happiness for a year — inherit a fortune.
If you want happiness for a lifetime — help someone else."

Chinese Proverb




_____________________________


8:12am | 'We have greatly upgraded our infrastructure'

In the picture below, President Yoweri Museveni is seen arriving with his daughter Patience to attend a reception for heads of State and Government at Buckingham Palace in London following the UK-Africa Investment Summit.




Museveni thanked Prime Minister Johnson (not in picture) for inviting him for the summit.

"Like I told him in our bilateral meeting, Uganda is ready to receive British investors, given the immense business opportunities in the Pearl of Africa," he tweeted.

"We have greatly upgraded our infrastructure to support investment. We have sufficient electricity, a skilled workforce, fair tariffs, good roads, etc. Opportunities exist in agriculture, services, tourism, dairy sector, ICT, among others.

"I am glad that in his speech, the Prime Minister indicated that our products, including Uganda's beef, would find its way onto the dining tables of post-Brexit Britain. Our position has always been balanced trade that benefits all parties," Museveni said further in a series of tweets.

_____________________________


7:50am | Pitching for post-Brexit trade with Africa



Prime Minister Boris Johnson told African leaders that Britain would be more open to migrants from their continent after Brexit as he hosted a summit intended to boost trading ties.

He also promised an end to direct UK state investment in thermal coal mining or coal power plants overseas, saying London would focus on supporting a switch to low-carbon energy sources.

Opening the first UK-Africa Investment Summit in London, Johnson made a clear pitch for business less than two weeks before Britain leaves the European Union.

He told the conference involving 16 national leaders and representatives of another five countries, he wanted to make Britain their "investment partner of choice".

After highlighting all Britain has to offer, he said Brexit would mean an end to preferential treatment for EU migrants.

_____________________________


7:43am | Investment opportunities

On Monday, several leaders of governments, businesses and international institutions convened in London for the inaugural UK-Africa Investment Summit, hosted by British Prime Minister Boris Johnson.



The meeting was meant to showcase and promote the breadth and quality of investment opportunities across Africa.

President Yoweri Museveni attended the summit.




_____________________________


Rise and shine!

It is 7:35 in Kampala (Uganda) . . .



. . . 5:35am in France's capital Paris . . .


. . . 8:35am in Dubai (United Arab Emirates) . . .


. . . and 5:35am in Germany.




_____________________________


7:25am | Good morning - are you wide awake?

Hello everyone, we have 10 days left to close the January shop and fling wide open the February doors.

It has been a sweltering start to the year - in many parts of the country - yet Mother Nature doesn't seem to be ready to let up. Wonder what kind of weather February has in store for us.

Anyways, we have another day unfurling before our very own eyes. Hopefully, you are wide awake already. Tuesday is here!

Good morning!